****Some of the pictures show light gray thread used for the decorative stitching, but I WILL USE BLACK thread in a straight stitch or roll the side edges in black with a bottom hem unless you request otherwise.****
This pure dupioni silk baby sling is made from midnight black in a single layer. If you would like a double layer, use this listing:
https://www.etsy.com/listing/193061123/double-silk-sling-2-layer-dupioni-ring?
The shoulder style of this sling is pleated to help fan the sling over your shoulder and distribute weight more evenly, yet is still trim which allows for ease of shoulder movement. A basic color in a deluxe fiber.
WHY SILK?
**Strong fiber
**Super lightweight
**Breathable for year-round use
**Easy care. Try spot cleaning silk first. When needed, hand wash or machine wash delicate cool. Machine washing will make the sling softer and less shiny than will dry cleaning. Hang to dry or tumble dry low.
WHY A RING SLING?
After having extensive practice babywearing with a newborn as well as toddler ages, I have come to the conclusion that the ring sling is the most versatile carrier.
**Switchable (between just about any caregiver)
**Adjustable (starting to be uncomfortable - just adjust it)
**Spreads weight GREAT
**Versatile (don't want it to be the main focus of your outfit? Just tie the tail around the rings and you have the look of a pouch with all the advantages of a ring sling).
WHY FROM LI'L PEEPER KEEPERS?
**We carefully choose our fabrics. Have you noticed that we sell almost exclusively linen, silk, and tencel? It's for a reason. We want natural, STRONG fibers that will stand up to the test of safely carrying such precious cargo.
**Our style is thought through and proven.
**No sewing is parceled out to others. I sew each article here.
**I'm a babywearing Mama!
**We've been selling these for a while =).
**An instructional DVD comes with your sling, so you can buy for yourself or for a gift with confidence!
The rings we use are non-welded brushed aluminum rings from SlingRings.com. These rings have been manufactured using strict guidelines and testing procedures and are CPSIA compliant. The sling is re-inforced and reinforced with stitching by the rings - again decorative stitching is used to create a sling that is both functional and beautiful! Sling width is @ 25 inches, an ideal width to provide adequate support while helping you not have to adjust 20 extra inches to keep it from bunching up all over baby. Length @78 inches
A DVD will show you step-by-step how to position your baby in several different basic carry holds. This sling is ideal for newborn through 35 pounds. Ring Slings are not size-sensitive like pouch slings and these come with an instrucitonal DVD, adding to their practicality as a gift.
If you have any other questions, please feel free to convo me. I'll be glad to help. Check out our shop for about 350 other choices: www.lilpeeperkeepers.etsy.com.
ABOUT LI'L PEEPER KEEPER CARRIERS: Great care has been taken to make sure that these carriers are sewn with quality and safety in mind. Pouches are sewn with a reinforced seam, known as a French seam, to shape the carrier. Ring sling fabrics are chosen with care as to style and strength, and each sling is carefully reinforced at the rings. The rings used are from SlingRings.com (nonwelded aluminum) or from Nestmom.com. Both companies have rigid test guidelines in place to ensure safety and quality.
Babywearing is both a joy and a responsibility. Although Babywearing is simple, it will take practice and precautions, just like anything else. Don't expect you or your baby to "sling like a pro" the very first time. Keep at it – it's worth the effort!
Some precautions to take while wearing your baby:
1. Always check the carrier first for signs of wear or any rips. Don't use if damaged.
2. Practice holds with a stuffed animal before trying them on your baby.
3. Use common sense while wearing – i.e. do not bend from waist. Don't use around the water, while cooking, showering, or other potentially hazardous activities.
4. Always make sure your baby has sufficient airflow.
5. Remove baby from sling before placing in bed.
6. While making adjustments, always make sure the baby's weight is supported.
7. If a child is fighting against going into the sling, wait until he is calm and try again.
8. If a child is fussing after being placed in the sling, talk to him, pat back, move around, just as you would normally do to soothe a child.
9. Follow safety guidelines: you use at your own risk, accepting the responsibility for the safety of your child.**Please be responsible to learn and practice safe babywearing. That is the only way these products will be used properly. Check your carrier before use EVERY time for signs of wear or damage. If you find any wear or damage, discontinue use immediately. Carrier "shelf life" depends greatly on the way a carrier is used, is washed, and stored between uses.
Learn more about the shop and process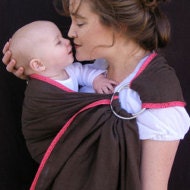 Rebecca
Silk Ring Sling - Onyx Black NO DECORATIVE stitching - DVD included
Listed on Oct 12, 2016
1895 views