100 pcs Cowrie shells, Slices Cut Open Seashells 17mm-20mm, Lot de 100 Cauris ouverts, coupés 17mm-20mm, 100 kauri muscheln 17mm-20mm
Sale details
10% OFF, 10% Discount, 10% Reductions + 50 free extra Shells Cowries Shells as Thank you ( Extra Surprises Shells Gifts).
Your satisfaction is my satisfaction

10% OFF, 10% Discount, 10% Reductions + 50 Cauris Coquillages Gratuits sur vos achats pour vous remercier.
Votre satisfaction est ma satisfaction
Description
100 pcs Cowrie shells, Slices Cut Open Seashells 17mm-20mm, Lot de 100 Cauris ouverts, coupés 17mm-20mm, 100 kauri muscheln 17mm-20mm
Reviews aren't loading right now. Try again later!
Payment options
Secure options
Accepts Etsy Gift Cards and Etsy Credits
Etsy keeps your payment information secure. Etsy shops never receive your credit card information.
Buyers are responsible for any customs and import taxes that may apply. I'm not responsible for delays due to customs.
Returns & exchanges
I gladly accept returns and exchanges
Contact me within:
21 days of delivery
Ship items back within:
30 days of delivery
I don't accept cancellations
But please contact me if you have any problems with your order.
The following items can't be returned or exchanged
Because of the nature of these items, unless they arrive damaged or defective, I can't accept returns for:
Custom or personalized orders
Perishable products (like food or flowers)
Digital downloads
Intimate items (for health/hygiene reasons)
Items on sale
Terms & Conditions and Right of Withdrawal
Allgemeine Geschäftsbedingungen, Kundeninformationen, Datenschutzerklärung und Hinweise zur Entsorgung von Batterien

§ 1 Geltungsbereich, Vertragsgegenstand und Identität des Verkäufers

(1) Die nachfolgenden Bestimmungen gelten für alle Verträge zwischen mir, nämlich

Gregoire Adrien da Silva
Wilmeresch 16
48565 Steinfurt
Deutschland
Telefon: +4915227798420
E-Mail: info@eiermannfestival.de

als Verkäufer, und Ihnen als Käufer über den Verkauf und die Lieferung der von mir über die Internetplattform Etsy angebotenen Artikel.

§ 2 Verbraucher und Unternehmer

(1) Meine Angebote richten sich sowohl an Verbraucher als auch an Unternehmer.

(2) Verbraucher in diesem Sinne ist jede natürliche Person, die den Vertrag mit mir zu Zwecken abschließt, die überwiegend weder ihrer gewerblichen noch ihrer selbständigen beruflichen Tätigkeit zugerechnet werden können.

(3) Unternehmer in diesem Sinne ist eine natürliche oder juristische Person oder eine rechtsfähige Personengesellschaft, die bei Abschluss des Vertrags mit mir in Ausübung ihrer gewerblichen oder selbständigen beruflichen Tätigkeit handelt.

§ 3 Vereinbarungen und Informationen zum Zustandekommen des Vertrages

(1) Die einzelnen technischen Schritte, die zum Vertragsschluss führen, der Vertragsschluss selbst und die Berichtigungsmöglichkeiten erfolgen nach Maßgabe der folgenden Bestimmungen.

(2) Wird ein Artikel von mir bei Etsy eingestellt, liegt in der Freischaltung der Artikelseite bei Etsy das verbindliche Angebot zum Abschluss eines Kaufvertrages zu den in der Artikelseite enthaltenen Bedingungen.

(3) Die zum Kauf beabsichtigten Artikel legen Sie im Warenkorb ab. Über die entsprechende Schaltfläche in der Navigationsleiste können Sie den Warenkorb aufrufen und dort jederzeit Änderungen vornehmen. Nach Aufrufen des Bestellformulars nehmen Sie die Eingabe der persönlichen Daten sowie der Zahlungs- und Versandbedingungen vor. Vor Absenden der Bestellung haben Sie die Möglichkeit, alle Angaben nochmals zu überprüfen, zu ändern – dies auch über die "Zurück"-Funktion Ihres Internetbrowsers – oder den Kauf abzubrechen. Der Vertragsschluss kommt zustande, sobald Sie alle Schritte des Bestellvorganges durchlaufen haben und diesen anschließend mittels Betätigung des Buttons: "Zahlungspflichtig bestellen" abschließen.

(4) Die Abwicklung der Bestellung und Übermittlung sämtlicher im Zusammenhang mit dem Vertragsschluss erforderlichen Informationen erfolgt per E-Mail. Sie sind daher verpflichtet sicherzustellen, dass die von Ihnen mir gegenüber angegebene E-Mail-Adresse korrekt ist und der Empfang von E-Mails technisch sichergestellt ist, also insbesondere nicht z.B. durch SPAM-Filter blockiert wird.

§ 4 Speicherung des Vertragstextes und Sprache des Vertrages

(1) Der vollständige Vertragstext wird nicht von mir gespeichert. Bevor Sie die Bestellung absenden, können Sie die Vertragsdaten über die Druckfunktion Ihres Internetbrowsers ausdrucken oder elektronisch speichern. Nachdem Ihre Bestellung bei mir eingegangen ist, werden die Bestelldaten, die Allgemeinen Geschäftsbedingungen einschließlich der bei Fernabsatzverträgen gesetzlich vorgeschriebenen Informationen nochmals per E-Mail an Sie übermittelt.

(2) Die für den Vertragsschluss zur Verfügung stehende Sprache ist deutsch.

§ 5 Wesentliche Merkmale der Waren

Die wesentlichen Merkmale der Waren finden Sie in der Artikelbeschreibung der jeweiligen Angebote.

§ 6 Preise, Versandkosten, Rücksendekosten im Falle des Widerrufs sowie Zahlungsbedingungen

(1) Die auf den jeweiligen Artikelseiten genannten von Ihnen zu zahlenden Kaufpreise enthalten die gesetzliche Mehrwertsteuer.

(2) Bei jeder Bestellung fallen zusätzlich Versandkosten an. Sie sind über eine entsprechend bezeichnete Schaltfläche in der jeweiligen Artikelbeschreibung aufrufbar, werden im Laufe des Bestellvorganges gesondert ausgewiesen und sind von Ihnen zusätzlich zu tragen, soweit nicht die kostenlose Lieferung zugesagt ist.

(3) Im Falle des Widerrufs tragen Sie die unmittelbaren Kosten der Rücksendung der Waren.
(4) Die zur Verfügung stehenden Zahlungsarten sind in der jeweiligen Artikelbeschreibung aufgeführt.

(5) Soweit dies bei den einzelnen Zahlungsarten nicht anders angegeben ist, ist der von Ihnen zu zahlende Kaufpreis sofort zur Zahlung fällig.

(6) Soweit ein Kauf auf Rechnung über PayPal erfolgt, trete ich meine gegen Sie gerichtete Forderung in vollem Umfang sowie unwiderruflich an die PayPal (Europe) S.à r.l. et Cie, S.C.A., 22-24 Boulevard Royal, L-2449 Luxembourg ab. Sie stimmen zu, dass die PayPal (Europe) S.à r.l. et Cie, S.C.A. unter Verwendung der übermittelten Daten vor Annahme der Abtretung eine Bonitätsprüfung durchführt. Ich behalte mir das Recht vor, Ihnen im Ergebnis der Bonitätsprüfung diese Zahlungsart zu verweigern. In der Kaufabwicklung werden Sie hierüber informiert. Bei Zulassung des Kaufs auf Rechnung über PayPal nimmt die PayPal (Europe) S.à r.l. et Cie, S.C.A. die Abtretung an, so dass schuldbefreiende Zahlungen nur noch an die PayPal (Europe) S.à r.l. et Cie, S.C.A. geleistet werden können. Die Zahlungsfrist beträgt 14 Tage ab Erhalt der Ware.

§ 7 Lieferbedingungen

(1) Die Lieferbedingungen, der Liefertermin sowie ggf. bestehende Lieferbeschränkungen finden sich in der jeweiligen Artikelbeschreibung. Soweit in der Artikelbeschreibung keine andere Frist angegeben ist, erfolgt die Lieferung der Ware innerhalb von drei bis fünf Tagen nach Vertragsschluss, bei vereinbarter Vorauszahlung jedoch erst nach dem Zeitpunkt Ihrer Zahlungsanweisung.

(2) Sofern Sie Verbraucher sind, ist gesetzlich bestimmt, dass die Gefahr des zufälligen Untergangs und der zufälligen Verschlechterung der verkauften Sache erst mit der Übergabe der Ware an Sie übergeht, unabhängig davon, ob die Versendung versichert oder unversichert erfolgt. Dies gilt nicht, wenn Sie eigenständig ein nicht vom Unternehmer benanntes Transportunternehmen oder eine sonst zur Ausführung der Versendung bestimmte Person beauftragt haben. Sofern Sie Unternehmer sind, erfolgt die Lieferung und Versendung auf Ihre Gefahr.

§ 8 Gewährleistung

Es bestehen die gesetzlichen Mängelhaftungsrechte für die Waren.

§ 9 Online-Streitbeilegung/OS-Plattform

(1) Die Europäische Kommission bietet für Verbraucher eine Plattform zur außergerichtlichen Online-Streitbeilegung (sogenannte OS-Plattform) unter https://ec.europa.eu/consumers/odr/ an, an die sich der Verbraucher bei Meinungsverschiedenheiten im Zusammenhang mit einem über elektronischen Geschäftsverkehr online abgeschlossenen Kauf- oder Dienstleistungsvertrag wenden kann.

(2) Zu der Teilnahme an Streitbeilegungsverfahren vor einer Verbraucherschlichtungsstelle bin ich nicht verpflichtet und nicht bereit.

Datenschutzerklärung

Mit dieser Datenschutzerklärung möchten wir Sie über Art, Umfang und Zweck der Verarbeitung von personenbezogenen Daten in unserem Etsy-Shop aufklären.

1. Name und Kontaktdaten des für die Datenverarbeitung Verantwortlichen
Verantwortlich für die Datenverarbeitung ist:
Gregoire Adrien da Silva
Wilmeresch 16
48565 Steinfurt
E-Mail: info@eiermannfestival.de
Telefon: +49 15227798420

2. Begriffe und Definitionen
In der Datenschutzerklärung werden folgende Begriffe verwendet:
Personenbezogene Daten
Betroffene Person
Verarbeitung
Einschränkung der Verarbeitung
Verantwortlicher
Empfänger
Dritter
Einwilligung
Diese Begriffe sind sämtlich in Art. 4 der Datenschutz-Grundverordnung (im Folgenden: DSGVO) definiert.


3. Umfang der Verarbeitung personenbezogener Daten
Sie sind Rahmen Ihrer Registrierung auf Etsy bereits über den Umfang und Zweck der Erhebung und Speicherung Ihrer personenbezogenen Daten durch Etsy aufgeklärt worden. Etsy hält hierzu eine eigne Datenschutzerklärung vor, die Sie unter folgendem Link finden: https://www.etsy.com/de/legal/privacy/ . Im Rahmen Ihrer Registrierung bei Etsy haben Sie eingewilligt, dass Etsy Ihre personenbezogenen Daten zum Zwecke der Vertragsabwicklung an uns übersendet. Im Einzelnen sind dies die Daten, die wir zur Erfüllung des zwischen uns geschlossen Vertrages benötigen. Hierzu gehören insbesondere Ihr Name sowie Ihre Adressdaten sowie die in Anspruch genommenen Leistungen. Diese Daten werden von uns gespeichert. Darüber hinaus erheben oder speichern wir keine Sie betreffenden personenbezogenen Daten.

4. Zweck der Datenverarbeitung
Die Verarbeitung selbst erfolgt aufgrund Ihrer Bestellung und dient dazu, Ihre Bestellung bearbeiten zu können und den zwischen uns geschlossenen Vertrag zu erfüllen. Im Einzelnen verwenden wir die von Etsy an uns übermittelten Daten insbesondere um
Sie als unseren Kunden zu identifizieren,
Ihre Bestellung zu bearbeiten, zu erfüllen und abzuwickeln,
mit Ihnen in Kontakt zu treten,
Ihnen Rechnungen zu stellen,
etwaige Haftungsansprüche abwickeln zu können,
vertragliche Ansprüche gegen Sie geltend machen zu können.

5. Weitergabe von Daten an Dritte
Wir geben Ihre persönlichen Daten nur dann an Dritte weiter, wenn:
Sie nach Art. 6 Abs. 1 S. 1 lit. a DSGVO hierin ausdrücklich eingewilligt haben,
die Weitergabe nach Art. 6 Abs. 1 S. 1 lit. f DSGVO zur Geltendmachung, Ausübung oder Verteidigung von Rechtsansprüchen erforderlich ist und kein Grund zur Annahme besteht, dass Sie ein überwiegendes schutzwürdiges Interesse an der Nichtweitergabe Ihrer Daten haben,
hierzu nach Art. 6 Abs. 1 S. 1 lit. c DSGVO eine gesetzliche Verpflichtung besteht,
dies nach Art. 6 Abs. 1 S. 1 lit. b DSGVO für die Abwicklung des mit Ihnen geschlossenen Vertrages erforderlich ist (bspw. Weitergabe der Daten an das mit das mit der Lieferung beauftragte Logistik-Unternehmen).
Darüber hinaus werden Ihre personenbezogenen Daten ohne Ihre ausdrückliche Einwilligung nicht an Dritte weitergegeben. Sofern wir Ihre personenbezogenen Daten an Dritte weitergeben, beschränken wir den Umfang der übermittelten Daten auf das erforderliche Minimum.

6. Rechtsgrundlage
Die Verarbeitung Ihrer personenbezogenen Daten (im Folgenden nur Verarbeitung) stützen wir auf folgende Rechtsgrundlage:
Soweit wir für die Verarbeitung Ihre Einwilligung einholen, dient Art. 6 Abs. 1 lit. a DSGVO als Rechtsgrundlage.
Bei der Verarbeitung, die der Erfüllung eines mit Ihnen geschlossenen Vertrages dient, ist Art. 6 Abs. 1 lit. b DSGVO Rechtsgrundlage. Dies gilt auch für die Verarbeitungsvorgänge, die zur Durchführung vorvertraglicher Maßnahmen erforderlich sind.
Soweit eine Verarbeitung zur Erfüllung einer rechtlichen Verpflichtung erforderlich ist, der wir unterliegen, dient Art. 6 Abs. 1 lit. c DSGVO als Rechtsgrundlage.
Für den Fall, dass lebenswichtige Interessen Sie oder eine andere natürliche Person betreffend eine Verarbeitung erforderlich machen, dient Art. 6 Abs. 1 lit. d DSGVO als Rechtsgrundlage.
Ist die Verarbeitung zur Wahrung einer unserer berechtigten Interesses oder eines Dritten erforderlich und überwiegen Ihre Interessen, Grundrechte und Grundfreiheiten das erstgenannte Interesse nicht, so dient Art. 6 Abs. 1 lit. f DSGVO als Rechtsgrundlage für die Verarbeitung.

7. Speicherdauer und Datenlöschung
Aufgrund handels- und steuerrechtlicher Vorgaben sind wir verpflichtet, Ihre Adress-, Zahlungs- und Bestelldaten für die Dauer von 10 Jahren zu speichern. Nach Ablauf der gesetzlichen Gewährleistungsrechte (2 Jahre) nehmen wir jedoch eine Einschränkung der Verarbeitung dahingehend vor, dass Ihre Daten nur noch zur Einhaltung der gesetzlichen Verpflichtungen eingesetzt werden.

8. Betroffenenrechte
Nach der DSGVO stehen Ihnen die nachfolgend aufgeführten Rechte zu, die Sie jederzeit bei dem in Ziffer 1. dieser Datenschutzerklärung genannten Verantwortlichen geltend machen können:
Recht auf Auskunft: Sie können nach Art. 15 DSGVO eine Bestätigung darüber verlangen, ob und welche personenbezogenen Daten wir von Ihnen verarbeiten. Darüber hinaus können Sie von uns unentgeltlich Auskunft über die Verarbeitungszwecke, die Kategorie der personenbezogenen Daten, die Kategorien von Empfängern, gegenüber denen Ihre Daten offengelegt wurden oder werden, die geplante Speicherdauer, das Bestehen eines Rechts auf Berichtigung, Löschung, Einschränkung der Verarbeitung oder Widerspruch, das Bestehen eines Beschwerderechts sowie die Herkunft ihrer Daten, sofern diese nicht bei uns erhoben wurden, verlangen. Ferner steht Ihnen ein Auskunftsrecht darüber zu, ob Ihre personenbezogenen Daten an ein Drittland oder an eine internationale Organisation übermittelt wurden. Sofern dies der Fall ist, steht Ihnen das Recht zu, Auskunft über die geeigneten Garantien im Zusammenhang mit der Übermittlung zu erhalten.
Recht auf Berichtigung: Gemäß Art. 16 DSGVO können Sie die Berichtigung unrichtiger oder Vervollständigung unvollständiger der bei uns gespeicherten und Sie betreffenden personenbezogenen Daten verlangen.
Recht auf Löschung: Gemäß Art. 17 DSGVO steht Ihnen das Recht zu, die Löschung Ihrer bei uns gespeicherten personenbezogenen Daten zu verlangen, soweit wir deren Verarbeitung nicht
zur Erfüllung einer rechtlichen Verpflichtung,
zur Geltendmachung, Ausübung oder Verteidigung von Rechtsansprüchen,
zur Ausübung des Rechts auf freie Meinungsäußerung und Information oder
aus Gründen der in Art. 17 Abs. 3 lit c und d DSGVO genannten Fälle des öffentlichen Interesses
benötigen.
Recht auf Einschränkung: Gemäß Art. 18 DSGVO haben Sie das Recht, die Einschränkung der Verarbeitung Ihrer personenbezogenen Daten zu verlangen, wenn
die Richtigkeit der Daten von Ihnen bestritten wird, und zwar für eine Dauer, die es uns ermöglicht, die Richtigkeit der personenbezogenen Daten zu überprüfen,
die Verarbeitung Ihrer Daten unrechtmäßig ist, Sie aber deren Löschung ablehnen und stattdessen die Einschränkung der Nutzung der Daten verlangen,
wir die personenbezogenen Daten für die Zwecke der Verarbeitung nicht länger benötigen, Sie die Daten jedoch zur Geltendmachung, Ausübung oder Verteidigung von Rechtsansprüchen benötigen
Sie gemäß Art. 21 DSGVO Widerspruch gegen die Verarbeitung Ihrer Daten eingelegt haben, es aber noch nicht feststeht, ob die berechtigten Gründe, die uns trotz Ihres Widerspruches zu einer weiteren Verarbeitung berechtigten, Ihre Rechte überwiegen.
Recht auf Unterrichtung: Sofern Sie das Recht auf Berichtigung, Löschung oder Einschränkung der Verarbeitung gegenüber uns geltend gemacht haben, sind wir verpflichtet, allen Empfängern, denen gegenüber die Sie betreffenden personenbezogene Daten offengelegt wurden, die von Ihnen verlangte Berichtigung oder Löschung der Daten oder deren Einschränkung der Verarbeitung mitzuteilen, es sei denn, dies erweist sich als unmöglich oder ist mit einem unverhältnismäßigen Aufwand verbunden. Ihnen steht das Recht zu, von uns über diese Empfänger unterrichtet zu werden.
Recht auf Datenübertragbarkeit: Gemäß Art. 20 DSGVO können Sie verlangen, dass wir die Sie betreffenden personenbezogenen Daten, die Sie uns bereitgestellt haben, in einem strukturierten, gängigen und maschinenlesebaren Format zu erhalten oder die Übermittlung an einen anderen Verantwortlichen zu verlangen.
Beschwerderecht: Nach Art. 77 DSGVO haben Sie das Recht, sich bei einer Aufsichtsbehörde zu beschweren. Hierfür können Sie sich an die Aufsichtsbehörde Ihres üblichen Aufenthaltsortes, Ihres Arbeitsplatzes oder unseres Firmensitzes wenden.
Widerrufsrecht: Gemäß Art. 7 Abs. 3 DSGVO steht Ihnen das Recht zu, Ihre erteilte Einwilligung in die Verarbeitung Ihrer Daten jederzeit uns gegenüber zu widerrufen. Der von Ihnen erklärte Widerruf ändert nichts an der Rechtmäßigkeit der bis zum Widerruf erfolgten Verarbeitung Ihrer personenbezogenen Daten.

9. Widerspruchsrecht
Sie haben das Recht, aus Gründen, die sich aus Ihrer besonderen Situation ergeben, jederzeit gegen die Verarbeitung der Sie betreffenden personenbezogenen Daten, die aufgrund einer Interessenabwägung (Art. 6 Abs. 1 lit. f DSGVO) erfolgt, Widerspruch einzulegen. Dies ist insbesondere dann der Fall, wenn die Datenverarbeitung nicht zur Erfüllung eines Vertrages erforderlich ist. Sofern Sie von Ihrem Widerspruchsrecht Gebrauch machen, bitten wir Sie um die Darlegung der Gründe. Wir werden dann Ihre personenbezogenen Daten nicht mehr verarbeiten, es sei denn, wir können Ihnen gegenüber nachweisen, dass zwingende schutzwürdige Gründe an der Datenverarbeitung Ihre Interessen und Rechte überwiegen.

Unabhängig vom vorstehend Gesagten, haben Sie das jederzeitige Recht, der Verarbeitung Ihrer personenbezogenen Daten für Zwecke der Werbung und Datenanalyse zu widersprechen.

10. Sicherheitsmaßnahmen
Informationen zur Datensicherheit entnehmen Sie bitte der von Etsy bereitgestellten Datenschutzerklärung, die unter dem in Ziffer 4 genannten Link abgerufen werden kann.
Wir treffen im Übrigen technische und organisatorische Sicherheitsmaßnahmen nach dem Stand der Technik, um die Vorschriften der Datenschutzgesetze einzuhalten und Ihre Daten gegen zufällige oder vorsätzliche Manipulationen, teilweisen oder vollständigen Verlust, Zerstörung oder gegen den unbefugten Zugriff Dritter zu schützen.

11. Aktualität und Änderung dieser Datenschutzerklärung
Diese Datenschutzerklärung ist aktuell gültig und hat den Stand April 2018.
Durch die Weiterentwicklung des Internetangebotes von Etsy oder aufgrund geänderter gesetzlicher bzw. behördlicher Vorgaben kann es notwendig werden, diese Datenschutzerklärung anzupassen.


Hinweise zur Entsorgung von Batterien

Ich bin gesetzlich verpflichtet, Sie im Zusammenhang mit dem Vertrieb von Batterien oder mit der Lieferung von Geräten, die Batterien enthalten, auf folgendes hinzuweisen:
Nach Gebrauch können Sie Batterien, die ich im Sortiment führe oder geführt habe, unentgeltlich an mich zurückgeben.

Sie sind als Endnutzer zur Rückgabe von Altbatterien gesetzlich verpflichtet.

Die auf den Batterien abgebildeten Symbole haben folgende Bedeutung:
Das Symbol der durchgekreuzten Mülltonne bedeutet, dass die Batterie nicht in den Hausmüll gegeben werden darf.

Hg = Batterie enthält mehr als 0,0005 Masseprozent Quecksilber.
Cd = Batterie enthält mehr als 0,002 Masseprozent Cadmium
Pb = Batterie enthält mehr als 0,004 Masseprozent Blei

Widerrufsbelehrung

Widerrufsrecht

Sie haben das Recht, binnen vierzehn Tagen ohne Angabe von Gründen diesen Vertrag zu widerrufen.

Die Widerrufsfrist beträgt vierzehn Tage ab dem Tag, an dem Sie oder ein von Ihnen benannter Dritter, der nicht der Beförderer ist,

- die Waren (bei Lieferung einer Ware oder einheitlicher Lieferung mehrerer Waren, die Sie im Rahmen einer einheitlichen Bestellung bestellt haben) oder
- die letzte Ware (bei getrennter Lieferung mehrerer Waren, die Sie im Rahmen einer einheitlichen Bestellung bestellt haben) oder
- die letzte Teilsendung oder das letzte Stück (bei Lieferung einer Ware oder mehrerer Waren, die Sie im Rahmen einer einheitlichen Bestellung bestellt haben, in mehreren Teilsendungen oder Stücken)

in Besitz genommen haben bzw. hat.

Um Ihr Widerrufsrecht auszuüben, müssen Sie uns (Gregoire Adrien da Silva, Wilmeresch 16, 48565 Steinfurt, Deutschland, Telefon: +4915227798420, E-Mail: info@eiermannfestival.de) mittels einer eindeutigen Erklärung (z.B. ein mit der Post versandter Brief, Telefax oder E-Mail) über Ihren Entschluss, diesen Vertrag zu widerrufen, informieren. Sie können dafür das beigefügte Muster-Widerrufsformular verwenden, das jedoch nicht vorgeschrieben ist. Zur Wahrung der Widerrufsfrist reicht es aus, dass Sie die Mitteilung über die Ausübung des Widerrufsrechts vor Ablauf der Widerrufsfrist absenden.

Folgen des Widerrufs

Wenn Sie diesen Vertrag widerrufen, haben wir Ihnen alle Zahlungen, die wir von Ihnen erhalten haben, einschließlich der Lieferkosten (mit Ausnahme der zusätzlichen Kosten, die sich daraus ergeben, dass Sie eine andere Art der Lieferung als die von uns angebotene, günstigste Standardlieferung gewählt haben), unverzüglich und spätestens binnen vierzehn Tagen ab dem Tag zurückzuzahlen, an dem die Mitteilung über Ihren Widerruf dieses Vertrags bei uns eingegangen ist. Für diese Rückzahlung verwenden wir dasselbe Zahlungsmittel, das Sie bei der ursprünglichen Transaktion eingesetzt haben, es sei denn, mit Ihnen wurde ausdrücklich etwas anderes vereinbart; in keinem Fall werden Ihnen wegen dieser Rückzahlung Entgelte berechnet. Wir können die Rückzahlung verweigern, bis wir die Ware wieder zurückerhalten haben oder bis Sie den Nachweis erbracht haben, dass Sie die Waren zurückgesandt haben, je nachdem, welches der frühere Zeitpunkt ist.

Sie haben die Waren unverzüglich und in jedem Fall spätestens binnen vierzehn Tagen ab dem Tag, an dem Sie uns über den Widerruf dieses Vertrags unterrichten, an uns zurückzusenden oder zu übergeben. Die Frist ist gewahrt, wenn Sie die Waren vor Ablauf der Frist von vierzehn Tagen absenden.

Sie tragen die unmittelbaren Kosten der Rücksendung der Waren.

Sie müssen für einen etwaigen Wertverlust der Waren nur aufkommen, wenn dieser Wertverlust auf einen zur Prüfung der Beschaffenheit, Eigenschaften und Funktionsweise der Waren nicht notwendigen Umgang mit ihnen zurückzuführen ist.

Muster-Widerrufsformular

(Wenn Sie den Vertrag widerrufen wollen, dann füllen Sie bitte dieses Formular aus und senden Sie es zurück)
An
Gregoire Adrien da Silva
Wilmeresch 16
48565 Steinfurt
Deutschland
E-Mail: info@eiermannfestival.de

Hiermit widerrufe(n) ich/wir (*) den von mir/uns (*) abgeschlossenen Vertrag über den Kauf der folgenden Waren:

……………………………………………………………………………………………………………
Bestellt am:

……………………………………………………………………………………………………………
Erhalten am:

……………………………………………………………………………………………………………
Name des/der Verbraucher(s):

……………………………………………………………………………………………………………
Anschrift des/der Verbraucher(s):

……………………………………………………………………………………………………………
Unterschrift des/der Verbraucher(s) (nur bei Mitteilung auf Papier):

……………………………………………………………………………………………………………
Datum:

……………………………………………………………………………………………………………

(*) Unzutreffendes streichen.

Ende der Widerrufsbelehrung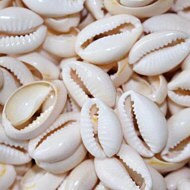 Germany Shell Cowry Cowries
100 pcs Cowrie shells, Slices Cut Open Seashells 17mm-20mm, Lot de 100 Cauris ouverts, coupés 17mm-20mm, 100 kauri muscheln 17mm-20mm
Ask a question
$31.79 $35.32
You save $3.53 (10%)
---
Overview
Vintage handmade item from the 1960s
Feedback: 131 reviews
Favorited by: 5 people
Gift message available
This shop accepts Etsy gift cards
Shipping & returns
Ready to ship in 1 business day
From Germany
There was a problem calculating your shipping. Please try again.
Zip or postal code
Please enter a valid zip code
Sorry, this item doesn't ship to
United States
.
Contact the shop
to find out about available shipping options.