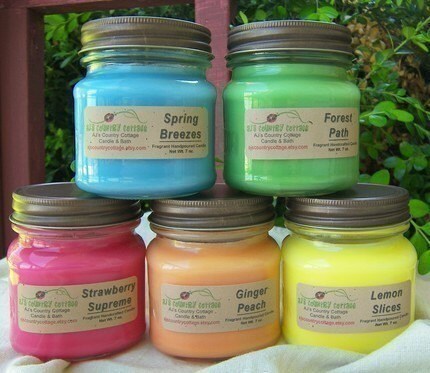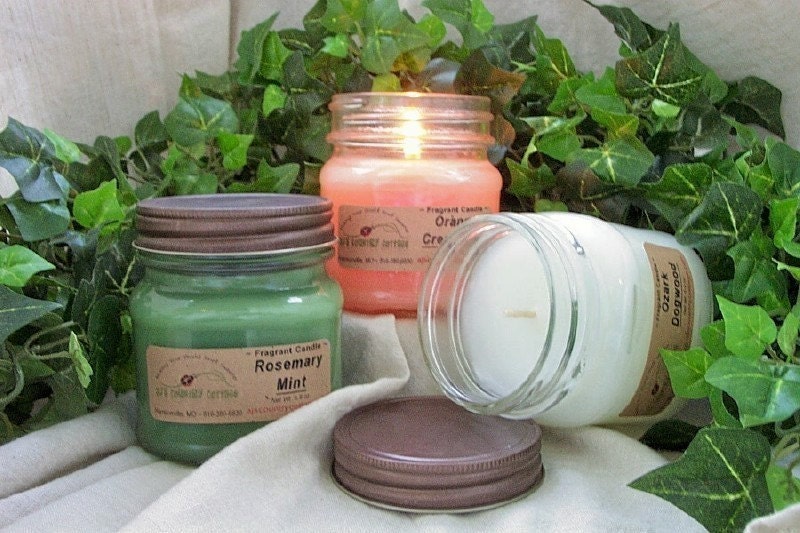 Surround yourself with the scents you love! Our cute, highly-scented 8 oz. square mason jar candles will envelop your room with the cozy, fresh and fun scents that make a house YOUR home. Featuring our strong, highly-scented paraffin wax blend and safe, non-lead wicks, these will create the perfect atmosphere for any occasion. (If you prefer SOY wax, see the soy candle section of this shop.) Pamper yourself with all your favorites! Average burn time is a long-lasting 55+ hours. As with all our candles, you'll smell these from several feet away when burning; many customers report they can smell these babies all throughout the house when lit!

Choose any 3 of our super popular home-scenting candles from this shop and save on shipping! Order with confidence; your shipping cost includes INSURANCE to protect you against loss or damage during shipment. PLEASE WRITE YOUR 3 CHOICES IN THE MESSAGE BOX AT CHECKOUT. For more detailed descriptions, see the individual candle listings in this shop. :)
____________

♥ ♥ SWEET & SPICY TREATS FROM THE KITCHEN ♥ ♥

ALMOND RUM CAKE: Delectable notes of tender cake, sweet almond, hearty rum and creamy vanilla!

CARROT CAKE: Delicious spicy cake with sweet cream cheese frosting. Delectable!

APPLE BUTTER & CARAMEL: Like a big simmering pot of apple butter swirled with creamy caramel!

APPLE CINNAMON: The name says it all! Fresh apples kissed with sweet cinnamon!

APPLESAUCE GINGERBREAD: Awesome pairing of sweet applesauce and spicy gingerbread. Looking for unique? Look no further! LIMITED QUANTITIES

AUTUMN SPICE: Gorgeous blend of cinnamon, allspice and clove simmered in sweet, buttery vanilla. Deep, rich, spicy scent.

BACON! BACON! Yeah, bacon! Smells to me like opening a bottle of bacon bits!

CARAMEL CAPPUCCINO: Scrumptious blend of fresh roasted coffee and creamy caramel with a touch of sweet vanilla. A coffee lover's delight!

CARAMEL WALNUT SCONE: Super homey, cozy scent! Sweet, creamy, buttery caramel with a nutty twist.

CHESTNUTS AND BROWN SUGAR: Deliciously nutty yet creamy and smooth caramelized sugar. Don't let the soft scent when you open the jar fool you. This one packs a whollop when lit! LIMITED QUANTITIES

CIDER BARREL: Warm, spicy apple cider with hints of cedar wood.

CINNAMON BREAD PUDDING: Sweet bread pudding laced with spicy cinnamon & plump raisins! LIMITED QUANTITIES

CINNAMON GLAZED BAKLAVA: Pastry, nuts, and a sweet honey glaze with a delicate touch of cinnamon!

CINNAMON STICKS: Warm, woodsy, spicy cinnamon. A real home warmer!

COCOA BEAN and SEA SALT: Deliciously smooth and rich chocolate with the barest hint of salt.

CORNER BAKERY: Buttery vanilla combined with the irresistible scents of fresh dough and gooey batter. Hints of sugared almonds round it out!

CREME BRULEE: The ULTIMATE caramelized vanilla custard treat!

DRIED APPLE WREATH: Dried apples, warm woodsy notes, light spices and hint of balsam.

FALL WREATH: Fabulous fusion of warm, woodsy SPICE notes! No shortage of cinnamon and clove buds HERE.

GRANDMA'S KITCHEN: Apples, spice, and all things nice. A top seller!

HARVEST SPICE: Clove-spice blend; just like the fragrance of a similar name sold by a popular candle store.

MAPLE WALNUT FUDGE: Creamy maple fudge and fresh nuts. Sweet! LIMITED QUANTITIES

MONKEY BREAD: Sweet pull-apart bread lightly laced with spicy cinnamon. Yummers!

ORANGE CREAMSICLE: A creamy orange-vanilla blend that will take you back to your childhood. Best seller!

PEPPERMINT HOT COCOA: Creamy hot chocolate kissed with a touch of mint!

PEPPERMINT SWIZZLE STICK: Sweet pairing of fresh mint and a touch of vanilla!

PICKIN' PUMPKINS: Warm, spicy pumpkin with highlights of dried orange peel, rum, nutmeg, clove, cassia, allspice, malted vanilla, and a woody, cinnamon bark dry-down.

PINK SUGAR: A sophisticated cotton candy scent blended with vanilla and a touch of caramel. Similar to the designer cologne.

PUMPKIN BREAD: You'll swear there's a fresh loaf baking in the oven!

PUMPKIN CARAMEL LATTE: Ripe pumpkins, rich caramel and the perfect blend of autumn spices are fused with a touch of sweet cream and tasty pralines.

PUMPKIN CUSTARD: Buttery notes of cinnamon, ginger, nutty pumpkin, and brown sugar are topped off with sweet vanilla custard cream and hints of orange peel. Yum!

ROASTED COFFEE: The name says it all. Rich and creamy coffee treat!

SOUTHERN PECAN PIE: This sweet and nutty scent will make you drool. Please refrain from digging into this one with a spoon!

SPICED BAKED APPLES: Like a delicious, fresh-from-the-oven pan of baked apples loaded with spice! Bold blend of cinnamon, ginger, and other spices harmonizes beautifully with wonderful mellow apple notes and other fruit accords. LIMITED QUANTITIES

SPICED PUMPKIN: Hearty pumpkin with a strong emphasis on the SPICE! Not for the faint of heart. :) Prefer a fruitier pumpkin? Try Sweet Pumpkin Spice!

GRAN'S SUGAR COOKIES: Mmmmmmm...buttery sweet vanilla cookies with just a touch of cinnamon. One of my personal faves.

SWEET PUMPKIN SPICE: Sweet, mellow pumpkin with just a touch of spice. If you prefer more IN YOUR FACE spice, try Spiced Pumpkin!

VANILLA BEAN: Sweet, true vanilla, pure & simple! Customer fave!

VANILLA BEAN NOEL type: Delicious caramel vanilla treat!

VANILLA CHAI: Nutty, sweet, spicy vanilla.

VANILLA SPICE: If you love vanilla and you love spice, you HAVE to try this super-popular scent! Creamy, delicious vanilla blended with nutmeg, cinnamon, allspice and clove with a sugar kiss.

WARM VANILLA NUTMEG: Inviting, warm spices with nutmeg and creamy vanilla.

♥ ♥ FLORAL SCENTS ♥ ♥

FRESH LILAC: You'll think it's spring, and you're standing next to a lilac bush in bloom! Our best-selling floral.

HAWAIIAN PLUMERIA: Plumeria is the Hawaiian lei flower, and this is one strong, beautiful floral.

WILD JASMINE: Delicate fragrance that's so true to its name! Beautiful and popular.

LAVENDER BASIL: Delicate, sweet lavender blends wonderfully with gorgeous basil. Unique!

LAVENDER DREAMS: Not at all medicinal! Awesome lavender scent.

OZARK DOGWOOD: Crisp, "fresh & clean" floral. Different!

SCOTTISH HEATHER: Delicate and lovely.

SWEET GARDENIA: Smells exactly like the fragrant white flower of the same name.

♥ ♥ FRESH & CLEAN / EARTHY / HERBAL SCENTS ♥ ♥

AUTUMN WOODS: Imagine strolling through the woods on a beautiful fall afternoon. Woodsy notes, dried leaves, light nutty notes and a hint of spice are in the air. Gorgeous!

BABY POWDER: Delicate, powdery soft baby scent.

CEDARWOOD PATCHOULI: Delicate, earthy, and very warm.

CLEAN COTTON type: Love the smell of clean laundry? This one smells like you just took a load of fresh clothes from the drier. Just like the scent of a similar name sold by a popular candle chain.

ENCHANTED OAK: Here's a very unique combination of vanilla, oak, and spice. Not sweet and foodlike, but warm and masculine. A favorite with women as well!

ENGLISH IVY: This fabulous scent gives an ambiance of a well-kept house with crisp linens, manicured gardens, and sunlight on a gleaming parquet floor. Wonderful fresh scent features green notes with early spring blooms. Strong, unique and clean!

FOREST PATH: Fresh greenery - like a stroll through the woods! Features pine tree notes.

GREEN TEA CUCUMBER: Clean, crisp and delicate fragrance features fresh cucumber blended with soft green tea notes. Soft, fresh, clean scent!

HAWAIIAN SANDALWOOD: Delicate and true.

JAPANESE PEAR & GINSENG: Clean, fresh, upscale spa fragrance fuses green Japanese pear with bold red ginseng! Unique scent also features soft notes of peach blossom and amber.

OCEAN MIST: Like a misty breeze from the sea. Fresh!

PIPE SMOKE: Sweet tobacco smoke from Grandpa's pipe.

ROSEMARY MINT: Aromatic herbal with a sweet mint kick! Does not smell medicinal. Great room freshener.

SADDLE SHOP: Cowboy up! Smells like genuine leather!

SANDALWOOD VANILLA: Wonderful, powdery blend of earthy, sensuous sandalwood and warm vanilla.

SPRING BREEZES: Delicate breezes blow the soft scents of clean rain, tender buds, and gentle blossoms your way. This fabulous fresh scent brings springtime indoors ANY time of year!

♥ ♥ FRUITY SCENTS ♥ ♥

AUTUMN SPLENDOR: Warm cinnamon blended with orange peel, creamy vanilla, and light fruity tones. Hints of baked apples and oak on a warm bottom layer of musk and spices.

BIRDS of PARADISE: Sweet strawberries, juicy pomegranates, coconut milk, and creamy vanilla with hints of exotic jasmine and rose petals.

BLACK CHERRY: Sweet, ripe, full-bodied cherry. A traditional favorite! STRONG!

BLUEBERRIES and VANILLA CREAM: Sweet, delicious wild blueberries encircled by creamy vanilla. Smells just like you are baking blueberry vanilla treats.

BUTTERNUT PUMPKIN: Rich, buttery winter squash accented with fresh fruit and sweet almond top notes along with spicy nutmeg, cinnamon, and cassia middle notes and then a milky-sweet vanilla and caramelized sugar base. LIMITED QUANTITIES

CITRUS SLICES: Fabulous blend of orange, lemon and lime. Crisp and strong!

COCONUT BAY type: Pure, fresh coconut meat! Think suntan lotion, tropical beaches, sunshine and fun. If you love straight coconut that's not overly sweet and vanilla-ey, here's your scent!

ENCHANTED APPLE: Reminds me of a winter candied apple type. Heirloom apples enhanced by sparkling citrus notes of lime and grapefruit along with delicate floral notes of apple blossoms, jasmine, and white lilies on a soothing base of vanilla musk and warm spice.

GINGER PEACH: Fresh, ripe peaches with a zippy bite of spicy ginger just says SUMMER! Peach and spice lovers, you'll go wild for this one. Bring fruity summer freshness indoors any time of year! LIMITED QUANTITIES

HONEY MANGO: Fabulous fruity tropical treat! Sweet honey top notes lead to luscious ripe mango with a coconut twist. Whisk yourself away to an island paradise, even if it's just in your imagination!

LEMON COLADA: A fresh pina colada featuring coconut, pineapple and an unexpected lemon twist! Refreshing!

LEMON SLICES: Refreshing, tart lemon is so sunny and cheerful! I adore lemon, and it never fails to lift my spirits when I smell it. This is a true, delicious, pure lemon scent, fellow lemon lovers. Bring the sunshine indoors with this uplifting fragrance!

LOVE SPELL type: Just like the scent of a similar name sold by a popular lingerie chain! Features mandarin, bergamot, orange, peach, berries and a hint of musk.

MANGO PAPAYA: Tropical fresh fruit scent. One of our most popular fruity fragrances; everyone loves this one!

NECTARINE & VANILLA BEAN: Juicy oranges and sweet nectarines are balanced by a hint of vanilla and coconut. I ADORE this one!

PERFECT POMEGRANATE: Love this fun fruit!

PINEAPPLE CILANTRO: Sweet, juicy pineapple with the barest hint of herbs.

RUSTIC LODGE: Warm honey caramel and apple cider blend.

STRAWBERRY JAM: Did someone just pop open a fresh jar of sweet, luscious strawberry jam? Sure smells like it! This one is SO true!

SWEET LIME AND BASIL: Juicy, tart/sweet lime with a hint of pungent basil.

TROPICAL PARADISE: Complex layers of exotic fruit notes, including star fruit, lychee, and dragon fruit balanced on a base of mango and papaya with hints of lime. Sweet yet tart and unique!

WILDBERRY TEA: Fabulous blend of wild berries. Fresh, fruity, fun fragrance!

♥ ♥ HOLIDAY FAVORITES ♥ ♥

SMOKY MOUNTAINS CHRISTMAS TREE, CINNAMON & BALSAM, COOKIES FOR SANTA, COUNTRY CHRISTMAS, FRANKINCENSE & MYRRH, GINGERBREAD COOKIES, HOLIDAY FESTIVAL, HOLLY & IVY, SPICED CRANBERRY, SPRUCEBERRY, SUGARED SPRUCE, UNDER THE MISTLETOE, WINTER WONDERLAND

Candles are shipped PROMPTLY via USPS Priority Mail, usually in 1-2 business days. To save you money, I use flat-rate boxes when I can, so six candles ship for the same price as three (in the medium flat-rate box, which holds up to six candles). The large flat-rate box is used for orders of 7-9 candles. Yes I DO ship internationally, but the postal rates are exceedingly high.
Learn more about the shop and process
Marissa and AJ
3 HOMESCENTING CANDLES - Your Choice - Vanilla, Cinnamon, Apple, Pumpkin, Fresh, Clean, Citrus, Floral, Spice, Fruit, Herbal
---
Overview
Handmade item
Materials:

paraffin, non lead wick

Only ships within

United States

.
Feedback: 2912 reviews
Favorited by: 165 people
Shop similar items from sellers around the world