3 kids, NO stretch marks! Bake It, DURING-pregnancy body butter SCRUB can prevent new stretch marks & fade old ones! Anti-itch Organic Vegan
3 kids, NO stretch marks! Bake It, DURING-pregnancy body butter SCRUB can prevent new stretch marks & fade old ones! Anti-itch Organic Vegan
---
Item details
PLEASE NOTE: THIS WAS PREVIOUSLY CALLED "GROW BABY GROW".

*FOR MAXIMUM STRETCH MARK PREVENTION AND ITCH RELIEF DURING PREGNANCY, first use this scrub to soothe, hydrate, and gently exfoliate, then lather on our luxurious "Bake It" organic, belly butter cream. (LINK to our money saving bundle, SCRUB+CREAM -> http://etsy.me/2Daryul )
Final step: Treat yourself with extra lovin' while that marvelous masterpiece is in the oven!

*********************************************************************************************

Hey Beautiful Mamas! CONGRATS on your pregnancy!!! Now apply our cream to prepare for the fun, while you patiently bake that tiny bun! 

3 kids, NO stretch marks, and this is what I used DURING all my pregnancies-and if you've read the reviews, you'll see it's working just as amazingly for so many others for their itching and dryness-AS WELL AS even fading their old marks while preventing new ones!! (Just fyi, my mom, grandmom, & all my aunts have them, so they are not always genetic!) 

Being a TV personality, I am constantly asked what pregnancy creams I used. So I decided to take the belly butter that I've been making in my kitchen for years, and team up with a WORLD RENOWNED skin-healing physician in order to bring you just the right combination of organic butters and essential oils!

Together we've come up with an ORGANIC, VEGAN, ALL NATURAL, ULTRA-hydrating and soothing combination of various organic butters, infused with organic essential oils that all contain ingredients to help prevent stretch marks-while also leaving Mama relaxed, soothed, and hydrated. 


DIRECTIONS: During your pregnancy, while bathing, apply a dollop of scrub onto all areas prone to stretching (belly, thighs, breasts, etc) using a gentle circular motion. Once sugar has dissolved, rinse off, and pat dry! (We highly recommend first using our scrub to sooth, hydrate, gently exfoliate, then lathering on our luxurious "Bake It" organic butter cream. LINK to the money-saving SCRUB+CREAM bundle-> http://etsy.me/2Daryul )

*********************************************************************************************

WEATHER WARNING! PLEASE READ:

As you know, our products are all-natural, organic, and vegan. We DO NOT use synthetic stabilizers or waxes like most commercial companies do, as we believe in 100% purity!

*We ship worldwide, so depending on your climate, there can be slight changes to the consistency of your cream.
BUT FEAR NOT! ANY CONSISTENCY CHANGES WILL NOT AFFECT THE QUALITY OR EFFICACY OF YOUR PRODUCT AT ALL-AND THERE IS ALWAYS A QUICK FIX!

TOO HARD?

During colder months, there is a tiny chance that you may receive a slightly hardened product.

*QUICK FIX! --> *If you would like it to be a little softer, simply store it in a warmer area of the house (on top of a dryer, or on the counter over a dishwasher) OR just let it sit at room temperature for a day! The whipped consistency may change, but it will ABSOLUTELY still be the same super-nourishing, skin-repairing balm that will still go on easily, sink in quickly and leave your skin feeling amazing!

TOO SOFT?

During warmer months, there is a tiny chance that you may receive a product that has softened or even melted in transit.. as they sit in blazing hot mail trucks, mailboxes or on front porches-especially if the shipping destination is quite far! Remember to open your jars slowly and carefully when you first receive them, always store them in a cool place, and try to pick them up right away if possible (so they're not sitting out in a heated mailbox).

*QUICK FIX! --> *Simply stir it up and place in the refrigerator for about 20 minutes, OR you can even just let it sit at room temperature for a day! The whipped consistency may change, but it will ABSOLUTELY still be the same super-nourishing, skin-repairing balm that will still go on easily, sink in quickly and leave your skin feeling amazing!

We always love and appreciate all feedback so PLEASE EMAIL US BACK WITH FEEDBACK! We would love to hear how your jars arrive! THANK YOU for all the amazing reviews you have left us! We're so very grateful!


********************************************************************************************************

PHYSICIAN-RECOMMENDED INGREDIENTS:

ORGANIC CANE SUGAR:
Sugar is a natural humectant that locks in moisture and leaves skin supple and soft. Since it's more gentle on the skin than white sugar or salt, brown sugar is an ideal choice for an exfoliating the dead skin cells which usually accumulate on the stretch marks. Scrubbing also helps to improve blood circulation which speeds up the healing process.

ORGANIC OATMEAL: 
Oatmeal is known to be an excellent pregnancy exfoliator since it gently removes the dead skin cells that prevent the skin from staying hydrated. Oatmeal also contains anti-oxidant, anti-inflammatory compounds that help sooth that dry, itchy, pregnancy skin.

ORGANIC COCOA BUTTER:
In order for the body to regrow skin tissue, the skin must be well hydrated. Therefore, cocoa butter's unique ability to lock moisture in at the deeper levels of the skin, plus the fact that it's an excellent emollient, make it particularly beneficial as a treatment for scars. 

ORGANIC SHEA BUTTER:
Raw shea butter contains vitamin E, vitamin A, essential fatty acids, and other unique skin healing and strengthening compounds. Applying shea butter to your skin daily results in addition of both collagen and increased cellular turnover. This results in skin that is strong, supple, and in the perfect condition to properly regenerate and bounce back from the stretching and straining of pregnancy. 

ORGANIC COCONUT OIL:
Coconut oil contains saturated fats and a high amount of Vitamin E that helps prevent stretch marks, strengthens cell walls, and helps relieve that dry, itchy, irritated skin often affiliated with pregnancy. It also fights free radicals to reduce the appearance of stretch marks, and plays a role in their removal as well

ORGANIC OLIVE OIL:
Olive oil is known to be natural antioxidant, with extremely strong and potent moisturizing powers. The combination of the moisturizing properties and antioxidants in olive oil make it the perfect product to use when trying to zap away stretch marks.

ORGANIC VITAMIN E OIL:
Vitamin E is a powerful antioxidnet, and a highly effective way to increase levels of the nutrient in the skin tissue. It's said to be one of the best, and most effective, methods of helping deal with stretch marks. This natural compound has been shown to actually eliminate stretch marks by creating firmer, more elastic skin, due to the vitamin's ability to help your body regenerate new, and stronger, skin cells at the deepest level.

ORGANIC LAVENDER ESSENTIAL OIL:
Lavender is an excellent oil to help feel serene, relaxed and balanced. It's most commonly used to treat anxiety, insomnia, depression, and restlessness. It also eases pregnancy aches and pains, reduces fluid retention, helps sooth dry and irritated skin-and some studies even suggest that lavender can help digestive issues such as vomiting, nausea, intestinal gas, upset stomach, and abdominal swelling.

ORGANIC NEROLI ESSENTIAL OIL:
Neroli is an extremely precious and expensive material, but well worth it for pregnancy due to its many benefits! For those experiencing anxiety or pregnancy nerves, neroli is said to help you feel relaxed and tranquil. It also boosts your skin cell regeneration, and improves elasticity and circulation to help with problematic skin, stretch marks, and scars. It's best known to help with pregnancy issues like digestion, constipation, diarrhea, stress, depression, fear, anxiety, insomnia, and stretch marks.

ORGANIC SWEET ORANGE ESSENTIAL OIL:
Sweet and warm, the scent of orange oil instantly energizes and refreshes. It strengthens and rejuvenates your skin, reduces stress, nervousness and tension, and energizes and fights lethargy and fatigue. Orange oil can also help curb inflammation in the body by reducing pain and irritation.

ORGANIC VANILLA ESSENTIAL OIL:
The health benefits of vanilla essential oil can be attributed to its properties as an antioxidant, aphrodisiac, anticarcinogenic, febrifuge, antidepressant, sedative, tranquilizing, and a relaxing substance.

ORGANIC FRANKINCENSE ESSENTIAL OIL:
Known as "the king of oils", Frankincense oil is useful for skin health, and can help treat dry skin, reverse signs of aging and reduce the appearance of stretch marks and scars. Other pregnancy benefits of frankincense oil are mostly attributed to its anti-inflammatory, astringent, antiseptic, disinfectant, digestive, diuretic and expectorant properties.

ARROWROOT POWDER:Arrowroot absorbs oils/sebum beautifully and is also promotes natural healing as it penetrates the skin. Rubbing some into skin before bed and in the morning can reduce oil production, soften skin and dry out/heal blemishes.
---
Shipping & returns
Get it fast! Ready to ship in 1–3 business days.
From Riverside, CA
There was a problem calculating your shipping. Please try again.
Zip or postal code
Please enter a valid zip code
Sorry, this item doesn't ship to
United States
.
Contact the shop
to find out about available shipping options.
No returns or exchanges
But please contact me if you have any problems with your order.
Gift wrapping available
Details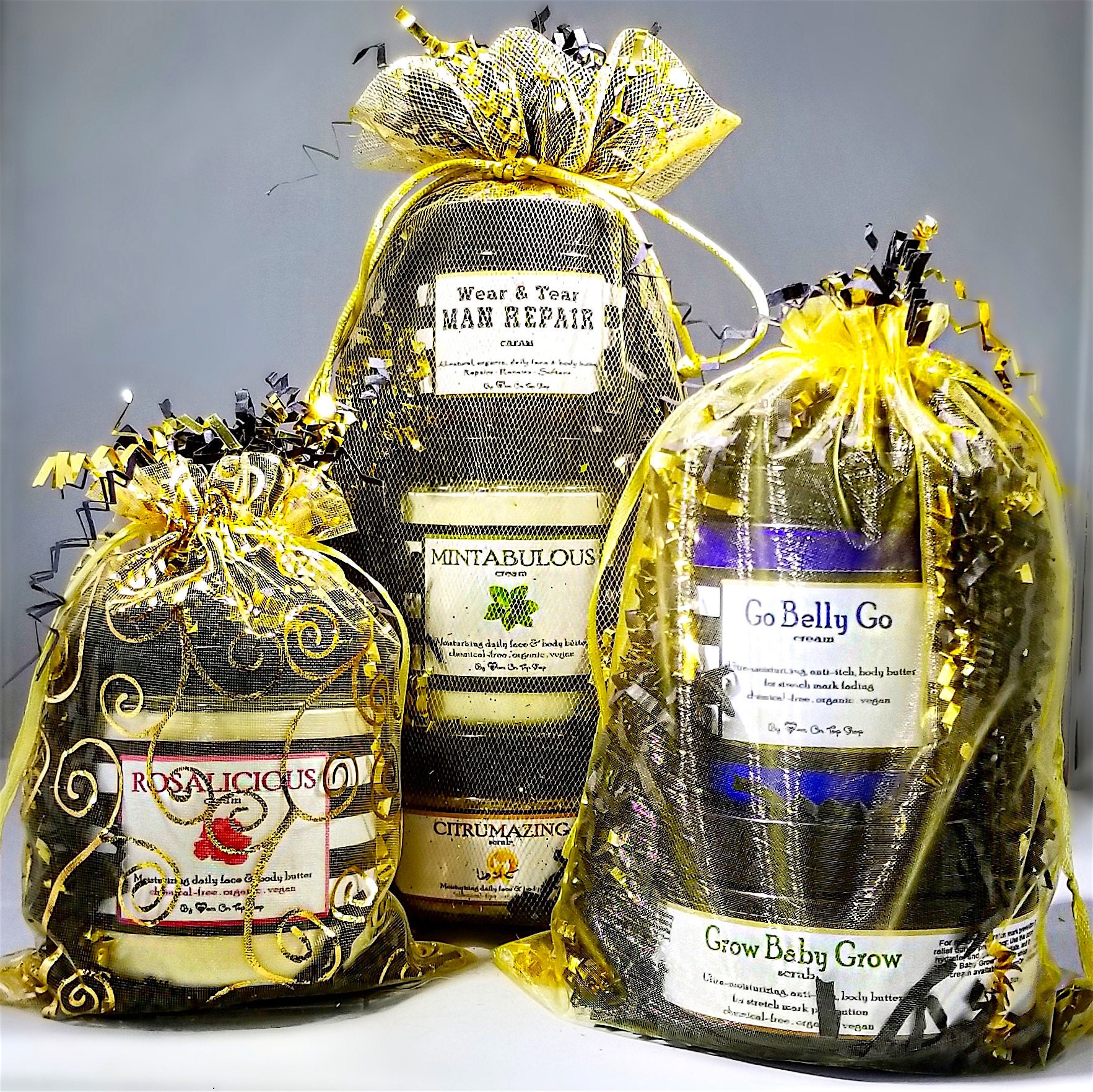 Gift wrapping by MomOnTopShop
Your order will be beautifully wrapped in a sheer gold organza bag filled with gold and black crinkle cut metallic mix shred!

This seller usually responds within 24 hours.