Jade Red Rose cut slice Pair/ Pear rose cut slice pair/Cabochon Slice/ Natural Jade Red/Cabochon rose cut/Earring slice pair/loose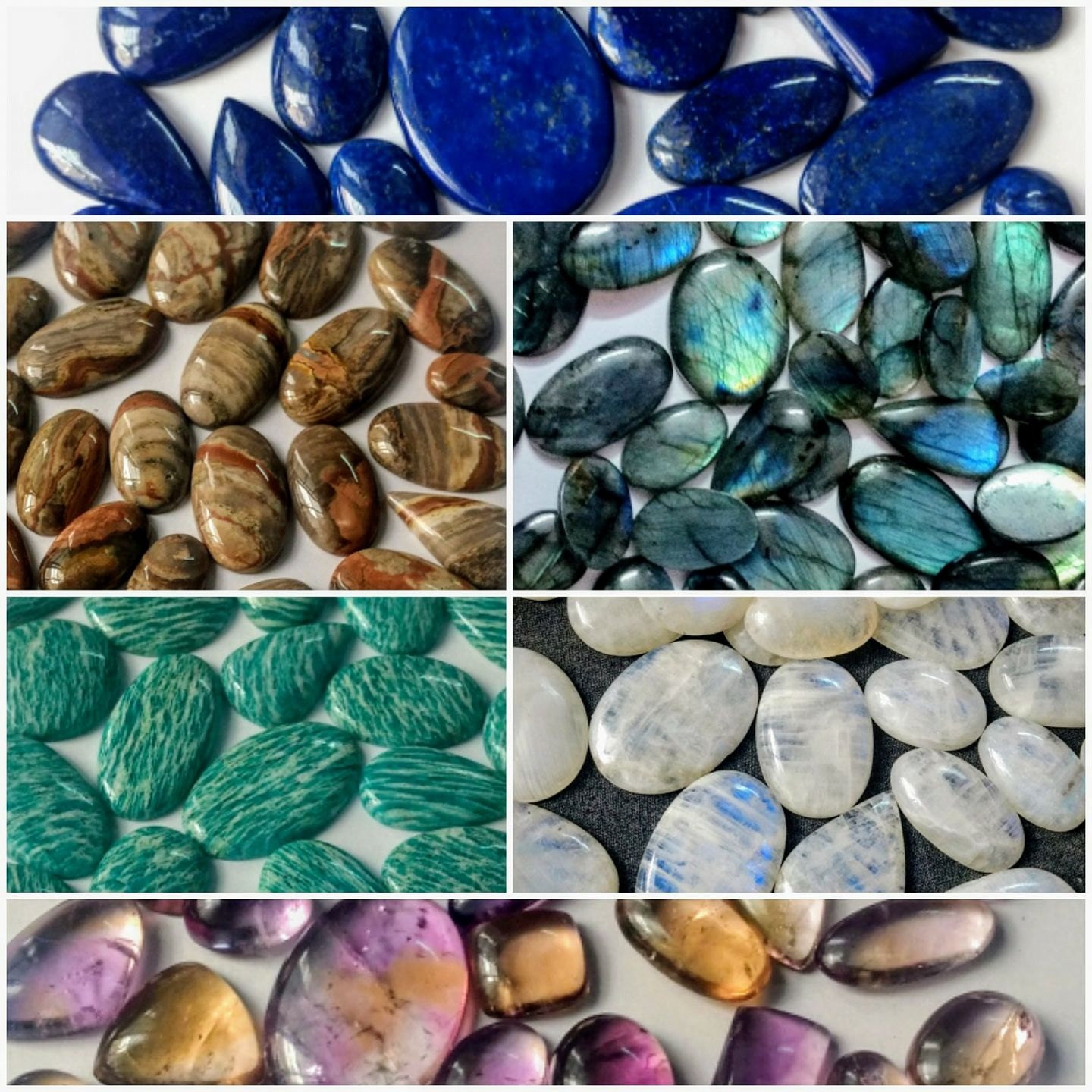 Description
Details:-

Handmade Item:-

Gemstone:- NaturalJade Red
Shape:- Tear Drop ( Rose cut slices High Polished ) (One Sided Flat)
Size :- 34.55 x 25.51 x 4.31 mm approx.
Weight:- 40 Carat. Approx.
Quality:- AAA Grade ( As Shown in Picture)
Quantity:- 1 pair ( 2 pecs )
Cutting : -Rose cut ( Super Shiny )
Especially:- No heated, No treated, 100% Natural

If you need more Sizes and Shapes and stones which are not listed please let us know, we will make a special listing for you. If you have any questions, please contact us through Etsy Message service.
---------------------------------------------

About us:-

* We are one of the biggest Manufacturers of Gemstones in Jaipur, India. * We have own Gemstone manufacturing units in our gemstone Factory *Currently we supplying our products worldwide
* We have last 30 years lot of experience in gemstone field.
-----------------------------------------------------------------------
Quality Assurance:-

* We Would Provide You Best Quality Gemstones Since we use natural gemstones, the stones may vary slightly in color
* We personally check all our items and ensure best quality standards.
* We have the Best wholesale prices for the gemstone
* Our aim is customer Satisfaction Your satisfaction is our priority.
* All our Items are ready in stock and will be ship in 1-3 Business Day. All orders placed over the weekend, or on holidays,
* Standard Shipping Cost ( Default ) $ 4.95 for the first item and then $ 0.20 for all additional items.
* We welcome all type to bulk and customized orders.
* We will pack the items professionally. Wherever you live, the item will reach you safely
---------------------------------------------------------------------------------------
wholesale policies:-

* We are manufacturer & wholesalers of all type precious and semiprecious Gemstone beads.
* we have own manufacturing units in our Gemstone factory.
* This means that the more you buy, the lower the price gets! Please do not hesitate to contact us if you wish to purchase an item in a higher quantity! We will be happy to accommodate your needs and create a special listing for you.
--------------------------------------------------------------------------
Shipping policy:-

* All our Items are ready in stock and will be ship in 1-3 Business Day. All orders placed over the weekend, or on holidays, will not be processed until the next business day. If you need your item sooner, please let us know.
* We Will Ship Our Order below 200 Usd Via India Post.
* We Will Provide You Tracking Detail After Shipment. you can track your package anytime
* Order Will Be Delivered In approx 10-20 Working Days after Shipment.
* Standard Shipping Cost ( Default ) $ 4.95 for the first item and then $ 0.20 for all additional items. ( 15 - 25 Days)
* Express Shipping ( Shipping Upgrade Option ) $15.99 for the first item and then $0.20 for all additional items.
* Thru ( DHL, FedEx Or UPS ) 5 -7 days delivery.

--------------------------------------------------------------------------
Payments policy:-

Secure options

* we accept payment only through Paypal
* Pay with Visa Pay with Master Card Pay with American Express Pay with Discover Pay with PayPal
* Etsy keeps your payment information secure. Etsy shops never receive your credit card information.
* We accept any major credit card directly via PayPal.
* You don't need to have a PayPal account in order to pay. You can easily Pay with your debit or credit card directly and securely on the "PayPal" site, as a PayPal guest.
------------------------------------------------------------------------
Duties & Taxes:-

* Some countries may charge import duties or other random fees. Customs fees, duties, & taxes incurred are the sole responsibility of the buyer. Sorry, we have no control over this and it's your responsibility to pay for any fees.
* We value your package at the accurate amount you paid for the item through our website.
* Buyers are responsible for any customs and import taxes that may apply. I'm not responsible for delays due to customs.
-------------------------------------------------------------------------
Lost Packages policy:-

'GEMSTIME' is not responsible for any lost or stolen packages once it has been shipped. Orders are sent to the exact address given to us for shipping.
* We are not responsible for the cost of lost or returned packages due to a wrong address.
-----------------------------------------------------------------
Satisfaction Guarantee:-

* Our aim is Customer Satisfaction
* Your satisfaction is our priority.
* If you are not satisfied with your purchase, please let us know. We will do whatever we can to make it right for you.
* If the item has quality question, we will swap for the good quality
-----------------------------------------------------------------
Returns & exchanges policy:-

* for any reason, if you are not satisfied with our product, you may return or exchange your purchase order within 7 days from the date of shipment received. Contact us *First* and let us know you need to exchange/refund your item
* we gladly accept returns and exchanges
* Shipping charges are not refundable
* The item must be returned in its original condition.
* You will need to pay shipping to return the item back to us.
* We will accept returns only in its original condition, including the pouch for a refund/exchange.
* we don't accept cancellations
* Return/Refund Policy does not apply to layaway purchases**.
* please contact me if you have any problems with your order
* Just contact me within 7 days of delivery
* Ship items back to me within 14 days of delivery
* We will not accept merchandise that has been worn, used, altered or damaged, * * * * Please, do not remove tags attached to the jewelry
* It is highly recommended to ensure your package when returning. Credit or exchange cannot be issued if the package is lost or damaged.
* For INTERNATIONAL only***, customs duties and sales taxes are non-refundable by us. However, you may be able to recover these by contacting your local customs bureau directly.

The following items can't be returned or exchanged:-
* Because of the nature of these items, unless they arrive damaged or defective, I can't accept returns for :-
* Please note that custom or personalized orders are neither refundable nor exchangeable. Any modifications made upon request renders the item as a custom order and same terms will apply
* Digital downloads
* Intimate items (for health/hygiene reasons

Conditions of return:-
* Buyers are responsible for return shipping costs. If the item is not returned in its original condition, the buyer is responsible for any loss in value.
* Refunds are made on the satisfactory return of the item within 3 days of receipt. Shipping and/or insurance will be deducted from your refund amount.
* To avoid loss is transit while returning please ensure the product and ship it back to us. Contact us before returning and we'll immediately advise to you return procedure and return address.
---------------------------------------------------------------------------
. More Additional policies:-

We take pride in our products and we would like nothing more than for you to have a positive experience when shopping with us. Misunderstandings may occur so in the unlikely event you experience any problems, prior to leaving neutral or negative feedback email us. Your satisfaction is the only way to our success and we will do our best to keep it that way. We're not happy unless you are!
Meet the owner of GEMSTIME
Learn more about the shop and process
---------------------------------------------------------------------------
Reviews :

Your Reviews Is Very Important And Five Star Review Is Highly Appreciated.If You Are Unhappy For Any Reason, Please Contact Us First Before Leaving Review And Allow Us To Resolve. Thank You
-----------------------------------------------------------------------------
Details:-

Handmade Item:-

Gemstone:- NaturalJade Red
Shape:- Tear Drop ( Rose cut slices High Polished ) (One Sided Flat)
Size :- 34.55 x 25.51 x 4.31 mm approx.
Weight:- 40 Carat. Approx.
Quality:- AAA Grade ( As Shown in Picture)
Quantity:- 1 pair ( 2 pecs )
Cutting : -Rose cut ( Super Shiny )
Especially:- No heated, No treated, 100% Natural

If you need more Sizes and Shapes and stones which are not listed please let us know, we will make a special listing for you. If you have any questions, please contact us through Etsy Message service.
---------------------------------------------

About us:-

* We are one of the biggest Manufacturers of Gemstones in Jaipur, India. * We have own Gemstone manufacturing units in our gemstone Factory *Currently we supplying our products worldwide
* We have last 30 years lot of experience in gemstone field.
-----------------------------------------------------------------------
Quality Assurance:-

* We Would Provide You Best Quality Gemstones Since we use natural gemstones, the stones may vary slightly in color
* We personally check all our items and ensure best quality standards.
* We have the Best wholesale prices for the gemstone
* Our aim is customer Satisfaction Your satisfaction is our priority.
* All our Items are ready in stock and will be ship in 1-3 Business Day. All orders placed over the weekend, or on holidays,
* Standard Shipping Cost ( Default ) $ 4.95 for the first item and then $ 0.20 for all additional items.
* We welcome all type to bulk and customized orders.
* We will pack the items professionally. Wherever you live, the item will reach you safely
---------------------------------------------------------------------------------------
wholesale policies:-

* We are manufacturer & wholesalers of all type precious and semiprecious Gemstone beads.
* we have own manufacturing units in our Gemstone factory.
* This means that the more you buy, the lower the price gets! Please do not hesitate to contact us if you wish to purchase an item in a higher quantity! We will be happy to accommodate your needs and create a special listing for you.
--------------------------------------------------------------------------
Shipping policy:-

* All our Items are ready in stock and will be ship in 1-3 Business Day. All orders placed over the weekend, or on holidays, will not be processed until the next business day. If you need your item sooner, please let us know.
* We Will Ship Our Order below 200 Usd Via India Post.
* We Will Provide You Tracking Detail After Shipment. you can track your package anytime
* Order Will Be Delivered In approx 10-20 Working Days after Shipment.
* Standard Shipping Cost ( Default ) $ 4.95 for the first item and then $ 0.20 for all additional items. ( 15 - 25 Days)
* Express Shipping ( Shipping Upgrade Option ) $15.99 for the first item and then $0.20 for all additional items.
* Thru ( DHL, FedEx Or UPS ) 5 -7 days delivery.

--------------------------------------------------------------------------
Payments policy:-

Secure options

* we accept payment only through Paypal
* Pay with Visa Pay with Master Card Pay with American Express Pay with Discover Pay with PayPal
* Etsy keeps your payment information secure. Etsy shops never receive your credit card information.
* We accept any major credit card directly via PayPal.
* You don't need to have a PayPal account in order to pay. You can easily Pay with your debit or credit card directly and securely on the "PayPal" site, as a PayPal guest.
------------------------------------------------------------------------
Duties & Taxes:-

* Some countries may charge import duties or other random fees. Customs fees, duties, & taxes incurred are the sole responsibility of the buyer. Sorry, we have no control over this and it's your responsibility to pay for any fees.
* We value your package at the accurate amount you paid for the item through our website.
* Buyers are responsible for any customs and import taxes that may apply. I'm not responsible for delays due to customs.
-------------------------------------------------------------------------
Lost Packages policy:-

'GEMSTIME' is not responsible for any lost or stolen packages once it has been shipped. Orders are sent to the exact address given to us for shipping.
* We are not responsible for the cost of lost or returned packages due to a wrong address.
-----------------------------------------------------------------
Satisfaction Guarantee:-

* Our aim is Customer Satisfaction
* Your satisfaction is our priority.
* If you are not satisfied with your purchase, please let us know. We will do whatever we can to make it right for you.
* If the item has quality question, we will swap for the good quality
-----------------------------------------------------------------
Returns & exchanges policy:-

* for any reason, if you are not satisfied with our product, you may return or exchange your purchase order within 7 days from the date of shipment received. Contact us *First* and let us know you need to exchange/refund your item
* we gladly accept returns and exchanges
* Shipping charges are not refundable
* The item must be returned in its original condition.
* You will need to pay shipping to return the item back to us.
* We will accept returns only in its original condition, including the pouch for a refund/exchange.
* we don't accept cancellations
* Return/Refund Policy does not apply to layaway purchases**.
* please contact me if you have any problems with your order
* Just contact me within 7 days of delivery
* Ship items back to me within 14 days of delivery
* We will not accept merchandise that has been worn, used, altered or damaged, * * * * Please, do not remove tags attached to the jewelry
* It is highly recommended to ensure your package when returning. Credit or exchange cannot be issued if the package is lost or damaged.
* For INTERNATIONAL only***, customs duties and sales taxes are non-refundable by us. However, you may be able to recover these by contacting your local customs bureau directly.

The following items can't be returned or exchanged:-
* Because of the nature of these items, unless they arrive damaged or defective, I can't accept returns for :-
* Please note that custom or personalized orders are neither refundable nor exchangeable. Any modifications made upon request renders the item as a custom order and same terms will apply
* Digital downloads
* Intimate items (for health/hygiene reasons

Conditions of return:-
* Buyers are responsible for return shipping costs. If the item is not returned in its original condition, the buyer is responsible for any loss in value.
* Refunds are made on the satisfactory return of the item within 3 days of receipt. Shipping and/or insurance will be deducted from your refund amount.
* To avoid loss is transit while returning please ensure the product and ship it back to us. Contact us before returning and we'll immediately advise to you return procedure and return address.
---------------------------------------------------------------------------
. More Additional policies:-

We take pride in our products and we would like nothing more than for you to have a positive experience when shopping with us. Misunderstandings may occur so in the unlikely event you experience any problems, prior to leaving neutral or negative feedback email us. Your satisfaction is the only way to our success and we will do our best to keep it that way. We're not happy unless you are!
Meet the owner of GEMSTIME
Learn more about the shop and process
---------------------------------------------------------------------------
Reviews :

Your Reviews Is Very Important And Five Star Review Is Highly Appreciated.If You Are Unhappy For Any Reason, Please Contact Us First Before Leaving Review And Allow Us To Resolve. Thank You
-----------------------------------------------------------------------------
Reviews aren't loading right now. Try again later!
Payment options
Secure options
Etsy keeps your payment information secure. Etsy shops never receive your credit card information.
Buyers are responsible for any customs and import taxes that may apply. I'm not responsible for delays due to customs.
Returns & exchanges
I gladly accept returns and exchanges
Contact me within:
3 days of delivery
Ship items back within:
14 days of delivery
I don't accept cancellations
But please contact me if you have any problems with your order.
The following items can't be returned or exchanged
Because of the nature of these items, unless they arrive damaged or defective, I can't accept returns for:
Custom or personalized orders
Perishable products (like food or flowers)
Digital downloads
Intimate items (for health/hygiene reasons)
Conditions of return
Buyers are responsible for return shipping costs. If the item is not returned in its original condition, the buyer is responsible for any loss in value.
Meet
the

owner

of

GemsTime Learn more about the shop and process R.k
Jade Red Rose cut slice Pair/ Pear rose cut slice pair/Cabochon Slice/ Natural Jade Red/Cabochon rose cut/Earring slice pair/loose
Ask a question
---
Overview
Handmade item
Craft type: Jewelry making
Materials:

Amazonite Fancy shape rose cut slice, Jewelry Making, Fancy shape slice pair, Silversmith, rose cut slices, rose cut cabochon, Rose Cut Pair, Cabochon Slice, Loose Gemstones pair, Jade Red rose cut slice pair, loose earring rose cut pair, Jade Red rose cut slice, margaj rose cut slice

Feedback: 33 reviews
Favorited by: 1 person
Gift message available
Shipping & returns
Ready to ship in 1–3 business days
From India
There was a problem calculating your shipping. Please try again.
Zip or postal code
Please enter a valid zip code
Sorry, this item doesn't ship to
United States
.
Contact the shop
to find out about available shipping options.