Silent, almost invisible, hiding beneath the earth, moving quickly without feet, and cold blooded, a Snake Totem commonly chooses a person at a very young age. This ancient totem contains powerful energies of transformation, living with mystery, symbolizes the Life Force, and brings wisdom. The talisman uses Mookaite Jasper, Lavender Jade, Moonstone, and Pietersite, as well as a rare, antique Snake Skin trade bead, to bring Snake energies of protection and healing.

Snakes have both fascinated and terrified humans probably since we first encountered each other. Fear of snakes (Ophidiophobia) is one of the most common and strongest of human phobias. Even newborn monkeys recoil instantly when shown a snake image.

The snake moves effortlessly without feet, emerges from an egg like a bird, and can often kill with its venomous tongue. Many cultures held Snake in highest regard as a symbol of power, fertility, and healing. The Greeks placed a snake as the symbol of healing, used to this day on the Caduceus to signify medical healing. Both the Celts and Native Americans believed Snake symbolizes transmutation - the ability to alter appearance nature, and form, particularly advancing to higher levels. Among the Pueblo Indians, snakes and lightning are equated with rain and fertility. Some tribes believed that observing or dreaming of Snake attacking an enemy indicated that an enemy was nearby. Snake symbolizes the underworld and the realm of the dead because it spends much of its life in hiding, and also because of the ability to emerge in new form after shedding its skin.

Mystics and shamans believe snake's ability to shed skin demonstrates it's ability to move between worlds – prior to shedding its skin, snake's eyes cloud over, as if in a trance, seemingly with the sense of looking right through you – existing between the living and dead, crossing from life to death and back again. Snakes shed their skin as they grow in size, emerging as a new being. This ability is associated with astral travel and out of body experiences, symbolizes rebirth, and demonstrates the ability to shed illusions, outgrown limitations, beliefs and habits, and move to a higher level of spiritual energy.

Without external ears and only limited vision, snakes have highly developed senses of smell, temperature and touch. Small bones in the head conduct sound, enabling snakes to hear low frequency sounds and vibrations traveling through the earth unheard by human ears. This links them to the underworld where secrets are kept. The flickering forked tongue that stimulates such terror provides the snake with the ability to assess odors on either side of the tongue, thus pinpointing potential prey, mates or enemies, enabling it to take decisive action.

In the Tarot, the Snake symbols deal with renewal, rebirth and development, providing a symbolic message about being adaptive, flexible and adjusting as best we can to our circumstances. Snake's appearance can bring one to assess the need to shed a part of oneself to allow further growth, or to increase one's flexibility in situations at work or home.

Though I have been working on developing a Snake Totem piece for well over a year, the final push to create this talisman came from recent encounters with several customers at art fairs describing their distress at being forced to kill a poisonous snake in their homes. Each felt a powerful, generally lifelong connection to Snake. We were able to spend some time discussing the situations and meanings of each one's reaction to this significant encounter. One person came to realize that the snake visit symbolized someone bringing poisonous energy into her vibration, and understood she needed to deal effectively with this situation, and had the power to so. The second gained some understanding of her need to protect her own space.

Unquestionably, Snake is a powerful animal guide, symbolizing transformation and healing. Snake totems are protectors and guardians. Snake's agility and efficient movement teaches one to accomplish one's goals through the simplest means without wasting energy. Though often feared, Snake reminds us to be our own source of encouragement when the outside world may appear to be against us. The Snake is a hugely powerful sign of fertility. When Snake appears, one can expect this guide to stimulate swift changes in one's life, typically involving death of the old and emerging with new power, understanding, creativity and spiritual wisdom. Snake's association with fertility may apply to wealth, health, or spiritual rebirth. Snake is a very powerful guide to sacred places and the keeper of hidden knowledge – helping develop one's psychic skills and intuition. Snake helps one travel easily amid change without resistance.

LAVENDER JADE – [Earth] Used in jewelry, musical instruments, and healing for over 7,000 years, Jade is said to bring longevity, fertility, serenity, and wisdom. Gazing at the stone's hazy surface is intriguing – there is something veiled just beyond our sight, under the surface that helps focus energy to hold on to and follow our dreams, no matter what obstacles life puts in front of us. Because of this quality, Jade is often called "the dream stone" – this gem helps with remembering and understanding dreams. Lavender Jade helps one get in touch with their emotions, to discover the gentleness within, and assists the user with honest communication and self control. Assists in learning restraint and subtlety Associated with the Third Eye Chakra, the steady energy is helpful in reaching a deeper level during meditation and relaxation exercises, for relaxing and gaining inner serenity. Known for its ability to help one access the non-physical spirit realms, Jade facilitates living in harmony with the mental, physical, spiritual, and emotional aspects of life.

MOOKAITE JASPER – [Earth] A stone of Power and Protection, Jasper helps bring change, gives courage to speak out, and fosters personal independence. Jasper works slowly, providing constant, slow, deliberate energy, helping one be patient while waiting for a developing situation to come to a peak; especially good in time of change without the chaos a total upheaval would cause. Once considered a Warriors Stone, Jasper is associated with loyalty, inner strength, and standing up for what you believe in. It is a power stone for those who stand for justice and fair play, especially useful for those working to rectify unjust situations. A powerful stone of transformation, Mookaite Jasper is a stone of the "here and now." This Australian Jasper helps one balance the internal and external realms, and to accept change. Helps one eliminate distractions, uncover what has been concealed. Assists in dealing with negative situations and provides a shield of uncompromising strength when one confronts danger. Provides for flexibility and openness in opinions and how one relates to others. Helps one create a "living meditation" – making any action one undertakes an act of meditation. Grounds the user to Earth while working on one's Wisdom path and purpose. Assists in contacting loved ones who have passed over to spirit - both human and animals. A glowing pinkish stone with creamy swirls, Mookaite is associated with the lower chakras. Healing lore indicates Mookaite helps stabilize health and fortifies the immune system can work on diseases of the blood and circulation. The deep Pink Color Ray emits energy of tenacity, inner strength, courage.

PIETERSITE – (Storm) Dramatic chatoyancy amid a range of colors shows Pietersite's forceful energy. Helps one with new beginnings, mastering the path of least resistance. The potent transformative power of oxides helps one build new order out of chaos. Storm element stones bring radical change and generate experiences of deep spiritual cleansing. These stones are associated with spiritual transformation and vision. Pietersite jolts one into personal change, creating a powerful increase in the energy of the will and one's intuitive capabilities. Helps one cope with periods of rapid and/or stormy change, supports clear thinking and keen insights, and encourages intuitive leaps, taking decisive action to shape a situation in one's favor – one can sees what is occurring, determine what is desired, and go after it with high probability of success.. Excellent in meditation, Pietersite stimulates the will and the Third Eye, facilitating psychic vision, enhancing precognition and telepathy. Helps in working with angels, astral and dimensional travel. Said to help one access the Akashic records. Particularly powerful when used with Moonstone.

RAINBOW MOONSTONE – [Air/Wind] Mysterious, singular Rainbow Moonstone, a white stone with iridescent flashes of blue and gold has a gentle, calming energy. Actually the mineral Labradorite, this stone's crystal structure bringing strength, balance and harmony into one's life. The filtering structure allows positive charges to flow in, while blocking negative charges, thus keeping negative energies away. The rainbow effect brings in white light plus a spectrum of all colors that help clearing all chakras, as well as uplifting energy. Moonstone has the capability to transmit energy from the Moon to Earth - calming the mind, soothing the spirit, ensuring restful sleep. RAINBOW MOONSTONE supports one in holding a positive attitude and "seeing the glass half-full". Assists with developing intuition, lucid dreaming, developing psychic abilities and clairvoyance. Healing lore says this stone helps align vertebrae, blocks electromagnetic forces (in cell phones, computers, and other electronic transmissions) from sapping energy. Gem therapists and Ayurvedic doctors use a form of it to cure anxiety.

NIOBIUM – [Earth] A superconducting metal that manifests in many colors, Niobium activates Rainbow Body (primordial, pure Light). Powerful facilitator of communication with higher guides and Light entities; can stimulate visionary experiences, communication across dimensions. Helps one see with a new perspective, especially magic that has been overlooked.

ANTIQUE VENETIAN SNAKE SKIN TRADE BEAD - dated from the mid-late 1800s, part of the Indian Fur Trade Bead era. Made in Venice and Bohemia, these beads were traded for various goods. A rare black bead with wavy yellow lines - called "snake skin" patterns by collectors. Beautiful and much energized, most trade beads have traveled at least three continents, and had multiple owners. The glass adornments became an integral part of the Native American culture, and were used on medicine bags and ceremonial necklaces.
CZECH and JAPANESE GLASS
STERLING SILVER – a metal in tune with the body's energies; especially beneficial to the brain, improves transmission of nerve impulses and improves memory; balances functions of both sides of the brain; enhances ones ability to approach intellectual problems.
SNAKE CHARM - silver metal with rhinestones
SWAROVSKI CRYSTAL - considered among the finest in the world; carries many of the same qualities as Quartz Crystal, amplifies qualities of other stones it is worn with, and attunes them even more to your particular energy. Quartz acts as a purifier, creating harmony and helping to balance all stimuli, positive and negative.

All Change Charms include a beautiful, fragrant handmade smudge plus the talisman. The Change Charm talisman continues to enhance and brighten your environment after the smudge is used up. Simply keep the talisman in a special place so the powerful energy continues to attract balance, clarity and peace to your journey. I use high quality gemstones and the purest metals in my pieces. Each piece is carefully crafted to blend scientific knowledge of the mineral, crystal or gemstone's structure, chemical purpose and the Life Force within, along with known healing lore, to meet the purpose and need.

The item in the photos is the actual item you will receive (minus photo design props). Smudge stick is "petite size" - approximately 5 inches long, tightly wrapped, HUGE in fragrance and color.

Copyright 2010 Sagehealercreations All images, wording and designs are the intellectual property of sagehealercreations. All rights reserved. I work hard on my research. Please do not publish or copy except for personal use.

Learn more about the shop and process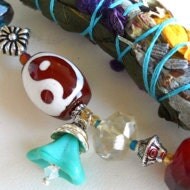 Sagehealer
Snake Totem - Transformation, Mystery, Life Force, Wisdom- Talisman Handmade by Sagehealer on Etsy
---
Overview
Materials:

lavender jade, mookaite jasper, rainbow moonstone, pietersite, rhinestone snake charm, czech and japanese glass, sterling silver, swarovski crystal, hill tribe silver, white sage, black sage, lavender, dried flowers and herbs

Ships worldwide from

United States

Feedback: 436 reviews
Favorited by: 6 people