All of our soy candles are now available in a decorative "Emma"-style jar for a greater value and longer lasting fragrance. The designer jar is made in the U.S. and has a tight fitting lid. We use natural soy wax in all of our jar candles. Our 20-oz jar candle has no dye and is the natural cream color of soy wax. If you prefer a colored candle we are more than happy to oblige! Just specify at check out your choice of scent (and color if you desire).
Please see information on shipping refunds at the bottom of this page. If you are interested in international shipping, click on "Ask a Question" and we will set your order up with the correct shipping.
SPECIAL SAVINGS: Buy more than one and save. For each pair of candles you buy, we will refund $6 to your account! So instead of $28 each it becomes $50 for each pair!
Please choose from the following scents:
(due to the large amount of scent needed for these candles, some of these scents may be temporarily unavailable but will be back right away)
ST PATRICK'S DAY
Emerald Isle
Green Beer
Green Clover & Aloe
Irish Mocha
Wild Irish Rose
EASTER
Black Jelly Beans
Blue Sugar Peeps
Chocolate Bunny
Easter Egg Nog
Hyacinth
Jelly Beans
Pink Sugar Peeps
Tulips
WEIRD FRAGRANCES
Bacon
Beer
Dirt
Lawn Mower Clippings
Leather
Mary Jane
Peanut Butter
Pencil Shavings
Pipe Tobacco
Pizza
Popcorn
Wild Cherry Cough Drops
DUPLICATES OF DESIGNER FRAGRANCES (the famous one is in parentheses)
Autumn Lodge (Yankee)
Blue Sugar type (Aquolina)
Cool Water type (Davidoff)
Cottage Breeze type (Yankee)
Dune Grass type (Yankee)
Green Clover & Aloe type (Bath & Body Works)
Home for the Holidays type (Yankee )
Home Sweet Home type (Yankee )
Love Spell (Victoria's Secret)
Mango Peach Salsa type (Yankee)
Midsummers Night type (Yankee )
Mountain Lake type (Yankee)
Pink Sugar type (Aquolina)
Pleasures Perfume type (Estee Lauder)
Red Currant type (Votivo)
Storm Watch type (Yankee)
Sun & Sand type (Yankee)
Tulip type (Yankee)
Twilight Woods type (Bath & Body Works)
Vanilla Oak type (Yankee )
Wind Swept Shores type (Yankee)
FLORAL & BOTANICAL
Basil & Herb
Bird of Paradise
Carnation
Eucalyptus
Freesia
Gardenia
Honeysuckle Jasmine
Hydrangea
Hyacinth
Lavender
Lemongrass
Lilacs in Bloom
Lily of the Valley
Rose
Sweet Pea
Tropical Garden
Violet
Wisteria
FRUIT, VEGGIES & NUTS
Almond
Black Raspberry Vanilla
Blackberry Sage
Coconut
Cranberry
Cranberry Citrus
Cranberry Marmalade
Cucumber
Cucumber Melon
Grape
Grapefruit
Grapefruit & Mangosteen
Mango Peach
McIntosh Apple
Mediterranean Fig
Peach
Pineapple
Pomegranate
Raspberry
Sage & Citrus
Strawberry Kiwi
Tomato Plant
Tuscan Melon & Apricot
Watermelon
PIES & CAKES
Apple Pie
Banana Cream Pie
Coconut Cream Pie
Frosted Carrot Cake
Pecan Pie
Pumpkin Pie
Strawberry Rhubarb
Strawberry Shortcake
Sweet Potato Pie
Wild Maine Blueberry Cobbler
BREADS AND OTHER BAKED GOODS
Banana Nut Bread
Breakfast at Tiffany's
Cinnamon Buns
Cornbread
Creme Brulee
Fudge Brownies
Gingersnaps
Lemon Poppyseed Muffin
Oatmeal, Milk & Honey
Pumpkin Souffle
Sugar Cookies
Warm Baked Bread
SPICES
Apple Harvest
Bergamot & Tarragon
Cinnamon Spice
Clove
Ginger
Gingered Bergamot
Pumpkin Spice
Sandalwood & Ginger Apple
Very Vanilla
COMFORT FOOD & CANDY
Black Jelly Beans
Blue Sugar Peeps
Bubble Gum
Cinnamon Red Hots
Fruit Jelly Beans
Pink Sugar Peeps
Thin Mint Cookies
DRINKS
Apple Jack & Peel
Apple Martini
Buttered Rum
Chardonnay
Fresh Brewed Coffee
Frosty Cold Rootbeer
Fruit Punch
Fuzzy Navel
Hazelnut Cappuccino
Hot Cocoa
Iced Tea
Mulled Cider
Pina Colada
Pomegranate Cider
Vanilla Rum
White Tea & Ginger
CLEAN & FRESH
April Fresh Downy
Baby Powder
Barber Shoppe
Clean Linen
Drakkar Noir
Pleasures Perfume
OUTDOORS & BEACH
Amber Waves
Beach Blanket
Beach Plum
Cedar Mulch
Coconut Hibiscus
Coppertone
Dune Grass
Hawaiian Coconut Cream
Juniper Breeze
Log Cabin Cedar
New England Autumn
Ocean Mist
Pine Forest
Sea & Sand
Sun & Sand
MYSTICAL SCENTS
Black Magic
Dragon's Blood
Frankincense & Myrrh
French Vanilla & Amber
Love Spell
Nag Champa
Oakmoss & Amber
Mystical Moon
Patchouli
Peppermint Eucalyptus
Sandalwood Vanilla
Tuscan Nights
Twilight Woods
White Lily & Amber
Witches Brew
CHRISTMAS
Balsam & Cedar type (Yankee)
Bayberry
Blue Spruce
Christmas Cookie
Christmas in Hawaii
Christmas Pine
Egg Nog
Figgy Pudding
Fraser Fir
Gingerbread
Home for the Holidays
Mulled Cider
Night Before Christmas
Peppermint Bark
Santa's Pipe
Spiced Cranberry
Visions of Sugar Plums
Winter in Hawaii
Winter in New England
Winter Woods
_____________________
SHIPPING SAVINGS:
If you are thinking about ordering more later, you can save a HUGE amount on shipping now by ordering multiple jars at the same time. We can fit up to four 10-oz jars in a priority mail box for only $12.35 total.
Don't see the fragrances you want here? Just go to
www.etsy.com/listing/65171986
and order your 10-oz jar in any fragrance we carry.
SHIPPING REFUND:
We HATE shipping costs and we are not trying to make money on shipping! We make every effort to keep shipping rates as low as possible and always refund anything that runs more than $1 over the actual shipping cost. The cost of shipping the 20-oz jar varies depending on how far you live from Massachusetts, where we are located. The shipping rate listed here is the coast-to-coast rate. If you are closer to us, your rate will be lower than the amount charged.
If you are interested in international shipping, click on "Contact the shop owner" below and we will set your order up with the correct shipping.
Learn more about the shop and process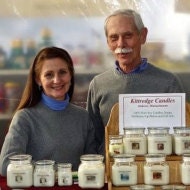 Jennifer & Paul
ANY FRAGRANCE - 20oz Soy Jar Candle
---
Listed on Dec 30, 2016
2040 views