A splendid way to discover your signature gypsy scent in a small perfume vial sample which you can try before commiting to a larger scent oil or soap from Midnight Gypsy Alchemy's original fragrances.

This is a sample of only one- 1/32 oz glass perfume vial filled with my natural creation of perfume oil, made by way of oil infusion which is the blending of herbs,fruits.resins, extracts and absolutes in quality oils of grape seed, jojoba and vegetable oils with an addition of essential oils to enhance the enchanting fragrance .Packaged on a hand made card label.

--------------------------------------------
MAGICK AND MOONLIGHT-(sweet,citrus with smokey powder notes)
Magick and Moonlight -

" Under the light of the full moon one may see the a distant campfire glowing among the forest trees, as the shadow of the dancing gypsy plays about."
A mysterious floral, lime aroma with a powdery under tone fragrance made with essential oils of frankincense,sandalwood, lime ,lavender, jasmine and vanilla absolute, infused with lime peels,lavender buds, jasmine petals and ground coconut. A magick potion so indulgant that you too will want to invoke the moon and dance within its magick light.
Learn more about the shop and process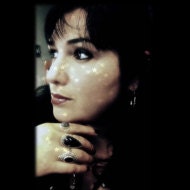 Nina
Magick and Moonlight Gypsy Apothecary Natural Perfume Oil Sample Vial Lime, Coconut,Jasmine Vanilla Frankincense Almond Sandalwood,Lavender
---