Tropical Clothing, Hand Painted T-Shirt, Alternative Clothing, Palm Leaf Art, Island Wear, Graduation Gift
Tropical Clothing, Hand Painted T-Shirt, Alternative Clothing, Palm Leaf Art, Island Wear, Graduation Gift
water based textile paint, metal pendant, pure cotton, super soft fabric, quality fabric, light fabric, cotton fabric
LUBI, open edge T-shirts are made of light breathable 100% cotton fabric of high quality. LUBI features a very comfortable cut, vintage washed look and scoop neck opening. Style it with RIA shorts for casual look or with skirts and strappy sandals for cute chic look. LUBI is super comfortable to wear! What makes LUBI unique is a Hand Painted Design that frees your imagination to fly high above and dive deep into the rain forest infinity. All Junglenice items are hand painted and each one of a kind visual journals from the tropics. LUBI would translate into words somehow like this:

I am Your Music
You Are My Dance.
We are One
Everlasting Party.

Colours:
Green, White, Blue, Red, Black with Crab Pendant

Materials: 100% Cotton, Water Based Textile Paint and Metal Pendant

Size:
Size Marking: L
EU Size: M

Size Guide: Please, Study the Last Product Picture

Care:
Cold Wash, Max. 30 °C, Max. 80 F
Hang Dry, Do not Tumble Dry
Do not Iron Directly on a Painted Design

FREE SHIPPING WORLDWIDE

.....

Message Us with Any Question or Request a Custom Order.

Your Interest in our Products is Highly Appreciated and Therefore a Great Contribution to Junglenice Story.

Thank You, Junglenice

.....

Happy Shopping!


JUNGLENICE
is a philosophy of eternal vacation.
are ongoing visual journals and travel memoirs from the tropics.
is an artistic tribute to sun, love and life it self.
is a large painting divided to sections, an infinite polyptych.
are exclusive items, unique and each one of a kind.
are distinct colours, fabrics and styles giving every owner a very personal note.
are variations on a theme and therefore flatter all ages and figures.
are tropical flora inspired motifs hand painted by Slovenian artist Tina Avšič.
There was a problem calculating your shipping. Please try again.
Returns and exchanges accepted
Exceptions may apply.
Gift wrapping available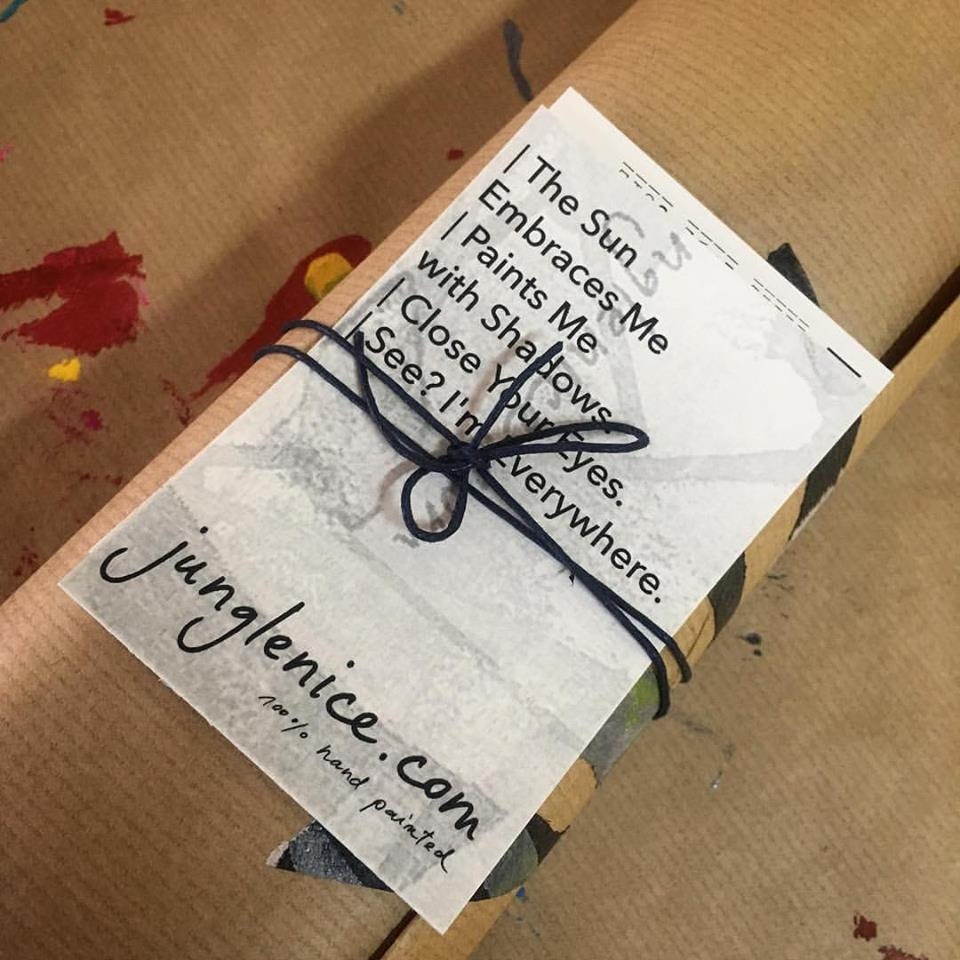 Gift wrapping by junglenice

I ordered this t-shirt ship to Indonesia,
why the item ship from Slovenia,
It take long time. I see ur store ship from Ubud, Bali
But, the t-shirt quality is Awesome !
This is the most beautiful hand painted backpack I ever had. I love Tina's unique tropical design and she created exactly what I want and need. Good quality, super practical and extra fast shipping. I couldn't wish more ♥ Thank you for your amazing customer service!
Beautiful thank you very much !