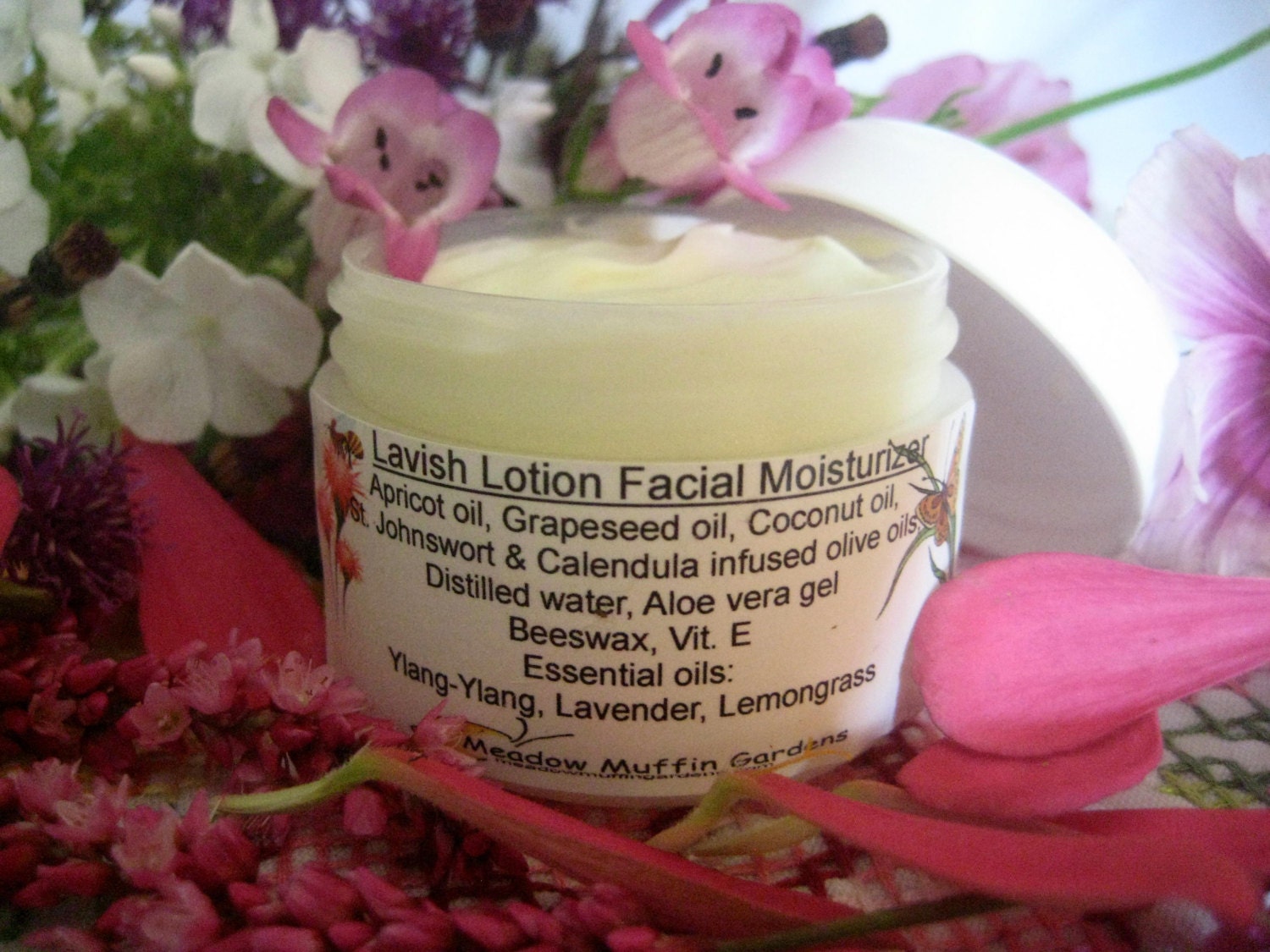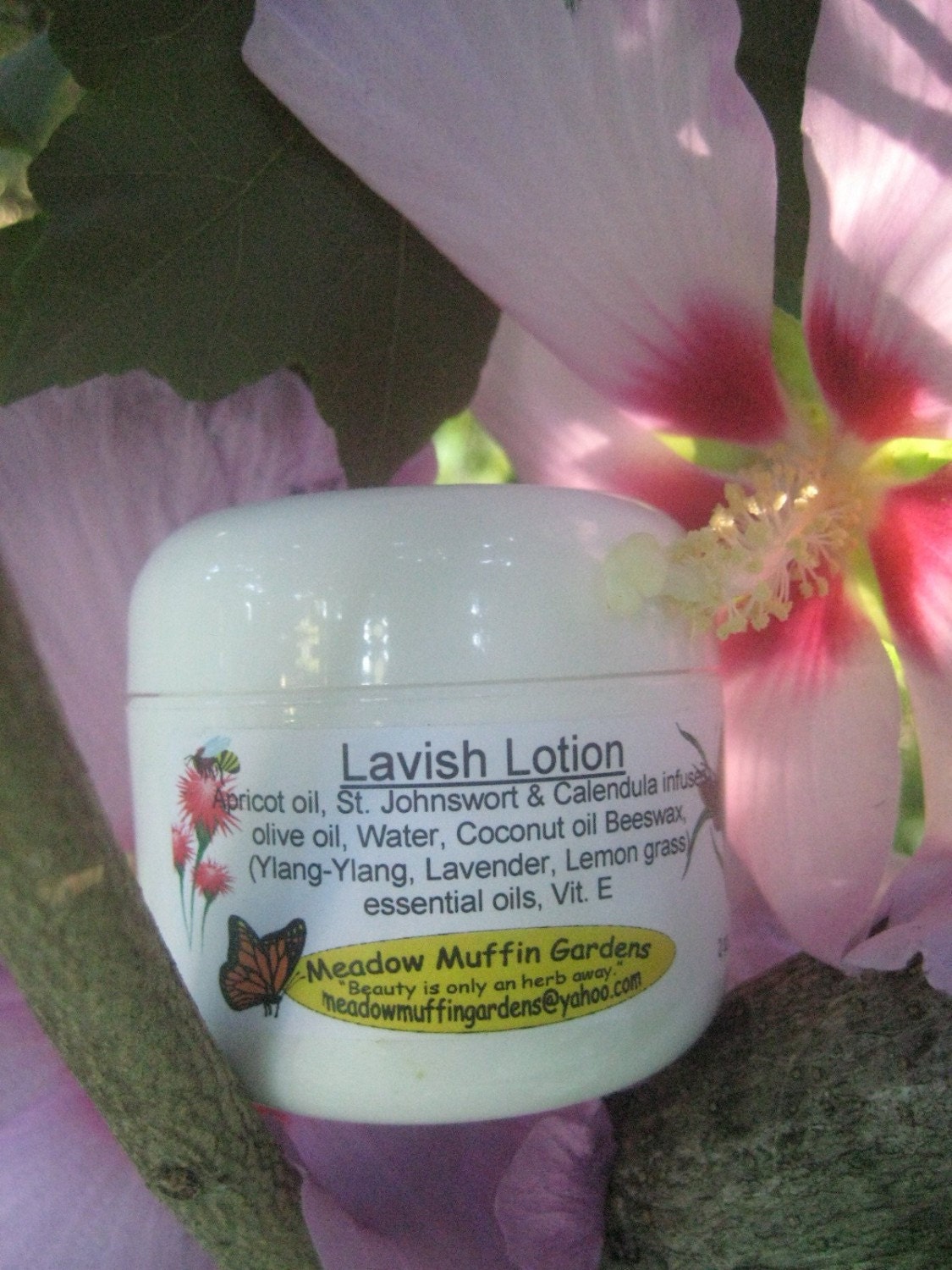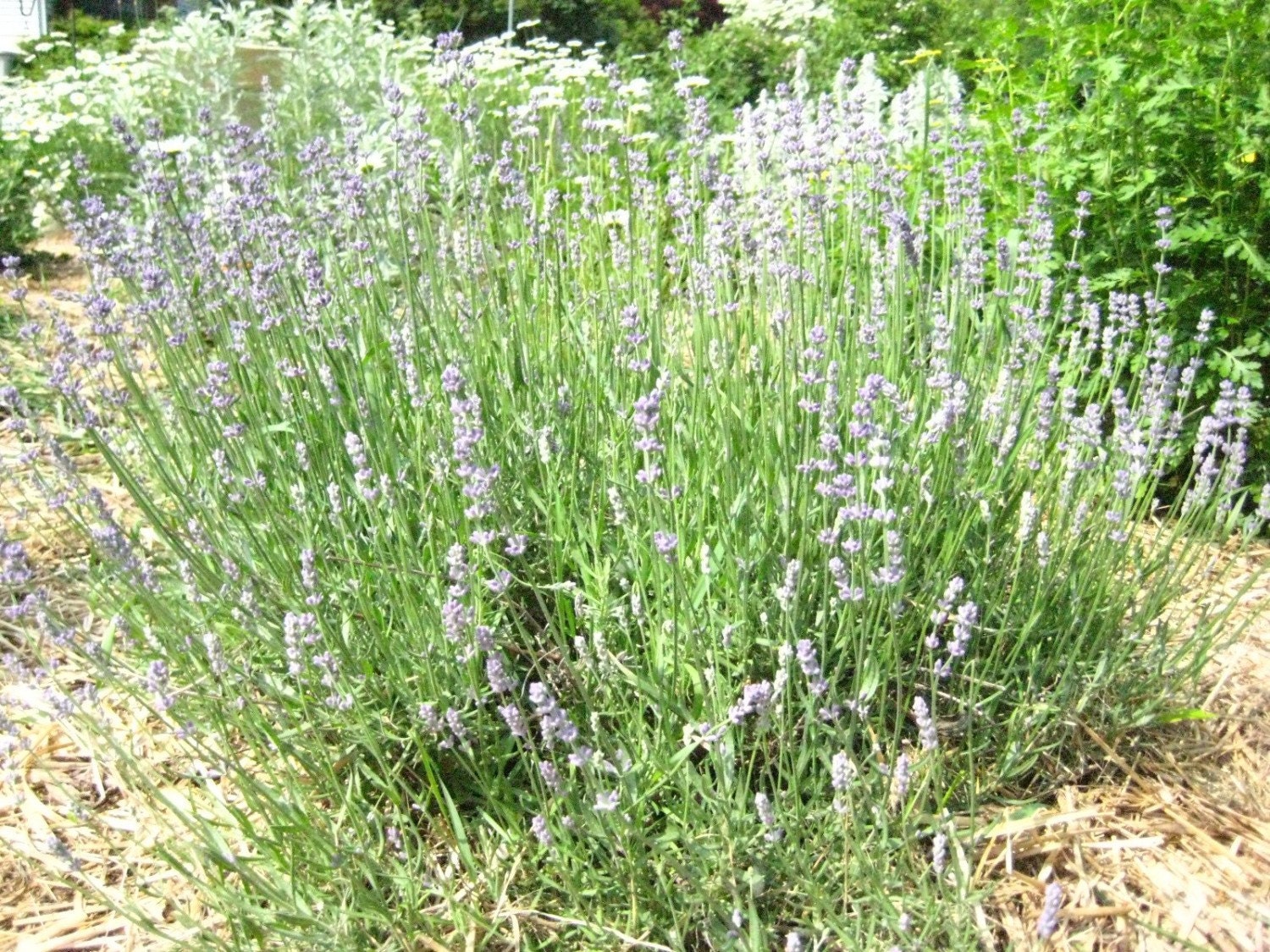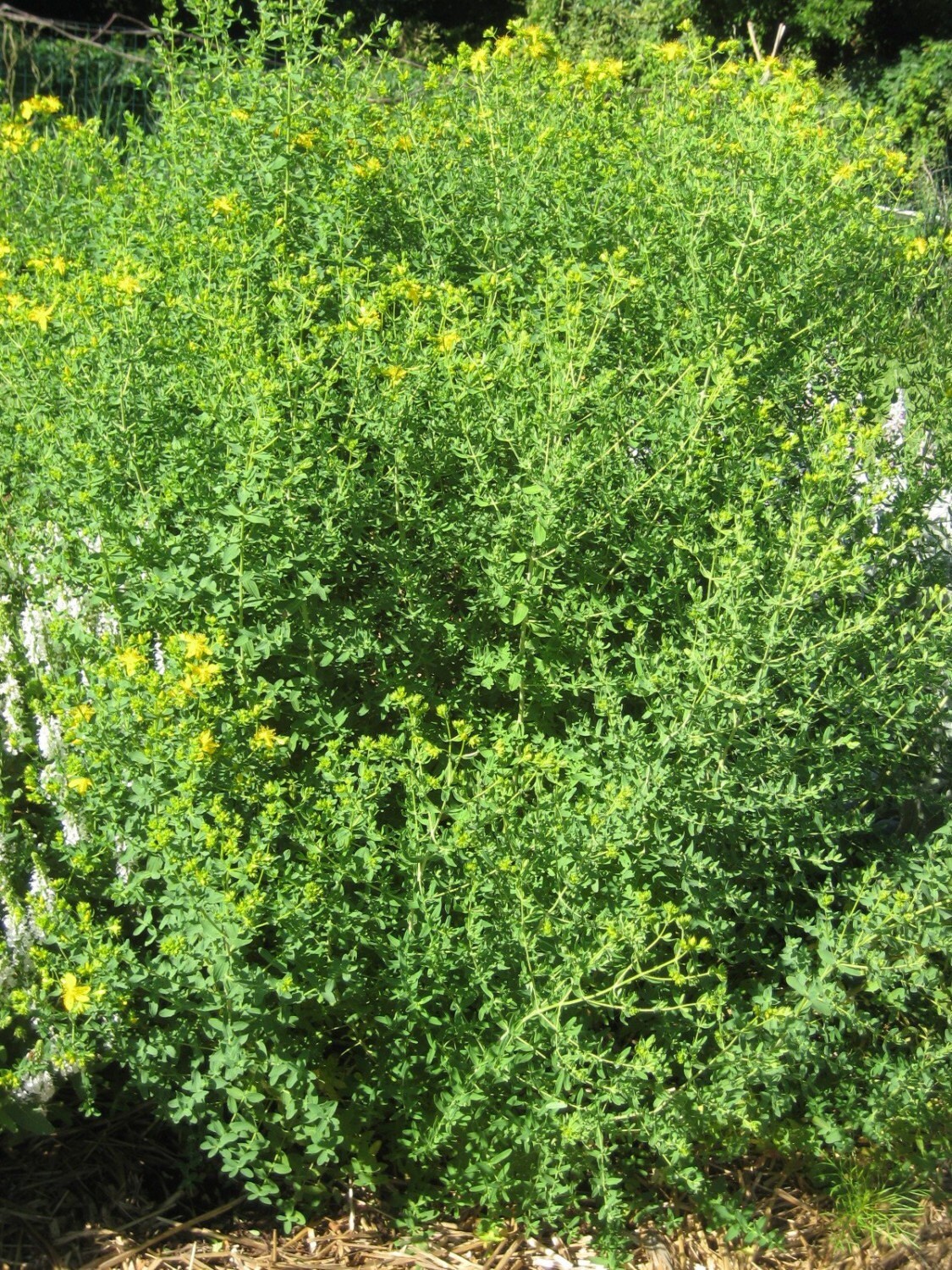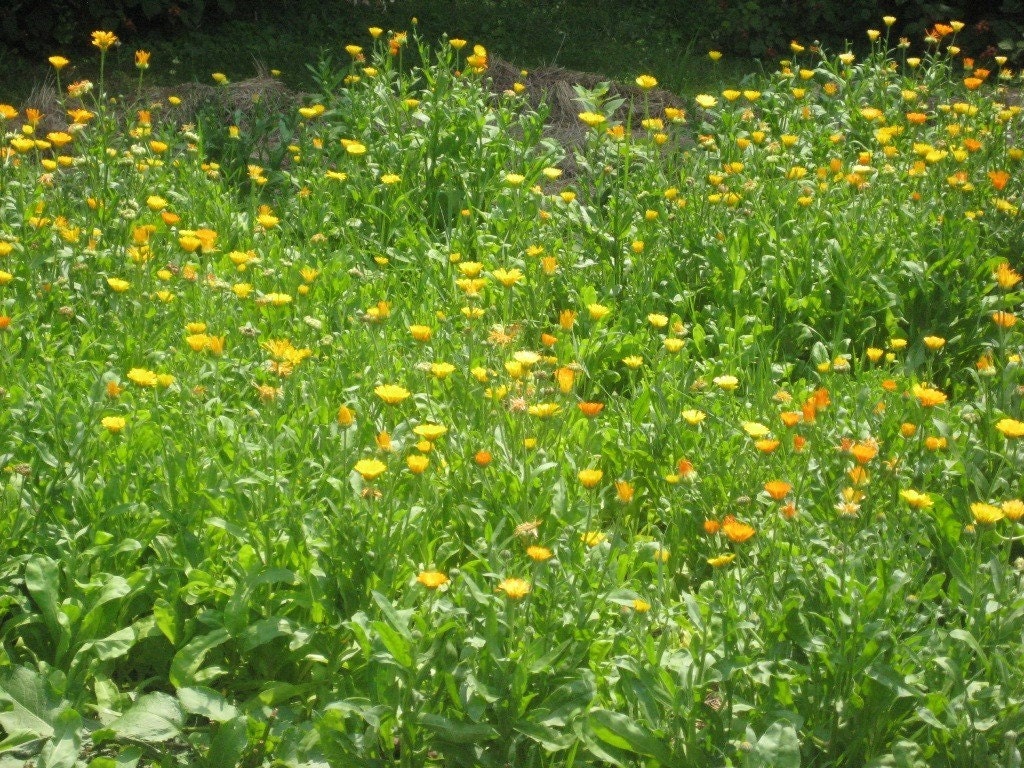 Ideal for all skin types, a facial moisturizing cream utilizing healing herbal oils and essential oils. Especially useful for those with sensitive or allergy prone skin who still need an effective moisturizer.

Lavish Lotion is a cream with a feminine, sweet, floral aroma which is bound to start your day off with a smile.
Ylang-ylang essential oil has such a euphoric scent that when combined with faithful lavender and refreshing lemongrass essential oils offer one of life's little pleasures.
Ylang-ylang and lemongrass contain antiseptic and astringent properties great for those with oily skin prone to breakouts.
Lavender offers all around benefits in skin and beauty care. It helps relieve bug bites, blemishes, sunburn as well as skin-regeneration in reducing the chance of scars.

Apricot kernel oil is a seed oil, a good alternative for those with nut allergies. The oil is cold-expeller pressed which means no chemical solvents were used to extract the oil.
Apricot kernel oil contains a good source of antioxidants Vitamins A and E, and linoleic acid and oleic acid, which are essential fatty acids. Containing anti-inflammatory properties, acne prone and sensitive skin can benefit.

Cold-Pressed Olive oil is a stable oil high in antioxidants and very useful for herbal infusions to extract the beneficial properties of the herbs. Lavish Lotion contains an herbal oil infusion utilizing St. Johnswort and Calendula.
St. Johnswort is a roadside wildflower used for its therapeutic value in treating nerve related skin rashes, burns and wound care.
Calendula is a garden flower containing carotenoids which aid in healing and calming down irritated and problem skin.

Coconut oil is added for its cool, creamy texture as well as its help to stiffen the cream. Its unique molecular structure allows it to easily absorb into your skin while not leaving behind a greasy film. The natural antioxidants found in coconut oil fight against free-radicals which damage connective tissue and cause the skin to lose elasticity and wrinkles

For those who prefer a substitution for coconut oil, we use what is called African Cocoa Butter or Shea Butter. The Shea nut is harvested and ground into a rich vegetable butter that offers multiple benefits for the skin: protecting, nourishing, moisturizing, soothing, comforting, healing and regenerating. Shea Butter easily penetrates the skin allowing the skin to breathe without clogging the pores. The addition of Shea butter is a good idea for those with oily skin. Shea butter offers a little fluff to the final cream.

***Due to personal preference or known allergies, there is the option at checkout to choose which of these solid oils you would like in your cream.

Moisturize as needed onto clean skin, ideally while the skin is still moist after cleansing. Use gentle, circular motions with your fingertips, paying special attention to the delicate area around the eyes. If you wear foundation wait a few minutes for the moisturizer to soak in or you could dab any "shine" with a soft cotton square. Due to various skin types, you may need only a tiny bit at a time, or perhaps only the cheeks and around the eyes, or you may just need a moisturizer as a night cream. Keep in mind that this cream has a higher oil:water ratio than you may be used to; very effective for dry skin.

Complaints people often have with moisturizers is that they seem to leave behind an oily residue. Of course a reason could be the quality of the oils used in the lotion, but it could also be because:
1. You are using too much at a time
2. You are applying the moisturizer to old, dead skin cells and it is not penetrating the upper layer of your skin. Exfoliating regularly with gentle scrubs or exfoliating cloths can help with this issue

To minimize the risk of contamination make sure you have clean fingers before dipping into the cream or use the little wooden spatula (included).

Beauty tip: Don't forget to moisturize your neck!

Cream comes in a 2 oz. jar

NOTE ON PRESERVATION:
Items are made in small batches as they are needed. The concept behind this shop is for the consumer seeking all natural products with the understanding that the items are not intended to sit around and only natural preservatives are used.
Natural preservatives are antimicrobial grapefruit seed extract, antioxidant Vit. E and the concentration of essential oils. What this means is that while these natural preservatives deter the growth of bacteria and molds, they are not broad spectrum and offer a limited shelf life. Being the risk of contamination and loss of potency over time is present in any perishable product, please try to use the item within 3 to 4 months. Products which contain water such as the creams and lotions are the most at risk for contamination. The salves, containing no water, are very stable as is and are fine for months. Keep any of the products in a cool location, out of exposure to heat and sunlight, and be sure to have clean hands before using. Refrigeration will extend the shelf life of perishable items.

NOTE ABOUT COCONUT OIL
Ordinarily, in the making of my creams, I use refined coconut oil for the reason that not everyone enjoys the smell of coconuts. To avoid the smell of coconuts interfering with the final scent of the product (either the scent-free cream or the essential oil blends), I use the refined coconut oil unless by request to use the unrefined. Below is a bit of information to explain the differences between the refined vs. unrefined.
The differences between refined and unrefined coconut oils used for my products are in how the oil is processed.
Both the refined and unrefined coconut oils have been expeller, cold-pressed without the addition of any chemicals.
There are refined coconut oils on the market that use a chemical distillation process dependent on solvents such as lye. These products may be hydrogenated using high heat which should be avoided as they create synthetic trans-fats. The refined coconut oil I use are refined using a natural, chemical-free cleaning process involving steam and/or diatomaceous earth. The cold pressed extraction method yields an oil of higher nutritional value than extraction methods that use chemicals or heat.
The smell of coconuts in the refined coconut oil is removed by heat, but the temperatures do not go over 120 degrees Fahrenheit. Some antioxidants are destroyed but some can actually increase.
Antioxidants must still be present and not destroyed through processing in order for coconut oil to fight free radical damage.
As to whether coconut oil is comedogenic, meaning it clogs pores, depends on a person's skin type, pore size, and the quality of the oil itself. Overall, good quality coconut oil can be wonderful in skin care.
Creams made with the unrefined coconut oil do have a noticeable scent of coconut, however it is pleasant and not at all overwhelming.




"After washing my face, even just rinsing with plain water, my skin starts to feel so tight. The feel of any one of these creamy moisturizers is like a little bit of heaven."

"I have to say this is the first moisturizer I have found that doesn't leave my skin greasy, or make it more oily throughout the day! This stuff is so light I can't even feel it, and it leaves my skin feeling hydrated. I put this on before I went to work out and it managed to withstand 4 hours of sweat, sun and dirt without making my face feel (or look) like a shiny gross mess."

"What an awesome facial cream! I love the natural ingredients and how soothing it feels on my face. Also, the scent of this cream is beautiful."

"This is my absolute favorite facial product of my life....it is so moisturizing and smells amazing...I smell lemon and lavender...it is completely relaxing to put on at the end of the day..it helps me sleep...unreal! xoxox"
Moisturizing Face Cream, Herbal n' Floral, Facial Skin Care, Organic, Problem skin, Day or Night Cream, Lavish Lotion
---
Overview
Handmade item
Materials:

apricot oil, st johnswort infused olive oil, calendula infused olive oil, coconut oil, beeswax, ylang ylang essential oil, lavender essential oil, lemongrass essential oil, distilled water, grapefruit seed extract, vitamin e

Made to order
Ships worldwide from

United States

Feedback: 2033 reviews
Favorited by: 147 people