Many people mistaken this plant as Ashitaba. This plant is actually called Gynura Procumbens. For the true Ashitaba ( Tomorrow Leaf ) please see this link:
https://www.etsy.com/listing/184455902/ashitaba-tomorrows-leaf-angelica-keiskei?ref=shop_home_active_1
-------
This is a very low maintenance, fast growing herb/vegetable that can be grown indoor and outdoor. The purpose of this plant is to incorporate it into your diet for a healthy life. As many generations of African and Asians have done traditionally. This plant is beneficial for improving health of blood sugar, blood pressure, and cholesterol. It's a great addition to any vegetable garden for your overall health.
Watch this video on my Youtube Channel to learn more: https://youtu.be/7XN5m3-jdBo
♥Ways to Consume♥
The leaves are picked for smoothies, juicing, salads, soups, or sauteed. They can also be made as tea and extract.
Just keep in mind that this is just like any vegetables you buy at the market, except the Gynura procumbens contains a lot more unique properties. So be creative like you would with any of the vegetables!
Here are some dishes to share with you:
http://wendiland.com/blogs/recipes
In Southern California, I have one growing in a 2 ft x 1 ft area, and it grows fast enough to provide my small family to pick weekly. It's enough for us to make a salad, and soup about 2 or 3 times a week. This plant loves moist soil, and does well in full sun, partial sun/partial shade, filtered light. In colder climate, this plant can be grown indoor by the window, but will be a bit slower growing.
-------
To learn more about this plant, you can click on the links below.
My video about this plant is up!
http://youtu.be/7XN5m3-jdBo
http://www.sma.org.sg/smj/4101/articles/4101a2.htm
http://www.liebertonline.com/doi/abs/10.1089/jmf.2006.9.587
http://myherbsweblog.blogspot.com/2011/01/sambung-nyawa-gynura-procumbens-lour.html
OR if interested in more extensive research, here are the various names of this plant:
The common name for this plant is called Cholesterol Spinach, or Mollucan Spinach
The scientific name is Gynura Procumbens, Gynura Acutifolia, or Gynura Nepalensis.
-------
***Disclaimer
Description is for educational purposes only.
This information has not been evaluated by the Food and Drug Administration.
This information is not intended to diagnose, treat, cure, or prevent any disease.
-------
♥What You Will Receive♥
Plant Height (vary): about 9-12 in
You will receive 1 Gynura Procumbens plant that's fully rooted, and shipped in a pot with high quality organic, GMO FREE soil. A care sheet will also be included.
Shipping Info:
We can only ship live plants within main land U.S. due to agriculture restrictions. We cannot ship to the State of Hawaii or International. Please see the Gynura Procumbens capsules listing for alternative:
https://www.etsy.com/listing/203551828/diabetes-health-superfood-capsules?ref=shop_home_active_13
Interested in you are purchasing more than 1 item please convo me for combined shipping rates. Thanks!
Elsewhere
Sorry, due to the risk of our plants lives and to keep my buyers happy, I rather not risk shipping overseas.
--------
♥Read my feedback on this item♥
VintagePackratQueen says:
"I recieved my plant yesterday afternoon in perfect condition! You packed this so professionally. It looks healthy and flourishing! Thank you so much!"
themindfulmushroom says:
"I love my new plants!! Thank you so much for getting them to me so quickly. It is very obvious that you love the plants that you sell and that you take excellent care of them. They arrived carefully wrapped and still with damp soil. I am so happy with them that I made a blog post for them. You can visit it here. http://trees-and-dreams.blogspot.com/ ♥`•*THANK YOU*.•♥ The Mindful Mushroom .º ♥ `•.☆.•´♥ º ☆.¸¸.•´¯`☆ º.. Go Wild.¸¸.Be Barefoot.¸¸.Live Free .º ♥ `•.☆.•´♥ º ☆.¸¸.★....☆ `•.☆CrEaTe PeAcE º ☆.¸¸ ...☆ º..★¸.•´ ♥ º ★.¸¸.•´¯☆.."
LazyNekoDesigns says:
"I was so impressed with the packing - potting soil taped over to prevent spilling, skewers to prevent crushing. Needless to say, the plant arrived safely! Thank you!"
lovecolors says:
"Great seller! Excellent product! I ordered on Wednesday night, and it was shipped the following day. The plants I ordered are gorgeous and exceeded my expectations. These are best plants I've ordered online and I have ordered from big costly online nurseries that cannot compare. Thank you so much. I truly will be enjoying these plants."
VintagePackratQueen says:
"I recieved my plant yesterday afternoon in perfect condition! You packed this so professionally. It looks healthy and flourishing! Thank you so much!"
Kazeami says:
"I was leery of having a living thing shipped across country to me but I was unaware of Wendi's mad packing skills!! That woman could send a soufflé to Mars & it would arrive in perfect condition. So happy with my Marimo & plant. Thank you Wendi!!"
Learn more about the shop and process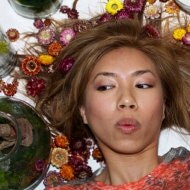 Wendi Phan
Longevity Plant for Diabetes and High-Cholesterol ( Gynura Procumbens / Ashitaba )
---
Listed on Feb 21, 2017
52272 views