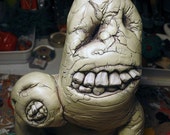 Sorry, this item sold.
Pickled Punk, freak in jar, monster art sculpture
Item details

Reviews (280)

reviews

Shipping & Policies
Here is a weird mutant freak. An original work of art by me, Marc A. Damicis. NOT made from a mold. Extremely detailed. This creep has a second parasitic twin in the form of a wee toothy head. The wormy larger head is neckless and bends back a bit, with empty eye sockets and a toothsome rigor mortis grin. There is some kind of rupture or open wound on the back of it's noggin. The left arm and foot are stunted and stubby. The second head is where the right arm I suppose should be. The right leg bends around to the front of the creature ending in a 3 toed foot. Approx 7" tall. 6" wide at the base, which is the right knee to the left stubby-foot toe. The foreleg is about 6" from the knee to the middle toe. The belly area is about 2 ½" deep. The large mouth is 2 ½" wide. The head is 2" deep. The small head is approx 2 ½" x 2" and 1 ¼" deep. Glass jar is 7 ½" tall and 6 ½" wide. The punk is made from synthetic air-dry model magic and polymer clays. Lightweight...feels weird! Painted with acrylic color. I painted this with subtle and subdued colors, in the manner of a formaldehyde preserved specimen. This thing has an eerie realistic appearance, especially when sitting in its jar. In part, my pickled punks are certainly inspired by the types of punks found the Mutter museum, which are real medical specimens. However, my punks are monsters, not humans, and are also inspired by sideshow punks and other "gaffs" such as Fiji mermaids. Would look great on your desk at work. Would also make a pleasing decoration for your tattoo shop. Place it on the mantle next to the photo of Granmaw and little Billy. Or stick it in the cabinet with your collection of strange objects, weird trinkets, and other bizarre curiosities. Shipping, handling, delivery confirmation/tracking, and insurance is $15.80. Maximum sized images of better quality and be viewed by clicking on the picture after clicking on ther thumbnails. And for additional views of this pickled punk, please copy & paste the following URL's for more pics:
http://img.photobucket.com/albums/v176/antonmarcd/punk-02.jpg
http://img.photobucket.com/albums/v176/antonmarcd/punk-03-a.jpg
http://img.photobucket.com/albums/v176/antonmarcd/punk-04-a.jpg
http://img.photobucket.com/albums/v176/antonmarcd/punk-01-a.jpg

Important note to buyers: Combined shipping is available for multiple purchases. Contact me before submitting payment and I'll give the revised shipping & handling total. All questions and comments are welcome! And for more weirdness, check out my other art listings in my Etsy shop. Additional buyer info, including my selling policies, can be found in my complete profile. And please, only purchase an item if you intend to pay for it. Thanks for looking!!