This elegant little hand crafted sterling silver baby keepsake ring is set with a natural Australian Opal, the birthstone for October. The opal measures 2.5mm, weighs about .04 carats, and is completely natural and untreated in any way. The opal has nice fire and play of color when viewed in sunlight or incandescent light.
CHOKING HAZARD, ADULT SUPERVISION REQUIRED:
Babies and small children can get a ring off their finger and into their mouth where it becomes a choking hazard. Babies and small children should never be left unattended while wearing jewelry of any kind. Constant ongoing attentive adult supervision is required while a baby or small child is wearing a ring. Never leave a baby or small child alone with a ring on their finger. Baby rings are intended for use as a keepsake to commemorate the birth of the child rather than as a ring to actually be worn on the baby's finger. Please keep your precious little ones safe from harm.
The ring has a hammered, faceted design. The shank measures about 1.3mm wide and .7mm thick, and is stamped STER for Sterling on the inside. A significant portion of the sterling silver I make these with is newly refined and alloyed recycled silver. The ring is available in 3 sizes.
Size 00 is the smallest and will fit most newborns up to about 3 months. Inside diameter is .426 inches, 10.82mm. I keep at least 1 ring in stock this size and ready to send within 1 day of your order. This is the size ring pictured next to the US Dime in the pictures. This is the size most people order as a baby ring.
Size 0 has inside diameter of .458", 11.63mm. Made within 3 days of your order.
Size 1 has inside diameter of .49", 12.45mm. Adult women with small fingers often wear a size 1 ring on their pinky finger or as a first knuckle ring. Made within 3 days of your order.
For an opal ring larger than size 1 in this hammered faceted style, please visit my listing located here:
https://www.etsy.com/listing/100854018/opal-ring-stackable-hammered-faceted?ref=shop_home_active
PROPER FINGER SIZING: There is no way to accurately guess or estimate the finger size you need for a ring to fit properly. The only way to obtain an accurate finger measurement is to use the METAL finger gauges used by jewelers. Go to a store that sells rings, and get the finger measured. They will be happy to do this for you. Finger size is totally unrelated to body size or shoe size. Using string or ribbon to measure the finger is not accurate. Printing a paper off the internet and wrapping it around your finger may work if you plan to wear a piece of paper on your finger; but if you plan to wear a silver or gold ring, this is not accurate. Again, the only reliably accurate way is to use metal finger gauges graduated in 1/2 sizes, until you find the one that fits best. Also keep in mind that fingers are smaller when it is very cold, and larger when it is hot and humid. Receiving a new ring that is too large or small is quite disappointing. You will be far happier if you take the time to obtain an accurate size before ordering.
The perfect keepsake for a child born in October. This is a REAL natural opal, mined from the Earth; not lab grown or synthetic. Small enough to fit on a baby's finger now, and it can be worn as a pendant on a silver necklace chain in the future.
I make these with all 12 birthstones. I can also make them in 14k gold. Interested in a custom design? I have thousands of gems to work with. Please feel free to contact me with your needs.
Metaphysically:
Opal is thought to bring out inner beauty, to enhance imagination & creativity, to empower, to develop psychic powers. It has long been one of my favorite gemstones. I love to cut and polish them, and I love to mine them from the earth. I have mined opal myself in Idaho and in Nevada.
THE OPAL
Mother:
Come, let me place a charm upon thy brow,
And may good spirits grant, that never care
Approach, to trace a single furrow there!
Daughter:
Thy love, my mother, better far than charm,
Shall shield thy child - and yet this wondrous gem
Looks as though some strange influence it had won
From the bright skies - for every rainbow hue
Shoots quivering through its depths in changeful gleams,
Like the mild lightnings of a summer eve.
Mother:
Even so doth love pervade a mother's heart;
Thus, ever active, looks through her fond eyes.
From "Gems of Beauty", by the Countess of Blessington, London, 1836.
**Upgrade to Priority or Priority Express shipping to an address in the U.S.A. is available at checkout. You can also purchase an upgrade to Priority shipping from me here:
https://www.etsy.com/listing/118405172/upgrade-to-priority-us-post-shipping-to?ref=shop_home_active_5
*International shipping to listed select countries is by insured Priority International U.S. Post or Federal Express at seller's choice. Average shipping time is 6 to 30+ business days, depending on how fast or how slow your country's postal system is. Most countries charge a customs duty tax on items you import from the United States. It will be your responsibility to pay this tax when your package is delivered to you. Please check with your local postal service's customs office to learn how much your customs tax will be when your item arrives. In some countries this tax can be quite high.
Learn more about the shop and process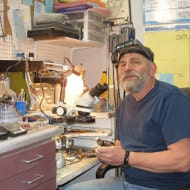 Paul Badali
Opal Baby Keepsake Ring, October Birthstone, Hand Crafted Recycled Sterling Silver
Listed on Aug 1, 2016
3263 views