"LAST FLIGHT" by Daniel Vancas. A fine art giclee print
Pan Am Clipper departs Honolulu, Dec.7th, 1941 - A stunning Art Deco image of another time.

(See first image, if you like this, you will love the many other images for a companion Retro Vintage travel airplane and travel art from the 30s and 40s that we offer. Also check out our DC-3, the Connie or Constellation, the Pan Am Boeing 314 Clipper and the Avalon Catalina Flying Boat .)

MADE IN THE USA by VANGUARD GALLERY- Est 1992 - ACCEPT NO SUBSTITUTES!

IMAGE SIZE APX. 12X18 +/- FITS NICELY IN A STANDARD 16X20 MATTED FRAME.

A FINE ART LIMITED EDITION GICLEE PRINT - ON WATER COLOR PAPER.
SIGNED AND NUMBERED BY ARTIST AND ART PUBLISHER, DANIEL VANCAS.

LARGE CANVAS GICLEE UPGRADES OFFERED!
If you have question or wish to order an upgraded size on canvas giclee of this or any other images offered, email here and we will list it for you.

Please see our other listings of Flying Boats, Aviation art and pin-ups.

PROMOTIONAL SALE!!
SAVE BIG!!!

GALLERY PRICE: $125 -
YOUR ETSY PRICE ONLY : $49.95

ORDER TODAY!

PROMOTIONAL - THIS PRICE SUBJECT TO CHANGE AT ANY TIME!

VANGUARD GALLERY is Located at:
CLINT EASTWOOD Building, #1
San Carlos, at 5th, next to the Hog's Breath Inn,
Carmel, by the sea, California.

HOURS:
Thurs through Monday 11AM to 6PM
Tues and Weds, by appointment.


HISTORY AND INSPIRATION FOR THE ARTIST:

"LAST FLIGHT, BOEING 314 LEAVES PEARL HARBOR, DECEMBER 7TH 1941"
By Daniel Vancas

I don't just paint pinups... I paint other things of interest to me. This painting of 250 layers took me over two years to paint! Here is part of the reason why I labored so long.
At the time, I was recovering for a very bad accident. I was in chronic pain, and partially disabled with spinal and nerve, disk and vertebra compression from a serious neck injury.

Sometimes, I waited for hours or days for my hand to stop shaking (from nerve damage), so I could resume painting. This painting was my emotional therapy while I went through a painful recovery and physical therapy that took over 2 years. The story I related to on several levels and was the time and era that my parents experienced. They would watch this plane depart from Treasure Island and fly out over the Golden Gate Bridge at the San Francisco, and fly to exotic islands far from their troubled world of the Great Depression.

This painting is about America coming back from the Great Depression, flying through golden dreams, surviving leaving behind the terrible Great Depression and into the dark cold realities of a Post War Era, if cold war politics and the Atomic age. This image, the plane itself embodies the will of the people of America and my parents of the Greatest Generation, to dream, to work, and do great things. This they did. This plane was a symbol that America could and did survive the Depression and was both innovative, creative and industrial powerhouse on a very dangerous political world stage. This plane, featured in both 1939 Worlds Fairs, told a unspoken truth, that if we could fly tourists and businessmen to China, we could fly bombs to our enemies should the need arise. Pan Am and it's remote island bases then became a defense strategy and pawns in the Pacific.

This messages was taken seriously by the Japanese, who not taking the bait, went first to the queen and attacked the "Pearl" and then knowing the importance of these so called civilian Pan Am Bases, immediately attacked them. So famous our loss of Pan Am's Wake Island that a propaganda film and war cry of "Remember Wake!" became as loud as "Remember Pearl Harbor". So important were these civilian planes, in both actual and implied importance, that all of Pan Am Clipper bases of the Pacific routes were under attack or threat in the days after the bombing of Pearl Harbor.

In December 1942, This very Pan Am Clipper left Pearl Harbor, on a scheduled flight to New Zealand, and was just out to sea before the bombing of Pearl Harbor. To escape the enemy held Pacific waters this plane flew unscheduled around the world.

It was this Art Deco plane that was a harbinger of modern things to come and elevated and celebrated at the 1939 World's fair in NYC and the 1939 Treasure Island Worlds fair in S.F. California. My parents and other young people would watch these flights, and see the rich and famous boarding calls! These were powerful Boeing Flying Boats, swinging 2 story high propellers with 3000HP engines. Roaring out low over the Golden Gate, flying to far away places, unattainable places, for the common working man, all very much an opulent dream during the great depression, that ended with our entrance into the great war.

As a side note: The local California Chinese raise millions of dollars during the great depression and sent this money back often on the Flying Boats to China to help in defense against the Japanese. Flying Tigers, an all volunteer American P-40 fighters before "Pearl", went to help China traveled on these Pan Am Clippers. This as as well as spies, defense contractors, news photographers, Japanese ambassadors. Besides movie stars like Clark Gable, and the rich soft handed world travelers, these planes held a microcosm of a world in upheaval with nefarious political and financial goings on while each leg of the journey to Hong Kong could take 12 hours or more and the trip a rocket speed of 6 to 7 days with stops at Island resorts mostly owned by Pan Am on the way. These planes had only first class and better service and accommodations, including dinning room area, prepared hot meals, fine wine and drinks, deserts, bathrooms, and even a private suite with your own private dressing area and bathroom!

Sadly all of these planes were used up, doing war work and after sold off and scraped. The last Boeing 314 was left abandoned in Long Beach, where Pan Am had a close sub office.
In 1953, it was taken out to deeper waters just of Long Beach, California and simply ripped open and sunk. Thus ended the golden age of the luxurious flying boats, and mighty "Flying Clippers of Pan Am".

Their main Admin Building, Hangers and "Clipper Cove" can still be seen at the entrance of Treasure Island, (SF), Ca. These buildings appears pretty much as it did during the 1939 Fair. Treasure Island was one of the ship yards my father worked at for the Navy and Defense Contractors during the War.

This original painting is available and can be seen at Vanguard Gallery, #1 Clint Eastwood Building , Carmel, Ca.
Larger on canvas giclee prints, Signed limited edition PRINTS can be ordered via email request and listed on this Vanguard ETSY.com.

(C) "Last Flight" painting, art and articles, all by Daniel Vancas 1993-2010 all rights res. Note: This is from several earlier published articles I wrote about "The Last Flight of the Clipper" and Pan Am Flying Boats with my feature painting, started in 1993. This painting of 250 layers took me over two years to paint.

*****************************************************************************************

ABOUT DANIEL VANCAS A VANGUARD EXCLUSIVE ARTIST:

Daniel Vancas has been a artist most of his life. He returned to his first love of painting full time after a serious life changing accident in 1991. He loves the period of the 1920's through the early 1960s, Deco to Modern and illustrative style that infuses his work. With full authority and rights, since 1995 He painted more than 238 replicas of historic Elvgren pin-ups.

Photo's of the artist, Daniel Vancas at Elvgren's easel at work on other commissioned paintings.

Requests can be listed and confirmed on ETSY for requested sales if interested.

HISTORY OF THIS ART: This was the art that was popular with the bomber crews WWII, ( and Korean War). This was the type of image popular for pinups copied on countless leather flight "Bomber Jackets" B-17, B-24 and B-29! Beautiful 1940's & 1950's Commercial, Aviation, Hair Salon, Auto shop and gas station pin-up girl.

WHO IS DANIEL VANCAS?

Daniel Vancas is a fine artist and fine art publisher of limited editions. Known mostly for his work in pinup, illustration, aviation and automobile art. He was the very first publisher of fine art Elvgren limited editions, and also the very first to commercially offer high quality Elvgren Replica paintings. He promoted Elvgren for 15 years at his own expense of over $1,000,000.

Before Elvgren was rediscovered in the late 1990's and well before most of those popular new books came out, Daniel Vancas Owned and opened several Vanguard Galleries promoting Elvgren! He paid for shows all around the country promoting Elvgren pinup. He was the first to open Elvgren web sites in 1993 & 94.

HE WAS THE FIRST COMMERCIAL REPLICA ARTIST OF ELVGREN WORKS:

Because an estimated 40% of all of Elvgren's paintings were thrown away and lost, and because the found ones are rarely are for sale, unless offered at $75,000 to $150,000; Daniel Vancas was the first to paint the replicas of Elvgren pinups for the public, using mostly the destroyed, lost and unavailable Elvgren images. In this way he has faithfully and lovingly preserved many now lost works of art for another generation. At first he was licensed with B&B, now he owns his own separate elvgren Intellectual Property.

Over the years he was also licensed by the VARGAS ESTATE, and bought and sold many vintage original vintage pinup paintings by Elvgren, Vargas, Petty, Moran and many others. Many celebrities and actors have been to his shows and gallery openings.

Daniel Vancas painted over 238 ELVGREN REPLICA PAINTINGS! He has signed and dated back of each one, so they will never be confused with the original vintage painting by Elvgren. The reason you don't often see them for resale is because the collectors of these paintings keep them. Most are sold through galleries.

As a proud owner of the Elvgren trademarks, Daniel Vancas has use these marks continual since 1994, 1st issue 1997 and re-issued, Backed by Permanent Federal Court Order, 2001.
Learn more about the shop and process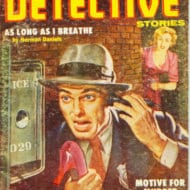 DANNY "V" VANCAS
Deco Island Travel - LAST FLIGHT of the Pan Am CLIPPER Airplane - Daniel Vancas - Wwii flying boat Pearl Harbor Honolulu
---
Overview
Handmade item
Primary color: Black
Secondary color: Orange
Materials:

pan am clipper, flying boat, fine art, painting, giclee, print, vintage, deco, pin up, Elvgren artist, Clipper, PAN AM, Vancas

Ships worldwide from

United States

Feedback: 200 reviews
Favorited by: 45 people
Shop similar items from sellers around the world