1613 Sales
|
On Etsy since 2009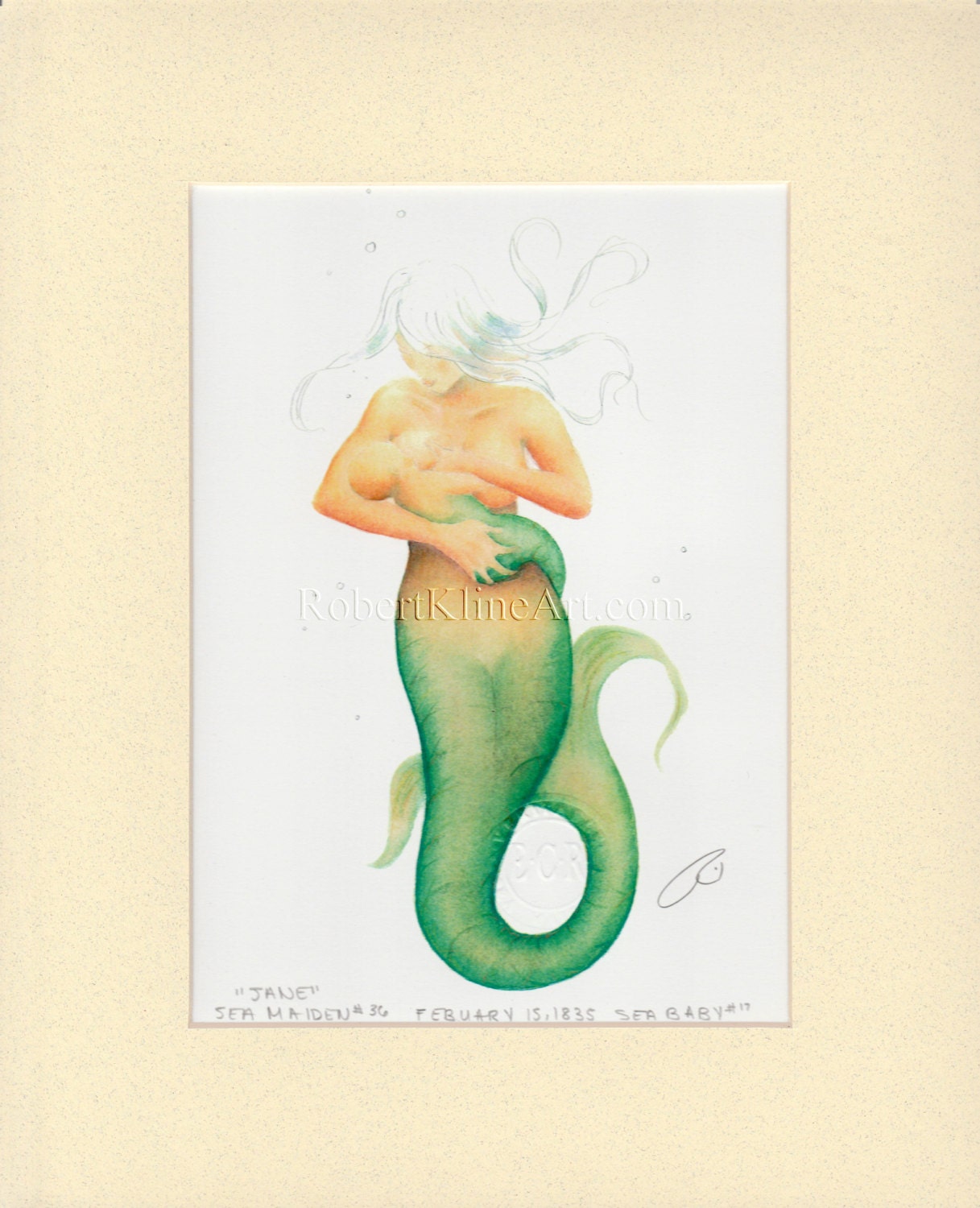 Mermaid Mother Jane Nursing her Sea Baby - Sea Maiden 36

Mermaid mother nursing baby art and story by Robert Kline

This is a matted 8″ x 10″ (entire matted size) print that will be shipped via USPS 1st Class Mail the RobertKlineArt.com verbiage is a watermark to protect the image it will NOT be on the print you receive.

This wonderful mermaid mother nursing her precious newborn baby art print and story comes from a collection of Sea Maidens (mermaids), Sea Babies (mermaid babies), Sea Masters (merman), pirates, lighthouses and fairies created by renowned artist and novelist Robert Kline of St. Augustine, Florida. The print is a lithograph reproduction of Robert's original watercolor and pencil painting. Hand labeled and signed by Robert in pencil, all the prints come with a 1/4″ foam backing and the 5″ x 7″, 8″ x 10″, 11″ x 14″ are matted so all you need is a frame and they are ready to hang on your wall! Each print also comes with an excerpt from Robert's novel The Forgotten Voyage of H.M.S. Baci. A fantastic saga in which multiple generations of the Roberts' family explore the seven seas in search of the world's mermaid and merman population. Thus, you receive the passage from Robert's novel describing the particular event in which the character(s) in the print were sighted. The following is the excerpt written for this print:

Then it was February and Midway Island, Sir Edmund Roberts, the inveterate adventurer and Sea Maiden questor, spying at last his gooney birds; the world's most accomplished fliers. They were, however, less adapt at rejoining terra firma. Again and again naturalist and crew laughed heartily when the big birds drifted to land, lowered their webbed feet and then tumbled topsail over copper.

And later there was a Sea Maiden, she with her child and it at her breast. Captain Constance Daphne Fitzwillie, Gnarly Dan and Sir Edmund were in Halley's patented diving apparatus at the time, they enjoying a quiet afternoon and discussing repairs to the good old Baci. Gnarly Dan was the first to spy the Sea Maiden. "Warn't that the most sweetest thing," he whispered as he pointed out the pair to the others. The creatures drifted by, the mother cradling her baby and looking off, the most serene look on her face. The baby suckled, the picture of contentment, finally nestling closer and apparently falling asleep. Constance Daphne became wistful, a tiny smile and a teary look accompanying her as she brought her arms to her chest and rocked slowly from side to side as if holding a child of her own.

Gnarly Dan was also moved. "There ain't no denyin' the beauty of a cannon or a well-found ship, but yer sea mum an' child…that'd be about the best they is." Captain Constance Daphne turned away momentarily, dabbed at her eyes and then looked long and hard at Sir Edmund. He was watching the mother and child intently and when he finally looked back to Constance Daphne it was as if he were imagining a different scene. He thought a moment and then said, "While I'm an older gentleman, as you are well aware, we shall eventually return to England. There are only about thirty extra rooms in our ancestral home; I dare say at least one could be made into a proper nursery."

Later they sat quietly on the beach until the sun set, Captain Constance Daphne leaning heavily onto Sir Edmund; Gnarly Dan a little in front of the two muttering without end about Sea Babies, babies proper, nursing mothers, sugar treats and assorted other bits of conventional wisdom. So perfect was the evening that at one point the naturalist entertained the thought of inviting the old salt to visit them once ashore for good. He actually even toyed with offering employment. Years in the future he would look back on that day and evening as one of the finest in his life.

His journal reads:
Most content of afternoons. Whilst in the company of my recent bride, the beautiful Constance Daphne, we spied a Sea Maiden mother with child. Endearing spectacle. Pleased to have viewed it in the presence of the captain.
Maidenus leche "Jane" Healthy mother. Long hair, still without color. Medium build.
Infantus contentus, Healthy child. A bit pudgy. Sighted off midway island
February 15, 1835

There are many more Sea Maidens (mermaids), Sea Baby, Pirates and Sea Masters prints available at: RobertKlineArt.com

Different characters and print sizes.

Shipping:
* This item will ship via United States Postal Service 1st Class or Priority Mail.
* I mail (ship) product every Monday, Wednesday and Friday.
* Save on shipping costs! Buy additional items from me and pay only $2.00 shipping for each additional item purchased within a 7 day period. The heaviest item is used for the base shipping price and each item thereafter is $2.00. Please email me if you have any questions.

International shipping:
* Due to numerous problems and lost items I no longer ship internationally.

Accidents can happen...
Hopefully this will not occur, but if your item does arrive damaged, please note on the delivery confirmation and keep all original packaging materials. Please send me an email immediately upon receipt of the package.

Return Policy:
If for any reason that you are not fully satisfied with your purchase, you may return it to us for your money. Please read below.

* You must notify me within 7 days of receiving the item.
* Item returned must be in new condition with original box & accessories.
* Buyer is responsible for all return postage and shipping charges.
* We charge 15% restocking fee out of your total purchase price.
* Shipping & Insurance fees are not refundable.
* Item(s) returned that shows improper use, improper handling or physical damage; missing parts and accessories will be returned to buyer without refund.
* A reference number must be obtained before returning any item(s). The reference number must be visible on the box or label in which it is being returned in. Items returned without Reference Number will be refused and returned to the sender.

Please note:
The item is your responsibility until it reaches us. For your own protection we recommend that you send the parcel with insurance for the value of the items and signature confirmation is also suggested. The cost of returning the item to us is your responsibility and not refundable.

Contact Me:
For any product, billing, shipping, invoice, or payment questions please contact me.
Learn more about the shop and process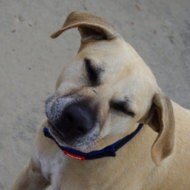 Orion
Mermaid Mother Jane Nursing Baby Art Signed Robert Kline Matted 8" x 10" Print Shower Maternity Gift Nautical Home Nursery Decor Beach House
---
Overview
Handmade item
Primary color: Green
Secondary color: White
Holiday: Mother's Day
Occasion: Baby shower
Height: 10 Inches
Width: 8 Inches
Materials:

paper, ink, mat, foam board, Imagination

Only ships within

United States

.
Feedback: 283 reviews
Favorited by: 201 people