This is a print I made for my printmaking class in spring 2010.

This is a 22"x32" hand printed two layer relief print, carved out of comatex (not linoleum). There are 15 editions of them.

My current theme is mixture of flower language and coltural icon and I wanted to do a full armored samurai warrior with lots of details.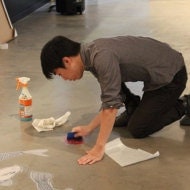 Taro
Listed on Apr 19, 2015
797 views