This figure of a Cougar or Mountain Lion is taken from a rock panel that was found in 1934 in the Petrified Forest National Park in Arizona. The Civil Conservation Corpse was clearing a pile of rocks out of the way in the construction of Blue Mesa Road, when they flipped over a large flat rock to haul it away. This petroglyph was discovered on the bottom side of that rock; protected from the weather for over 700 years. It is now on display in the book store in the Painted Desert Inn. It was carved into the rock by the Pueblo culture, probably in the 12th or 13th century. The Pueblo are known to have revered the Mountain Lion for her hunting skill. My hand crafted round sterling silver pendant measures about 3/4" diameter. The last picture shows it next to a U.S. Dime coin, so you can get a visual idea of the exact size. The chain is an 18" sterling silver flat cable chain. A significant portion of the sterling silver I make these with is newly refined and alloyed recycled silver.
The ancient Native American cultures of the Fremont and Anasazi peoples had disappeared long before the white man settled the North American continent. What became of them is a mystery. They are known to us only by the artifacts and art work they left behind. Both cultures created petroglyphs and pictographs on flat vertical rock surfaces in the areas where they lived, fished, and hunted, in the south-west United States and Mexico. Pictographs were painted or drawn onto the rock surface using various mineral "paints", and petroglyphs were pecked or carved into the rock's surface. Why they made them, and what they mean can only be speculated at. Subject matter included human forms, animals, shields, tools, rain clouds, lightning, celestial events and what appear to be solar calendars, and abstract geometric figures. The most interesting are supernatural entities that appear to be gods, spirits, or aliens. I have personally visited and photographed many locations in Utah. When visited and seen in person, they definitely have a spiritual feeling to them, and seem to be artistic reflections on the meaning or life.
My petroglyph necklaces and earrings are hand crafted in newly refined recycled sterling silver. I first copy the petroglyphs from photographs and draw them on paper. The petroglyphs are then acid photoetched into metal. After cutting the pendant shape out I texture the front to represent the texture of the rock cliff surface on which the rock art panel is found. A mold was then made from the original, and reproductions are then cast in sterling silver. After the silver is polished, I use a jewelers antiquing in the petroglyph depressions to make them black so they will stand out.
**Upgrade to Priority or Priority Express shipping to an address in the U.S.A. is available at checkout. You can also purchase an upgrade to Priority shipping from me here:
https://www.etsy.com/listing/118405172/upgrade-to-priority-us-post-shipping-to?ref=shop_home_active_5
*International shipping to listed select countries is by insured Priority International U.S. Post or Federal Express at seller's choice. Average shipping time is 6 to 30+ business days, depending on how fast or how slow your country's postal system is. Most countries charge a customs duty tax on items you import from the United States. It will be your responsibility to pay this tax when your package is delivered to you. Please check with your local postal service's customs office to learn how much your customs tax will be when your item arrives. In some countries this tax can be quite high.
Learn more about the shop and process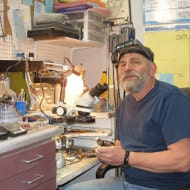 Paul Badali
Cougar, Mountain Lion Petroglyph Necklace, Recycled Sterling Silver, Petrified Forest, Arizona
Listed on Sep 8, 2016
807 views