We often mistake dull, limp hair for dirty hair and think more shampooing and body building products are the answer. Often times too much of a good thing is part of the problem.

Many of our hair care products are strongly alkaline and cause a dulling buildup on the hair shaft. Overuse of shampoo, conditioners and styling products can dry out and leave open the protective cuticle scales resulting in hard to manage fly away hair.

Healthy hair is on the mildly acidic side of the pH scale between 4.5 and 5.5. Apple cider vinegar has an acidic pH of 2.9.

Apple cider vinegar rinses help to balance the pH and remove buildup, giving you a softer, shinier, easier to detangle head of hair. Rinsing will close the hair shafts resulting in a smoother surface.

Periodic apple cider vinegar hair rinses will also help prevent or get rid of a flaky or itchy scalp.
The acids and enzymes in the vinegar kill the "bottle bacillus", a bacteria that is one of the causes for many scalp and hair conditions. The bacteria clogs hair follicles allowing dry crusts to form that itch and flake.

The addition of herbs to the vinegar allows the rinse to enhance hair color and bring out desired highlights.
Chamomile and Calendula have long been used for home hair rinses to condition and try to keep that lovely blonde color from turning what we know as "dirty blonde".
Nettles are full of minerals, chlorophyll and antifungal properties used to prevent and treat scalp funk. Nettle is also a stimulant used to enhance hair growth.

Lemongrass and grapefruit essential oils are additional antimicrobial aides as well as offering their fresh citrus aroma.

Vinegar rinses can be used once a week or only a few times a month. Every person is different. If your hair is dry to begin with take note how your hair responds and adjust the frequency.

Note: A very common question is if vinegar will harm color-treated hair. According to sources during my search for answers, apple cider vinegar is acidic enough to balance the pH of hair but not enough to strip it. Vinegar will not strip hair color the way chemical lighteners will so it shouldn't remove hair dye.
However, keep in mind that vinegar may change the shade or fade dyed hair if used too frequently. A once a week treatment to remove residues and restore shine shouldn't harm hair color.
For those who have dark hair coloring, just be sure to dilute the vinegar with water before using and don't overdo it.
Blondes who highlight or bleach their hair don't have to worry about the hair color actually fading. Their concern is usually more with maintenance since the hair tends to suffer with dryness and frizz. The use of AVC can do wonders to restore shine and close the cuticles properly.

Also ideal for the 'no poo' method of hair washing where baking soda and apple cider vinegar are used instead of shampoo. For more information on the no poo method of shampoo, read this post:
http://meadowmuffingardens.blogspot.com/2013/09/does-your-hair-do-need-no-poo-for-its.html

To use: There are two choices
1. Dilute 1/2-1 Tbsp vinegar to 1 cup water for short hair or
1-2 Tbsp vinegar to 2 cups water for long hair.
Shampoo and rinse as usual. Stand with your head over a bowl or sink and pour the vinegar/water mixture onto your hair and scalp so it catches in the bowl or sink. Do this a few times. Let sit a minute or so and rinse with lukewarm water (optional). Some people prefer to not rinse it out since it adds shine and softness to the hair. The smell of vinegar does fade.
2. You can just massage a tablespoon of vinegar directly onto your scalp and hair and then rinse. Vinegar is rather strong so use your own judgement which method to use.

For help with dandruff it is recommended to use the direct application method. Massage the vinegar thoroughly onto the scalp and let sit for at least 15 minutes. Some people prefer to do this and then shampoo while others would rather use the vinegar rinse after shampooing as the vinegar helps with tangles.

Avoid getting the vinegar in your eyes. It will burn.

Lighten Up Herbal Vinegar Rinse comes in an 8 oz. plastic bottle with a pop-up type cap.
If you have a preference of the bottle please let me know.
Pictured above are the natural #2 HDPE or blue #1 PET plastic, all easily recyclable.


"This really got my hair clean and definitely smells better than plain cider vinegar. Plus, the added ingredients lightened my highlights."

"I love this hair rinse! I put it in a bottle and spritz my hairs with a mixture of this rinse and water."
Learn more about the shop and process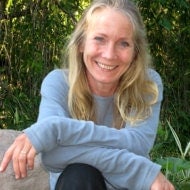 Stacy at Meadow Muffin Gardens
Hair Rinse, Lighten Up Herbal Vinegar Rinse for Blonde Hair
Overview
Handmade item
Materials:

apple cider vinegar, chamomile, calendula, nettles, lemongrass essential oil, grapefruit essential oil

Made to order
Ships worldwide from

United States

Feedback: 1730 reviews
Favorited by: 214 people
Listed on Oct 14, 2016
3501 views