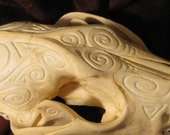 Sorry, this item sold.
Engraved Coyote Skull - Real Bone Curio for Cabinet of Curiosities or Wunderkammer
Item details

Reviews:

Shipping & Policies
From the teeth to the braincase, every surface of this coyote skull has been painstakingly engraved with spiraling, labyrinthine lines.

***
I am sorry, but I do not ship bones outside of the United States. I cannot make exceptions.
***

This beautiful artefact would be a perfect gift for the nature lover, the bone collector, or any appreciator of curiosities. It would make a lovely addition to any altar or wunderkammer, or a dignified – if slightly morbid – decoration for a sheltered study or library shelf.

The skull comes complete with lower jaw and measures 7.9 inches (20.2 cm) from front to back and 3.9 inches (10.3 cm) across the cheekbones. It was trapper cleaned and whitened, leaving it with a fine golden patina of natural oils that will deepen with time.

I try to be honest about the quality of skulls I offer, and try to describe any imperfections to the best of my ability. This skull is from a younger animal, so the sutures are quite open, meaning some of the individual bone plates are pretty loose (the nasals in particular), and the surface is coarse in places where the bone was actively growing. The coyote's teeth are all present, but the canines, first incisors, and large carnassial teeth all exhibit cracking. For these reasons, though it will not deteriorate if kept in appropriate conditions, this is not a specimen that should be handled frequently. Also for these reasons, I am offering it at a discount.

Though this skull has been professionally cleaned and whitened and should retain its color fairly well, as time passes you may find that the white bone darkens to an ivory cream color. This is a result of the residual oils present in all bones migrating to the surface. This gradual color change is part of the appeal of real bone.

I don't like to use sealers which change the way that bones look and feel, so I have protected this skull with a layer of museum-grade microcrystalline wax that changes neither texture nor sheen. This will help protect the outer surfaces from moisture and repel dust, though it should still be stored carefully.

Cleaned, dried bones are not as tough as living bones. They are fragile and should be handled with care and respect. When you lift them, support their weight fully from below. Do not pick up a skull by the cheekbone or in a way that puts pressure on the nasals. Do not display them in direct sunlight, in humid areas, or in any location where frequent changes of temperature occur. Respect and care will extend the second life of your skull and prolong and preserve its strength and beauty for many years.

No animals were killed solely to obtain the parts I use! I use real bone because I greatly value and deeply respect the connection it provides to the actual animal. I obtain my bones from ethical, professional sources. This skull has been in my collection for a number of years and was originally obtained from a dealer who specializes in cleaning and selling bones left over from legal hunting and trapping, parts which would otherwise go to waste.

I believe that making something beautiful out of the remains of animals that have come to a sad end honors their sacrifice and encourages us to respect the beauty and fragility of all animal life.

I ship all skulls very carefully and securely wrapped in bubble wrap. Because these are expensive items, and because standard tracking and delivery confirmation has proven to be unreliable, I ship all skulls via USPS Priority Mail, with signature tracking. You will need to sign for this when it comes.