Ah, to be young again with nothing to do but gaze glazedly at one's accessories in gay colors whilst grazing on colorful, glazed confections…as people burn up on the other side of the globe. C'est-la-vie.

Each print of my unique and awfully delectable Barbie-person collages is a delicious melange of wallpapers and puffy parts, fabrics and modness, graphic political and social mental ephemera, vintage-this and riotously-colored that, with light effects, intended defects, perplex, and a blatant shot of cool.

Don't you need some today?

Professionally printed on Premium Epson glossy archival paper for that rich, riotous, 3-d-ish, semi- reflective eye candy sensation. Image is slightly smaller than paper size, to allow for border space to title and sign the print. Print is not framed.

Shipped safely in a hard, flat mailer.

Other sizes of this image can be ordered upon request.

© 2010 Whitney Maxson. All Rights Reserved.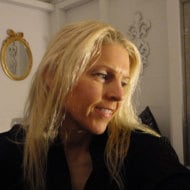 Whitney
Listed on Feb 24, 2017
127 views