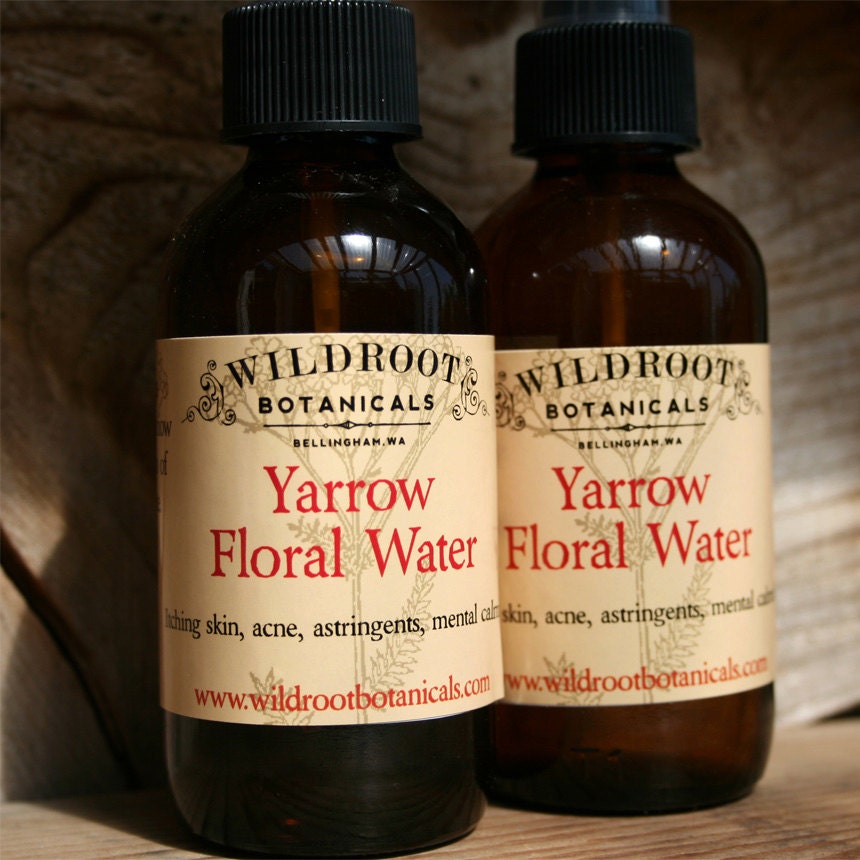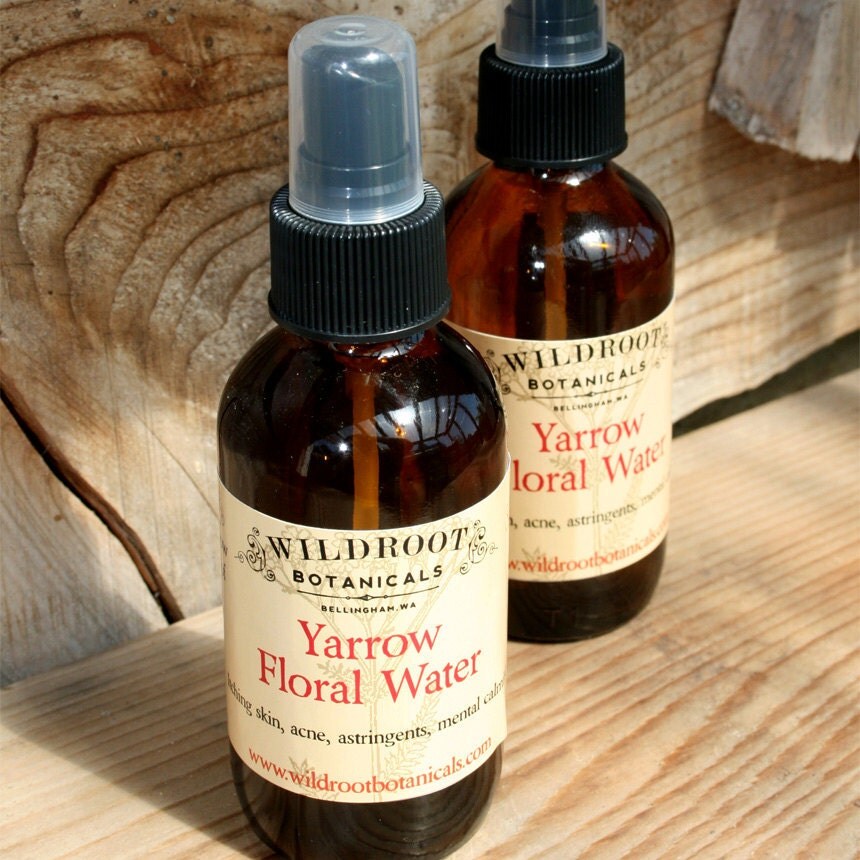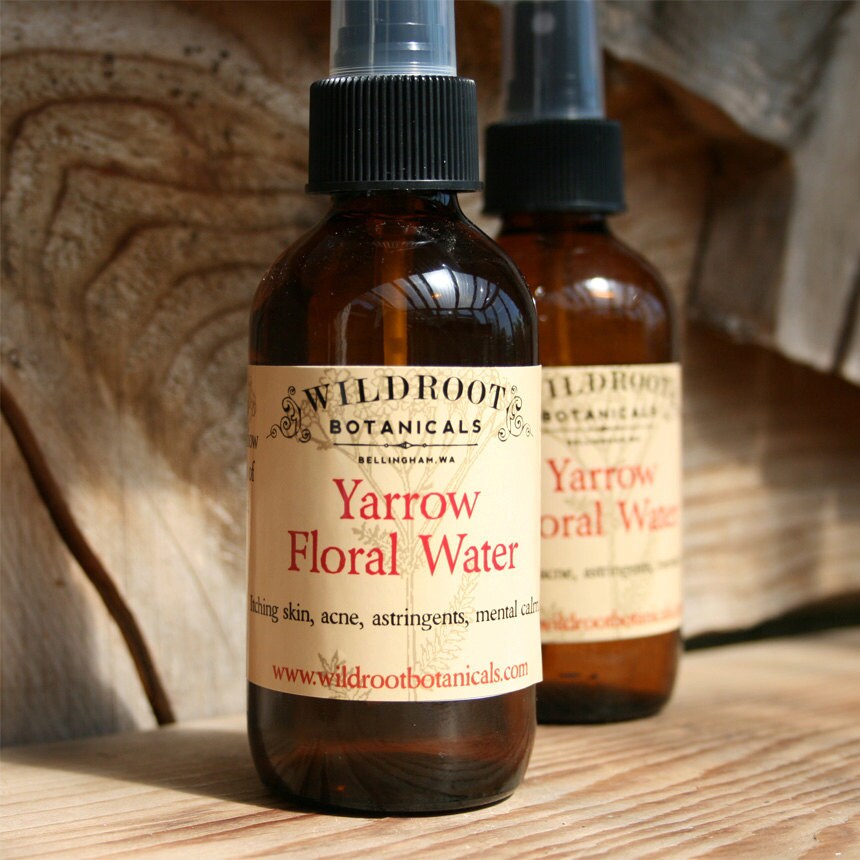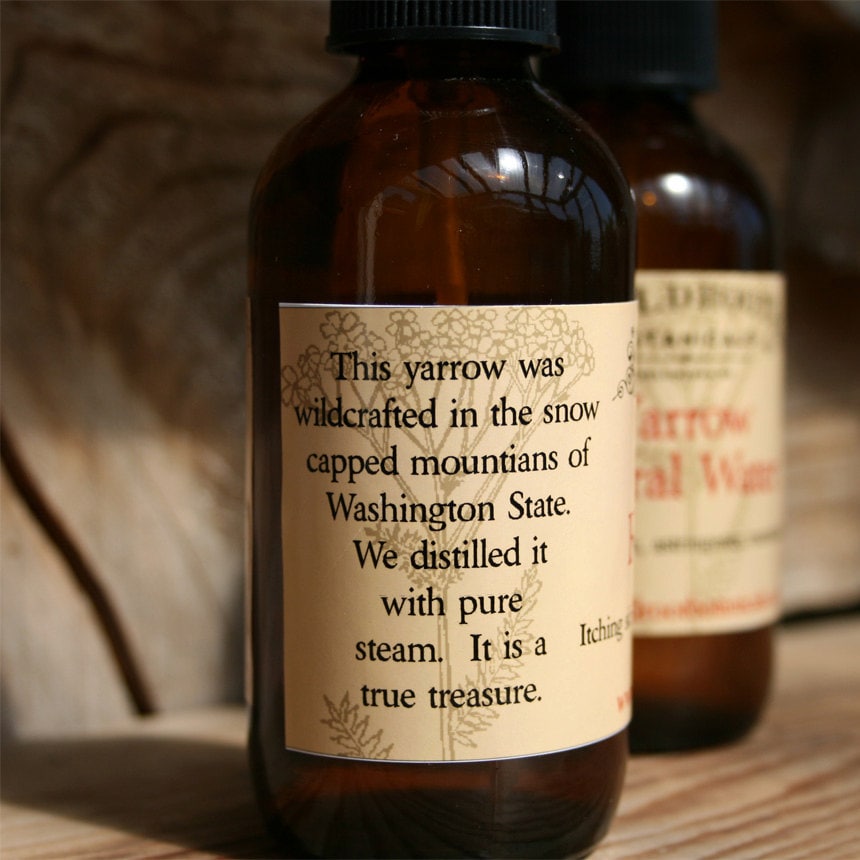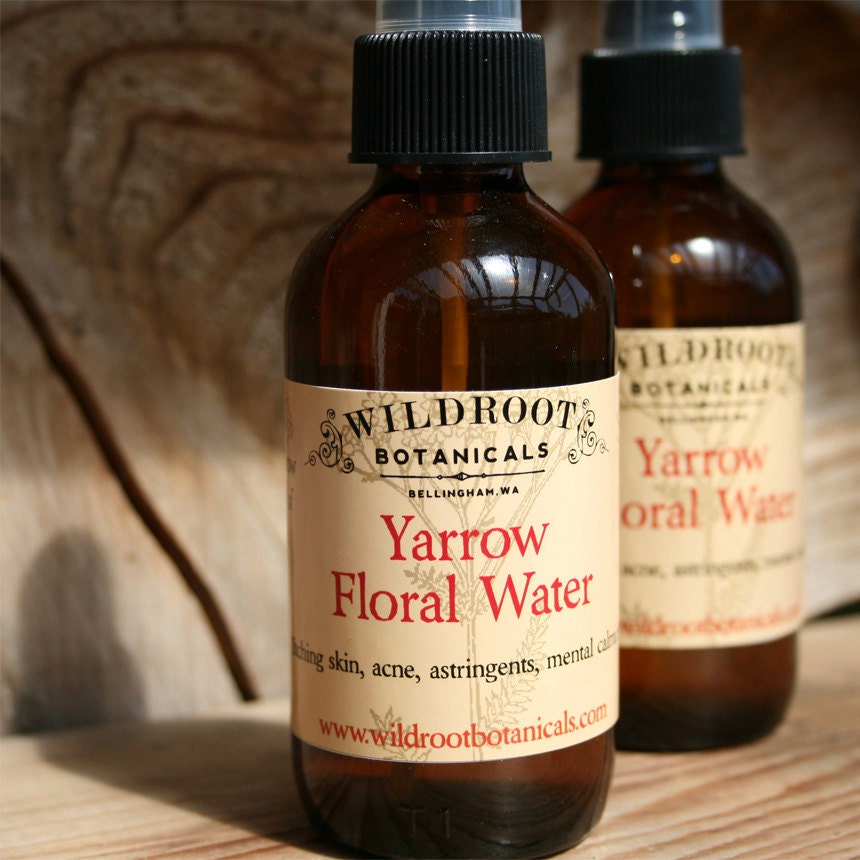 This fantastically aromatic floral water is distilled from wildcrafted yarrow, Achillea millefolium. We collect it from the lush fields of the Cascade mountains and also down by the ocean of the Salish Sea.
Yarrow has an amazing quality for protecting space! It clears energy in a way like nothing else I have found. I love sage and cedar too for their individual ways of energetic and physically cleaning a space....but yarrow accesses something in a whole other way and has a way of putting the mind at ease and dissipating unwelcome energy.
I love the classical Greek "mythical" story of Achilles and how his Mother held him by the Achilles tendons and dipped him into a giant pot of yarrow tea to protect him as he headed off to war. As he fought in battle arrows shot at him dropped to the ground, leaving him unscathed….until an arrow hit him on the back of his ankle ,his achilles tendon where his mothers fingers were holding him. That place had not touched the tea and he died. Our ancient stories are so infused with important wisdoms.
Yarrow as a hydrosol applied to the skin is tonifying and balancing. It is specific for skin that is cold and without a lot of circulation. People that have prominent veins are reddening, bluish hues to the skin.
Hydrosols are very versatile in use. They are commonly used in facial care as a facial toner + mist, but they are also the pure distillation of the plants aromatics making them available for soul work through aromatherapy. Many of our customers use our hydrosols in their product lines to create skin care products (hydrosols are very shelf stable), aromatherapy products and perfumes.
Medicinally, hydrosols are valuable for the skin and excellent for use with babies and children because they don't sting when applied. My sons have always loved having his bumps and scrapes soothed by our hydrosols!
WHAT ARE HYDROSOLS? Unlike water with essential oil added, hydrosols are made by distilling (think of moonshine making but without making alcohol) the whole plant. They contain not only a small percentage of essential oils, but many of the water soluble components of the herbs, such as the natural alcohols, weak acids and tannins. They are more true to the essence of the plant and a more complete representation of it. They contain the same medicinal properties as the essential oils, but not as concentrated, so it can be used in more applications. In addition to their physical attributes they also work on the soul. Wildness + Alchemy + Magic. Back in the day in Europe many people had a distilling room for making hydrosols for everyday needs and the essential oils that were a by product were discarded.
We make our hydrosols high concentration and they are not diluted. For every pound of herb we produce only a pound of hydrosol.
Each of our 4, 8, 16 and 32 oz hydrosols are packaged in an amber glass spray bottle and we also sell them in larger bulk quantities which you can find under our bulk hydrosols tab or use this link.
https://www.etsy.com/shop/wildroot?section_id=15950515
Testimonial:
I've had this terrible rash on my face for months now, my rheumatologist thinks it's a discoid
lupus rash but I haven't had a chance to see a dermatologist. I tried using
cortisone, anti fungals, "special green" lotion, vitamin e, I tried washing it four
times a day and not washing it at all, I tried lavender eo, tea tree eo, and avocado
oil and coconut oil. I even cut out all kids of things from my diet, wheat, gluten,
dairy to try to make it better.
The first and only thing that made any noticeable different was your yarrow
hydrosols! I've been trying to remember to spray my face at least twice a day and
just let it dry on its own. And in just two and a half weeks of only sporadic use
it has shown incredible improvement.
~Erin C.
Herbs have been used for centuries, but they are not approved by the FDA. All information provided by Wildroot Botanicals is not intended to treat, diagnose or cure.
Meet
the

owner

of

wildroot Learn more about the shop and process
Leslie
Yarrow Floral Water/Hydrosol
---
Overview
Handmade item
Materials:

pure steam distilled wildcrafted yarrow, achillea millefolium

Ships worldwide from

United States

Feedback: 3288 reviews
Favorited by: 228 people
Shop similar items from sellers around the world