This item is a 300 PPI high-resolution image. Perfect for printing and/or display on the web. Can be customized to fit your wedding colors/dates. Up to 2 revisions are included in this price.
Please include the following information in your order:
Your first name
Your future partner's name
Your last name(s)
Your wedding date
Your wedding themes/colors
LOOKING FOR MATCHING INVITES?
We now offer matching invitations, RSVP cards, Thank You's, Menu Cards and Table numbers! Please contact me if your interested in a specific set!
ABOUT MY DESIGNS:
With a personalized wedding monogram, you can give your wedding a seamless and stunning look. Cure the "wedding envy" you feel when you see those expensive designs in magazines like The Knot, Brides, Martha Stewart Weddings. You can have the same unique and streamlined feel for an AFFORDABLE price!
Monograms help make your wedding seamless by visually tying together all the pieces of your wedding — engagement announcements, save-the-dates, website, invitations, programs,table numbers, wedding party t-shirts, favors tags, thank you cards, welcome signs, vinyl wall art and more. Your wedding monogram can be used on virtually anything!
Proofing and final file completion time varies, but typically takes 1-5 days from order to delivery.
What sets our monogram designs apart from other vendors?
1 - MORE FILE TYPES. Don't settle for just a jpeg! If you plan to have your designs professionally printed, or use them in a special project you might need a specific file type in order to maintain the highest quality. I offer all designs in SIX digital file formats (PDF, vector EPS, BMP and TIF for print; JPG and transparent GIF for web). These file types are guaranteed to cover a wide range of DIY wedding projects and professional reproduction of your wedding monogram. Clueless as to what type of file you need? Just let me know how you plan to use the design and I'll be more than happy to give you advice!
2 - MILLIONS OF COLOR CHOICES. I don't limit you to just a few dozen color choices. Because my designs are created in Adobe Illustrator I have literally millions of colors to choose from. Unsure how to describe the color your looking for? Each item has a color chart to assist you but we can work together if you have a color that is even more specific. I'm always happy to look at your inspiration photos or pictures of items you've already purchased in order to help match your exact wedding colors.
3 - OVER 70 DESIGNS AND ALWAYS GROWING. Our ever-expanding template catalog features more than 70 elegantly designed and unique wedding monograms.
4 - PROFESSIONAL QUALITY AT AN AFFORDABLE PRICE. Why are my designs so cheap? Although I have had many years of formal training in graphics design, art and color theory I am not a professional graphics designer. I do not employ dozens of employees or carry a large overhead by running or promoting an expensive website (thanks to Etsy!). I also do not have large student loans to pay off for a degree! For these reasons I can offer the same high-quality work at less than 1/4 the price of other designers.
5 - COMPETITIVE PRICING. Your wedding budget will love my prices! Monograms start at just $10 for any design you see on the site. Completely custom (from scratch) designs are only $30. These prices are a steal when compared to professional designers with comparable quality designs! You may see other amateur designers on Etsy who offer cheaper designs but I'm confident you'll find their work does not compare in quality or variety. A large difference in image resolution and print quality is well worth a dollar or two difference in cost!
Don't see the wedding monogram you're looking for? Want to combine elements from a couple of different wedding monogram designs? Please visit the Custom Wedding Monogram section of the shop to get started. Custom wedding monograms are just $30!
Tempted to design your own wedding monogram?
DIY (Do It Yourself) can be a super rewarding and super personal way to design your wedding! However, many DIY brides are frustrated and disappointed when they attempt to create their own digital designs. They often find out too late that in order to have their designs printed professionally they need certain file types that cannot be derived from MS Word, PowerPoint and other similar programs. My designs can streamline the production of your wedding pieces and help you avoid any headaches (and blurry pixelation) from the beginning. I offer the digital files at a very affordable price and give you the ability to have complete design control of colors,fonts,sizes and file types. These designs give you the flexibility and design control to ensure that the design fits your style perfectly!
I understand that not every bride can (or wants to) afford $1,200 letterpress invitations or $150 in digital design fees for something custom. That does not mean you can't have gorgeous, custom designs! I work hard to keep my designs affordable, customizable and personalized.
Thank you for visiting my little shop on the web and I look forward to providing you with your wedding monogram!
Regards,
Rebekah
WeddingMonograms.etsy.com
• • • • • •
Learn more about the shop and process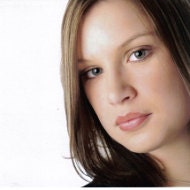 Rebekah
Personalized Monogram - Entwined Letters Design - Digital File
---