This item sold on August 4, 2011.

"Feast of Autumn Harvest" jasper cabochon set in hand forged sterling silver large ring .

This is a ring of rings you will never make an impression as you will with this show stopping all eyes grabbing statement of bold alpha status ring . The stone is a one of a kind jasper with grand fall colors and provocatively interesting patterns set in a custom one of a kind highly detailed hand forged ring that is comfortable in spite of its size .

Have about 2 hrs in the stone and 6 in the ring yep this was all day . This is a stone you may not ever find in jewelry anywhere again without a lot of searching and luck . This is Rare and Beautifully formed example of DIATREME BRECCIA .

The ring is 58 mm long 32 mm wide 7.5 mm thick or

2 & 3/10 inches long 1 & 1/4 inch wide 3/10 inch thick .

Ring size 8.5

Total weight 33 grams or just over one troy ounce
DIATREME BRECCIA STONE STONE : Volcanic altered Jasper You wont be getting one of these stones offline from china or the US... Have never seen this compound of Breccia Diatreme before , similar design elements as in Picasso Jasper however a far more rare stone .

The jasper is from the Diamond mine in Arkansas picked up several large rocks early this spring. The trip took me and my son one day of travel a day at the mine and day floating down a small river looking for rocks too and some beer consumption . At the Mine jasper of all types and Agates were everywhere .

This stone is comprised of a white jasper mixed with black & brown Hematite 17 mm X 43 mm X 6 mm
7/10 inch X 1 & 7/10 inch X 1/4 inch .
7.7 grams.

Have been trying to get it all to come together in an solid Idea based on Dagda or Brighid or another Dagda /Morrigan festival piece like the one listed the real big one only with the nuts and harvest items .

However the stone called out to be of Dagda /Morrigan
Dagda color is brown and Morrigan color is red ,white, black the stone incorporates this . I went with a more abstract appearance to mirror the stone .I used spirals for life cycles and the end of the year and balls for harvest items an bounty , the wavy line at the bottom the mortal cord with all of its ups and downs it has to offer .with 8 upper loops for the 8 Celtic Sabbaths or festivals the last cut Short as we never know when the last sunrise will find us .

Dagda Is the Celtic god of earth the All Father During the festival of harvest or Samhain now we call Halloween Dagda would mate with His wife Morrigan the Raven ushering in the reast of harvest and the coming winter's more home bound activities , Guess that is why we have so many June and July babies .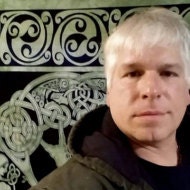 Lee Billings
Feast of Autumn Harvest jasper cabochon set in hand forged sterling silver large ring
Overview
Handmade item
Materials:

jasper, sterling silver, fire and hammer magic, enjoying beauty for beautys sake

Ships worldwide from

United States

Feedback: 463 reviews
Favorited by: 64 people
Listed on Apr 24, 2011
3178 views