An original hand painted mandala.
A mandala is a sanskrit (old indian language) word that means "A sacred circle".
Many ancient nations used mandalas for healing throughout the history.
Observing or coloring a mandala works on our meditative brain waves and help us relax and calm down.
A mandala using motifs from the nature.
The air is the most basic element for human beings,
it escorts our lives from the very first to the very last moment and we can't live without it for more than a few minutes.
The reason I choose the butterflies is because of their
short life circle, which reminds me of the short time we can
live without air and of course because they live in the air
and represent the freedom aand lightness of it.
To create the feeling of no weight, I choose the pastel
colors that have the energy of look-through.
The mandala can be hung from each direction to
symbolize the non-direction of the air.
IT MAKES A WONDERFUL GIFT FOR PEOPLE THAT NEED MORE LIGHTNESS IN THEIR LIVES, PEOPLE THAT WERE BORN UNDER AN AIR ELEMENT SIGN AND FOR BABIES AND CHILDREN
A high quality giclee print on canvas, at the size of 8"X 8" (20x20 cm) ready to be hang.
AN ORIGINAL IS AVAILABLE AT YOUR REQUEST.
*Other sizes available:
12"X12" - $63
https://www.etsy.com/listing/60601976/the-air-element-butterfly-mandala-fine
16"X16" - $131
https://www.etsy.com/listing/152412210/mandalamagic1-original-mandala-art-the
20"X20" - $169
https://www.etsy.com/listing/152415853/mandalamagic1-original-mandala-art-the
24"X24" - $209 (ask for a private listing)
28"X28" - $269 (ask for a private listing)
Please, contact me for any question or further information
♥ Ready to buy? Click the big green "Add to cart" button.
♥ Have a question about the item? Click the small blue "Contact" link under my name on the right.
♥ Like it and want to save it for later? Click on the heart at right that says "Add item to favorites."
♥ Questions about how to buy?
http://www.etsy.com/help_guide_checkout.php
♥ Want to see more?
http://www.etsy.com/shop/mandalamagic1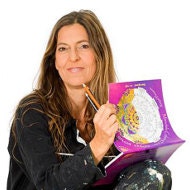 Anat Bar shalom
The Air Element Mandala - Fine Art Signed Print - Mandalamagic1 Original Mandala Art - Floral Mandala - Butterfly Mandala - Rainbow Art
Listed on May 6, 2015
997 views