Vegetable powders provide natural ingredients to treat your skin while providing color to handmade soap. We use from 1/2% to 3% in our finished products achieving beautiful colors. These natural powders are derived from plants each with aromas from the source. Various textures range from smooth to gritty also providing exfoliating affect. Not recommended for stay on body products such as lotions due to staining.
Assorted packs contain 1 teaspoon by measure estimated 5 grams by weight of each for a total of 8 teaspoons 40 grams of the following. This group is pre-packed and price averaged; no substitutions. Larger 2 ounce (60 grams) individual quantities also available; select options during check out from drop down menu.
Assorted Sample Set - 5 Grams of Each 8 Powders (Total set approx. 1.4 oz /40g) $8
Alkanet Powder -2 Ounces $9
Beet Root Powder -2 Ounces $6
Chamomile Powder -2 Ounces $4
Maddar Root Powder -2 Ounces $4
Parsley Powder -2 Ounces $4
Rose Hip Powder -2 Ounces $4
Spirulina Powder -2 Ounces $8
Tumeric Powder -2 Ounces $4
**** SPECIAL PRICE ALERT****
We stocked up on these powders just before a huge price increase. We're offering at last year prices while supplies last. Hurry as once we run out we expect price increases from 80% to 300%, YIKES!
All of the powders mix best when blended with an equal portion of carrier oil to make a thin paste, then add to a small amount of your batch & finally mix throughout the batch. We have learned this through trial and error and glad to share this technique with you so you are satisfied with your first encounter of using these natural colorants. Recommended for use in both cold processed and melt and pour bases. Your base and essential or fragrance oils will impact the end result color. Natural vegetable powders will fade and migrate after 3 weeks leaving speckles for unique finished soaps. Add at the end of your process to avoid cooking the vegetables.
ALKANET POWDER
Alkanet Root is obtained from the base of the plant. Herbalists are thought to believe this part of the plant helps with skin itching. Many soap makers like this product for the natural purple burgundy color that it produces.
BEET ROOT POWDER
Beet Root is a dark red vegetable that gained popularity for use in skincare during the Roman times. It is high in antioxidants, potassium, magnesium, iron, folic acid, Vitamins A, B6 and C. Beet root powder has a light exfoliate effect and adds pink color.
CHAMOMILE POWDER
Chamomile powder contains a compound called apigenin, which is thought to contribute to natural anti-inflammatory, anti-bacterial, and muscle relaxing properties. Chamomile is valued for evoking tranquilizing thoughts and feelings.
MADDAR ROOT
Madder Root Powder has been used for thousands of years to produce a red color that ranges from pink to scarlet. A popular additive In cold process soap making.
PARSLEY POWDER
Parsley powder is soothing, cleansing and detoxifying; produces a rich light to mid green color depending on percentage in your formula.
ROSE HIP POWDER
Rose Hip is believed to have amazingly high levels of linoleic and linolenic fatty acids. These seem to help the skin heal and regenerate thus possibly helping burns, scars and stretch marks heal. Produces a natural burgundy red color.
SPIRULINA POWDER
Spirulina is a type of oceanic algae that contains large concentrations of vitamins and minerals, including the B complex vitamins. It is high in a specific and rare type of fatty acid called gamma linolenic acid that is found in very few substances on Earth. Produces shades of a beautiful blue green color in soap.
TUMERIC POWDER
Tumeric Powder is thought to have antibacterial properties. Produces a bright yellow color. Too much of this additive may stain the skin; use in trace quantities.
Store at room temperature in an air tight container or store in the zip lock plastic bags they are shipped in. We buy in bulk for best pricing & keep our supplies fresh. This provides an opportunity for you to purchase small quantities at affordable prices for your handmade production with a minimal investment.
See other natural colorants including clays and mica iron oxides via these quick links.
https://www.etsy.com/listing/60104749/facial-clay-clay-sample-set-kaolin-clay
https://www.etsy.com/listing/82095407/mica-powders-mica-pigment-iron-oxide
******************************************************************
FAQ (Frequently Asked Questions)
Q: Can I request to change powders within the sample set?
A: Sorry, No. This group is price averaged and pre-packed for quick shipping; no substitutions.
Q: Is there a discount for multiple quantities?
A: Sorry, No. With looming price increases of 80% to 300%; these powders are at their lowest possible rates. In most instances current prices are lower than wholesalers.
Learn more about the shop and process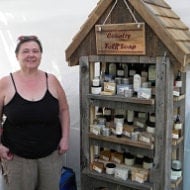 Sue Johnson
Natural Soap Colors - Sample Set Soap Colorants - Soap Supplies - Vegetable Powders
Overview
Materials:

alkanet vegetable powder, beet root vegetable powder, chamomile powder, maddar root vegetable powder, parsley vegetable powder, rose hip powder, spirulina vegetable powder, tumeric vegetable powder, zip lock plastic bag

Ships worldwide from

United States

Feedback: 3372 reviews
Favorited by: 581 people
Listed on Sep 30, 2016
8509 views