Adding extra "short rows" in the middle of a row allows knitters to add shape to a garment. You can use them to add fullness at the bustline of a sweater, or for heels and toes on socks. And they can also be used as a decorative motif!

The stitch design here first appeared in a Barbara Walker Treasury, and no doubt has been around since before then. Walker demonstrated using two solid colors, creating the impression of a cathedral window. Recently, Laura Aylor used this motif with color-changing Kureyon yarns in a block-at-a-time afghan with spectacular results. Her pattern is featured in Knitty.com.

As a long-time fan of Kureyon, my first thought was to see what happens when this motif is felted, and the result is this collection of bags. The stitch counts from the original have been modified to counteract the effect of felting so the size and scale of the units stays true. Two of the bags are worked in the round with the stripes horizontal, and two are worked flat, vertically. And place markers are used throughout to keep you on track, even when you have to put your work down in the middle of a row or round. Not much counting, in other words!

22 page e-booklet with lots of color pictures and diagrams to keep you on track.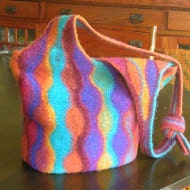 Diane in Chicago
Short Row Felted Bag Knitting Pattern Collection
---
Listed on Feb 25, 2017
857 views