✮NAKED MINI TWINS!✮
Dive into the newest Hoop Dance Craze and master the art of Minis! Poi Hooping, Twinning, juggling, Hand Hooping, which ever you call it, can expand your Hooping Horizons, all while providing an EXCELLENT arm, back and shoulder workout!
✮Ready for a set of Minis, but not ready for the big investment?
✮Want an untaped set of poi hoops without the worry of scratching the pretty tapes?
✮OR, creative minded and looking to tape your own twins?
THEN THESE MINIS ARE FOR YOU!
✮Want to Add INSIDE GRIP TAPE to your Minis?
https://www.etsy.com/listing/180119355
Made in 1/2" 125 psi Advanced Tubing
✮CHOOSE YOUR SIZE~
XS~18"
SM~20"
MD~22"
LG~24"
XL~26"
*In between sizes are fine too!
*Confused on sizing? Beginners may divide their height in inches by pi (3.14) to determine the appropriate Minis Size. For example, a 5'9" hooper (69") / 3.14 = 21.97" (order a 22" Set)! *It's also helpful to measure from wrist to armpit.
✮100% Satisfaction Guarantee~BEST Selection of Pro Hoops on Etsy!
✮LOCALS may use code FREEPICKUP at check out to eliminate shipping charges; Hoops may then be picked up in Lawrence, KS once complete.
✮Happy Hooping from Hoop Mamas!
All images and descriptions copyright © 2009 Hoop Mamas, LLC.
Learn more about the shop and process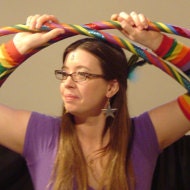 Hoop Mama Ali
Budget Naked/Untaped 1/2" 125 psi Advanced MINI TWINS Set - Poi Hooping/Isolation Work. FREE Sanding Upon Request.
Listed on Sep 26, 2016
7437 views