The tinted moisturizer is made to even out your skin tone with very sheer coverage, while leaving your skin with a natural looking hint of color and a gorgeously healthy glow. This is why the tinted moisturizer is probably my favorite product. I remember an old commercial that said something like "Is she born that way, or is it Maybelline?" This captures the feeling - do you just have naturally beautiful skin, or are you wearing tinted moisturizer? Nobody will know! Let it be your little secret...

TINTED MOISTURIZER BENEFITS:
- It provides sheer coverage that evens out your skin tone
- It leaves no deposits in your pores or lines
- Perfect for mature as well as younger skin
- Contains light diffusing particles that give the skin a subtle glow
- Contains antioxidants from green tea which can prevent or repair sun damage
- Neutral color, neither too pink, nor too yellow
- Looks good, even in harsh daylight
- Never looks like a mask
- Allows you to still see your freckles, if you have any
- Comes in 2 different shades (they may look darkish in the bottle, but both are very sheer on the skin)

SIZES:
This listing is for a 4.5ml sample size!
Also available as a 1oz (30ml) bottle (see other listing).

HOW TO USE THE TINTED MOISTURIZER:
Apply the tinted moisturizer by itself, or on top of another moisturizer depending on how dry your skin is. The coverage is very sheer, but it can be built up by applying it with a sponge and not rubbing it in too much.

PERSONAL NOTES:
My philosophy about makeup is that it is supposed to enhance your natural beauty, not cover it up. Covering up your face with a tinted moisturizer or foundation that is thick enough to make you look like you are wearing a mask, doesn't make you look any younger, nor more beautiful. It just makes you look like you are wearing a mask!

A tinted moisturizer should actually blend into your skin so that it is almost invisible, but it leaves an all over effect that noticeably smoothes your skin texture and evens your skin tone, while still allowing you to see your freckles, if you have any. It should also look good in harsh daylight, and the color should be neutral enough to look completely natural. The tinted moisturizer is available in 2 shades, so if in doubt, please order a sample first.

Rated 1 (green) by Skin Deep's cosmeticsdatabase.com

DISCLAIMER:
Because Green Beauty Cosmetics is a natural cosmetics line that has not been tested on animals, I assume no liability for any kind of allergic reaction, eruption or any other damages that the products may potentially cause, including (but not limited to) loss of wages, revenues or business, or disappointed expectations of any kind. The customer must agree, before buying the products, that if they are not happy with them, the only solution shall be that they stop using the products. If, however, an allergic reaction or eruption should occur, a full refund for the cost of the products will be given as the only form of compensation. No other form of compensation will be given. So if you have super sensitive skin, please buy only a sample first and try it with caution.

NEW:
Subscribe to my new Green Beauty Blog!!! http://www.greenbeautycosmetics.com/blog

FEEDBACK:
* Very happy with this moisturizer!

* Great moisturizer. Thanks a lot. Simply love it. Andrea

* This is exactly what I have been looking for a long time. Natural coverage, love it.

* I really love it. It's sheer coverage but does have enough that it evens out skin tone. I feel like it helps your skin's natural beauty shine through and I feel glowing and pretty when I wear it. Also love the philosophy and description by the owner--it does just what she says it does!!

* Leaves a light, lovely glow on my very fair skin. Evens out tone and smells WONDERFUL!!

* Always love this! The best I've used!

* Love this tinted moisturizer. It leaves my face smooth and young.

* This has got to be the best product for light makeup days and so natural looking. I love this and will definitely re-order again.

* Love this and I have already ordered full size.

* I am a repeat buyer. This is a great product and meets my requirement for low/no toxicity. I found it on the Environmental Working Group's cosmetics database. It is a light, fast drying cover up. Does not stain my clothes.

* This (tinted moisturizer) is amazing stuff. Thanks for fast delivery. Love this especially medium and light.

* This (tinted moisturizer) is perfect for me...going to get the full size. Excellent customer service and communication.

* I love this tinted moisturizer. It is perfect for summer.

* Excellent product. Read my review of this product (tinted moisturizer) and the eye makeup remover here: http://soapdelinews.blogspot.com/2010/07/green-beauty-cosmetics.html Highly recommended.

* Light and sheer, tint blends subtly with skin tones, and smells great! Thanks for sending for quickly.

* I REALLY loved your tinted moisturizer for light skin! I have freckles and this color was perfect for my skin. It looks so natural on my face, I am amazed...never had anything this good. I just love it, and it doesn't feel like I have anything on my face. Thank you so much! I am so happy with my purchase!

* Wow! Love the way it makes my skin feel!

* I really like this for days I don't want a lot a make up,,,just a clean look.

* It is an awesome product. Worth trying!

* Love this!! My skin is feeling so much better from all your products. My dry skin is healing and my pores look smaller! I hope to continue having these great results!

* Beautiful, light, and natural feeling moisturizer! Thanks so much! This stuff is incredible!

* Amazing moisturizer!

* Not much color but goes on like a dream and leaves skin looking great.

* I don't really wear makeup and have definitely never been a fan of foundation and heavy powder. This is the perfect alternative! I have been wanting something to help even out my skin tone and moisturize at the same time--this is THE solution! Brilliant product! I will definitely keep coming back for more and more of this!!

* I will be pack for the full container; thanks!

* Best tinted moisturizer I've ever used. Fast shipping and wonderful packaging. Thank You!

* Great natural moisturizer! It doesn't provide any coverage though. Good for someone who doesn't really need coverage, but wants a nice natural moisturizer.

* This is the third or fourth bottle I've bought. I love this stuff!

* I love how light weight this is, thanks!

* The perfect amount of color. Makes my skin look youthful. Wonderful service. Received my package super quick. Thank you for your fantastic product and your great service.

* I wanted to use this for several days before responding. This is exactly what I was looking for. Light coverage that smoothes out my skin and evens out my skin tone. Does it hide all my flaws and blemishes -no, but that wasn't what I was going after anyway. This works well for me because I have true combination skin and after I wash my face it adds enough hydration to not leave dry spots but not so much that I end up greasy. My face feels like it can still breathe using this product, which I can't say for most liquid foundation/tinted covers. It also appears to be healing some of my blemishes since this is the only item in my routine I have changed. I like to add a light layer of powder (also from a company with a great Skin Deep rating) to keep my face matte, though if you wanted more of a "glow" you could skip the powder. I will be back for more of this.

* Works great! Great for my skin! Thanks!

* PERFECT!!! Its lightweight and does not irritate my sensitive skin. Great product just as described. Thank you

* Wow, great product. The light is a perfect neutral shade and blends really well with my skin. Evens out my skin tone without looking like I have anything on my face. Will be purchasing full size soon! Thanks for the fast shipping.

* I love this product and what it does for my skin! When I first saw it Iwas a bit worried that it would not provide any cover, but it makes the skin so radiant and with an even tone. Tusen takk skal du ha!

* Skin felt great upon its application, and even the next day too.

* Absolutely wonderful!! I am so glad I found Mati and Green Beauty Cosmetics...thank you so much Mati =)

* Love this stuff. My third purchase of it.

* Thank you so much. I love your product.

* Thank you so much. Your product is amazing!! For my mature skin, it works wonders. My skin can breathe. My complexion doesn't look white from sunscreen additives as well.

* Nice product and applicator. natural, dewy finish. mixes well with other products. very natural looking on the skin.

* I have ordered this several times now and I just love it. Thank you, Mati.

* I have always worn very light makeup, but before I used powder. This tinted moisturizer gives sheer coverage and gives me a glow. I got a compliment on the very first day I used it!! I'll be ordering more soon.

* Wonderful as always!

* Great product. I really like it. Shipping is AMAZINGLY fast. Thanks!

* Feels great on the skin! Great sheer coverage!

* Great moisturizer. Will be buying this in the full size.

* Love this moisturizer. The color fits my skin tone and does a good job. Will definitely buy again. Good price and fast shipping.

* I like it, use in place of foundation.
Learn more about the shop and process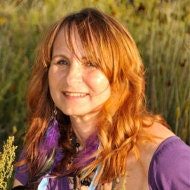 Mati H Fuller
Frequently asked questions about GreenBeautyCosmetics
Tinted Moisturizer Sample, Light Shade, Tinted Face Cream, Face Cream, Tinted Face Moisturizer, Face Lotion, Facial Moisturizer
Overview
Handmade item
Materials:

water and titanium dioxide, mica and macadamia seed oil, rose flower water and grapeseed oil, vegetable glycerin and corn starch, plant based emulsifiers and shea butter, calendula and green tea extract, olive squalane and iron oxides, soybean lecithin and geogard ultra, apricot oil and honey, cocoa butter and yogurt, vitamin E and sweet orange oil, ylang ylang and xanthan gum

Ships worldwide from

United States

Feedback: 1794 reviews
Favorited by: 249 people
Listed on May 28, 2016
4045 views