✮The 'NAKED' Hoop✮
✔Ready for a hula hoop, but not for the investment?
✔Creative minded and looking to tape your OWN hula hoop?
✔OR Want an untaped practice exercise hoop without the worry of scratching the pretty tapes? THEN THIS HOOP IS FOR YOU!
✮WE WILL SAND THE INSIDE OF YOUR HOOP FREE!
Let us know if you would like this option in the 'Note to Seller' Box at Check Out! If you will be taping your hoop sanding is NOT recommended.
✮GRIP TAPE CAN BE ADDED ALONG THE INSIDE FOR ONLY $4!
Grip colors pictured last, above. Add this Listing to your cart to purchase >
https://www.etsy.com/listing/456196842
BEGINNERS SHOULD HAVE THE HOOP SANDED OR ADD INSIDE GRIP TAPE! Naked Hoops are quite slippery without sanding or grip.
✮ChOoSe YoUr SIZE~
XL ~ 43"
LG ~ 41"
MD ~ 39"
SM ~ 37"
Super Pro/Kiddo ~ 35"
(In between sizes are fine too! We recommend beginners measure from the ground up to about an inch or two above belly button height~this is a great place to start!)
✮ChOoSe YoUr TUBING~
~ STANDARD 3/4" 100 PSI
Standard Hoop Dance Hoop, Recommended. Collapsible 35" & Over.
~ HEAVYWEIGHT 3/4" 160 PSI
Heavier Weight for Beginners or Lg Framed. Collapsible 36" & Over.
~1/2" ADVANCED 125 PSI
Lightweight, Advanced. 28"-38" only please. Collapsible 30" & Over.
✮100% Satisfaction Guarantee~BEST Pro Hoops on Etsy!
✮View a simple tutorial on how to collapse your hoop here:
http://www.youtube.com/watch?v=jI0tLpNLQIU
✮Local may use code: FREEPICKUP to eliminate shipping charges; hoops can then be picked up in Lawrence, KS. when complete.
✮Happy Hooping from Hoop Mamas!
All images and descriptions Copyright © 2009 Hoop Mamas, LLC.
Learn more about the shop and process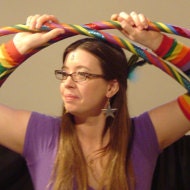 Hoop Mama Ali
Naked Untaped Travel Hula Hoop - Made YoUR Way. Any Size. Any PE Tubing and Weight! Perfect Budget Beginner's Hoop. Choose your Grip!
---