11970 Sales
|
On Etsy since 2007
Celebrate a friendship with someone with whom you pair well by giving your friend one side of the pair and keeping the other.
Genes are written in DNA and RNA molecules using a code of chemical units called bases. These bases form pairs, which is critical to their function. In DNA, A (adenine) pairs with T (thymine) and G (guanine) pairs with C (cytosine). In RNA, G pairs with C and A pairs with U (uracil).
The charms are based on shapes of the base molecules. They are strung onto a chain at the place where they would normally connect to the sugar-phosphate backbone.
This set of two necklaces comes with your choice of A-T, A-U, or G-C.
The charms are about 3/4 inch long, are made with high-quality reclaimed/recycled sterling silver. You an choose the chain style you would like: 16" silver snake chain (shown), 18" silver snake chain, 20" silver snake chain, or your choice length of black cotton cord. If you would like two different style chains, please let me know in the "note to seller" section when you check out. Make sure to tell me which molecule goes on which chain.
These come in a pretty, recycled gift box and include an informational card about the molecules.
......
Customer comments about these necklaces:
"Prompt and friendly service and a beautiful and very original design. Thank you!"
"Bought these for one of my closest friends of 10 years. We have been wanting these forever! I love 'em; she loves 'em. We're so happy!"
"This is precious! The necklaces were well crafted and thoughtfully packaged! So sweet! What a great gift for the person with whom you share a bond ;) The shipping was very fast and I can't say enough good things! Thanks so much!"
"I just LOVE those necklaces! GREAT! Both pendants have the perfect size are not too big. I'm very happy about this purchase. :)"
"I just got my necklaces today and I can't tell you enough what they mean to me. I love them so much and I know my friend will too. Everything is perfect, down to the box they were wraped in and the pink ribbon tied around it. The quality of your work is amazing and I couldn't be happier. As a pair the necklaces make a powerful statement. Even isomeone with no idea of what DNA is would be taken by how beautiful and unique each one is. I will treaure this necklace forever. Thank you"
"THE picture does NOT doe it JUSTICE!!! This is very detailed work. I LOVE it and my gf LOVES it as well. Really, one of the best handmade item I have ever seen. I really really really really am happy with this buy."
......
I'm scientist-turned-artist Raven Hanna, Ph.D. of Made With Molecules. I hand-make original, high quality jewelry and use Earth-friendly and people-friendly business practices. I live and work in a solar-powered sugarcane shack on the flank of an active volcano in Hawaii, and I donate a percentage of profits to environmental and science education nonprofit organizations. Please take a look at other molecular jewelry offerings in my shop.
http://molecularmuse.etsy.com
Learn more about the shop and process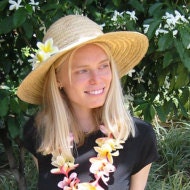 raven hanna
Frequently asked questions about molecularmuse
friendship necklace set - DNA and RNA base pairs
---
Shop similar items from sellers around the world