This listing is for one 2 oz Jasmine Solid Lotion Bar in a silver metal hinged tin.

This is a very strong, fragrant jasmine smell.

Buy 3 bars and get them for $5.50 each (different fragrances can be chosen).

Forget trying to get the last 2 or 3 ounces of liquid lotion out of the bottle.
Forget squirting out more lotin than you need and trying to figure out what to do with the extra.
Forget accidental lotion spills you've had to clean up.

This is the answer to ALL of those problems. You can use ALL of the lotion up, because it is a solid, and you rub on just what you need. (No spills or too much at one time.) Some of our customers like to put it in the refrigerator to apply after showering or working in the yard, for a cooling sensation. However you choose to use it, you'll LOVE it.

These are great for traveling. Because they are solid, you can put them in your purse or carry on bag and it won't be a problem.

The lotion bar is available with or without fragrance (Unscented). One of our son-in-laws likes it that way.

Ingredients are: Shea Butter, Cocoa Butter, Jojoba Oil, Beeswax, and fragrance (if you choose one.)

The design on the bars may vary from bar to bar, according to the mold used, but bars weigh approximately 2 ounces.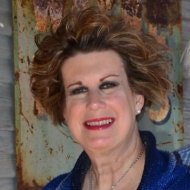 Melanie
Listed on Apr 26, 2016
635 views