The Mad Scientists of Etsy (MSOE)'s challenge topic this month is "science as art." Since really all of my stuff fits this theme, I wasn't quite sure what to do... then I had this idea.
I decided that "I AM STARSTUFF" written in amino acid code demonstrated so much that I love about science. I'm not sure if I can fully express my thoughts on this; I tend to have trouble expressing philosophical stuff. But I'll try.
Of course the starstuff idea comes from the famous Carl Sagan statements: that we are composed of the stuff stars made, which it literally true. After the Big Bang, only hydrogen existed. Stars burned this fuel and started creating slightly heavier atoms. Then other stars made even heavier atoms. They spit these out as they burned or exploded them away as they died. It is this generative magic that allowed carbon and oxygen and nitrogen and potassium - and all the other atoms we need for life - to exist. Look around - everything you see used to be in a star.
Writing the phrase "I AM STARSTUFF" in the language of our own proteins has a profound edge. The genetic code is one of the fundamental mysterious miracles of the origins of life. It reminds me of a time when life was young - there were only bacteria, they shared their genes freely, the smallest change could usher in a tidal wave of possibilities. At this time, Earth was being pummeled with meteors, bringing more atoms and molecules that life could use to grow and evolve. Earthlings and their stellar forebearers were still quite entangled.
The atoms that make up our proteins and DNA are from the stars. And these elements have evolved to make beings like us who look up and contemplate the stars. It's amazing how much we know and how much we can learn through observation and experiment. I love science because it tells us about our DNA and the Big Bang. I especially love science because it shows how interconnected everything is. That I and you and everything we see were once stars.
.......
This necklace is made out of charms that are based on the shape of amino acids, the subunits of proteins. Since each amino acid can be represented by a letter, we can spell words and names with them. It's a biological secret code!
The necklace is made of sterling silver. It works best as a choker or short necklace, and I usually make the amino acid necklaces 16 inches, with the ability to be adjusted to shorter lengths.
I am happy to make custom jewelry with your favorite word, phrase, or name. Letters currently available: A C D E F G H I K L M N P Q R S T U V W Y
All of my jewelry comes in a recycled gift box with an informational card about the science that inspired the piece.
......
Customer comments about this necklace:
"It is a wonderful gift for natural scientists (at the intersection of astronomy, information theory, biology). This is a wonderful piece of jewelry that is made on the highest level."
"This is a substantial and well-made item created by a knowledgeable and talented artist. I'm more than pleased, I'm thrilled with it. Highly recommended!"
"I love this necklace! It's perfect as a choker because I can wear it with other pieces. Definitely a conversation starter! Plus I received information about the molecules with the necklace which is always nice. Definitely worth every penny."
"I have wanted this necklace for years and purchased it for myself to celebrate a life milestone. I'm so happy with it! It's just beautifully made and so unique. Thanks for the fast shipping I was super excited to get it. Thanks so much! I'm sure this will not be my last purchase."
"yay; it arrived! absotively fabulous - so excited to wear this necklace after coveting it for so long. your art is truly special."
"This was my third purchase and I can happily say that once again my necklace arrived packaged elegantly and was remarkably beautiful! ... Many thanks for another breath-taking creation! :)"
"I had been looking at buying this for over a year and I finally purchased it to wear for my wedding. It is absolutely beautiful and the meaning behind it is so cool. It's just what I had hoped it would be. Thank you!"
"Absolutely wonderful. Exquisitely made, beautiful piece, arrived quickly and is now a favourite of the person whom it was given to. Also jolly good person in charge of this shop."
"An incredibly clever and extraordinarily beautiful piece of work. Thank you so much."
......
I'm scientist-turned-artist Raven Hanna of Made With Molecules. I hand-make original, high quality jewelry and use Earth-friendly and people-friendly business practices. I live and work in a solar-powered sugarcane shack on the flank of an active volcano in Hawaii, and I donate a percentage of profits to environmental and science education nonprofit organizations. Please take a look at other molecular jewelry offerings in my shop.
http://molecularmuse.etsy.com
Learn more about the shop and process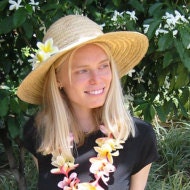 raven hanna
Frequently asked questions about molecularmuse
Mad Scientist challenge - I AM STARSTUFF necklace
---