This is a variation of a "Rolling Star" quilt block trivet or coaster. If used as a trivet I would not take a pan right off the stove and set it on it. Pour the contents into a dish and then set the dish on the trivet. It can withstand some water but it would be best not to let water stand on it very long. It is made using diamonds and triangles from different kinds of wood, all in their natural colors. There are 32 pieces on this block, 16 diamonds and 16 triangles, all full size. It measures 5" across. To finish them, I use 5 or 6 coats of a clear wiping varnish, rubbed in by hand

The type of wood is listed on the bottom, from the center out. On this quilt block the wood is "Walnut", "Cedar", and "Hackberry" from Missouri. It has an illusion of sometimes being a cross with white ends, and sometimes being an X with red ends.

I made this quilt block in 1998. On the bottom I signed it, listed the wood, and dated it. After the date, the words "Foot Cut" let you know I made it on a foot powered table saw.

Go to my "Shop Polices" and "Profile" page to see my return policy and other information on how I make these. To see other quilt blocks I've made, click on "Quilt Blocks Under 25.01" or whatever gets your interest under "Sections in this shop". The "Home" page itself can be rather confusing with everything mixed up. The "Sections in this shop" lets me show you all like items together as a unit.

Payment can be made using Pay Pal for immediate shipment, money order or check. Checks will have to clear before shipment is made.
Learn more about the shop and process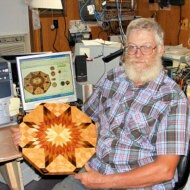 Robin Tucker