It all started with a birthday present I made for my wife, a bedside lamp from a vegetable steamer. We were amazed by how good of a lamp it is, being able to open and close, be aimed anywhere and creating amazing light textures around it and projecting them all over the room at night. She could aim it right at her book and let me sleep in the dark.
After that we decided to take it seriously and work on designing it as a line of lamps. This is the Steamlight clamp lamp model. We sought and found the perfect steamer for the job, added a 180 degrees tilt and a flexible arm so it can be aimed anywhere, added a reflector and a small handle to help with opening and closing and also added a long life energy efficient xenon bulb that gives a warm light color tone. On its base it has a clamp that can attach to a shelf, table or any surface up to 2-1/8" wide. We even filed and received a patent on the three dimensional aperture shade, wrote an illustrated guide book and designed its packaging.
The designer edition is our high end line that includes a special metal toggle switch we developed out of a stainless steel tea ball, a brushed finish, a black braided cord with a thin white tracer and a pewter plated key handle.
The clamp lamp is also available as a larger model here:
Designer Edition:
http://www.etsy.com/listing/53131705/clamp-lamp-large-steamlight-designer
Lamp Size: Height: up to 17-3/8" above the clamp
Head Diameter: 5.5" when closed, 9.75" when open
neck: 12.5"
Can be attached to a surface up to 2-1/8"
* The lamp is supplied with a low voltage 20W xenon bulb that is twice more efficient in its energy use than a regular incandescent (equivalent to a 40W incandescent) and has a longer life span of 10,000 hours.
* All electrical components are UL recognized.
* The iris shaped lamp head (patent no. 8025430) can open and close and the flexible arm allows the central light beam to be aimed in any direction.
* Packed in an elegant recycled box, fit for a present.
* This lamp is also available for European/Asian/African/Australian 220V. If you want a 220V version, please say so in your notes.
Some feedbacks we got about this lamp:
"I bought this as a gift for my very picky husband, and he was beyond pleased. Terrific personal service--they were very helpful with my rush order."
"very effective - creates good mood lighting and focused light to work under. Great design"
David, Etsy.
Check out other images and animations at:
http://lightexture.com/steamlight/clamp_S.html
Also available with a frosted bulb that gives out softer light textures:
http://www.etsy.com/view_listing.php?listing_id=42406302
Learn more about their shop and process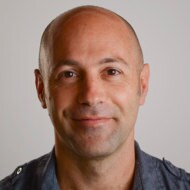 Avner Ben-Natan
Sharan Elran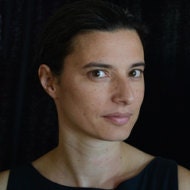 Yael Erel
SteamLight Clamp Lamp, Designer edition - On Sale
Listed on Dec 6, 2016
2963 views