Buy 3 or more sewing patterns and save 10% with the code: "save10"
Buy 5 or more sewing patterns and save 15% with the code: "save15"
Buy 10 or more sewing patterns and save 40% with the code: "save40"
Just enter the coupon code at checkout to get the deal.
See all my sewing patterns here:
http://www.livingdiystyle.etsy.com
---Can I make and sell these on Etsy or elsewhere?-- Yes!!
---Quick sewing pattern
---Bow tutorial included
---DOWNLOAD INSTANTLY after payment is complete.
---Sizes: 0-3, 3-6, 6-9, 9-12, & 12-18 months
The perfect everyday baby or toddler shoes. These shoes are the answer when it comes to babies on the go. These shoes comfortably stay on busy little feet as they move around all day. You will not be disappointed with these shoes, they are so practical in every way. They slip on super quick and easy and stay on great!! (I speak from experience.) Plus, these are designed to be completely reversible, even if you chose to add bows.
Just one more thing, if you line these shoes with polar fleece they would keep baby's feet nice and toasty at night. Especially handy for younger babies that don't use blankets yet.
They could be the perfect baby shower gift for a boy (minus the bow of course) or girl, a gift for your own baby, or a unique addition to your etsy shop.
Everyday Crib Shoes come with a full tutorial with tons of pictures. Each picture is clearly explained step by step. The tutorial even explains how to quickly and efficiently cut out pattern pieces. Even a beginner could make these by following this tutorial.
*************************************************************
This is a copyrighted pattern. This tutorial & pattern may not be passed on electronically or in any other form under penalty of law. Living DIY Style reserves all rights.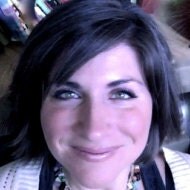 Cheri
DIY Reversible Seamless Crib Shoe PDF PATTERN Make Them Yourself -5 different sizes
Listed on Jul 10, 2015
6265 views