First of all let us say, that this fabulous exquisite butter is Organic and all Natural, no chemicals, synthetic preservatives and other yucky stuff that usually may be found in commercial similar products.
This butter is excellent for hydrating dry and thirsty skin, protecting it in harsh winter weather and nourishing with vitamins A, E and fatty acids, which are necessary for retaining moisture and elasticity of skin. Also, it is perfect for sensual romantic body massage. The butter exudes a subtle seductive vanilla aroma which makes the massage a truly delightful experience. It will leave skin soft, nourished and lightly scented – excellent for both, men and women. The color of the butter is light beige.
Jojoba oil is known for its natural moisturizing, restorative and anti-inflammatory properties. It helps to prevent moisture loss and thus makes it ideal for use on dry skin, eczema and other problematic skin conditions.
Organic unrefined Sunflower oil is very high in vitamin E, which is very important in anti-aging activity; also it has has great anti-inflammatory and anti-bacterial properties.
Unrefined Shea butter for centuries had been showing great effectiveness in treating acne, rosacea, eczema, burns, rashes, stretch marks, dark spots, wrinkles and dry skin. This nourishing super ingredient helps skin to look sleek, young and more appealing.
We've used pure Bourbon Vanilla beans and infused them into organic oils, the result of which is sweet pleasant aromatic Vanilla oil. The molecular structure of pure Vanilla is similar in composition and structure to human pheromones and can intermingle with them easily, thus this fact makes it an official aphrodisiac (yeah!):) which helps with intimate issues, such as loss of libido and impotency. Also Vanilla oils is great for people suffering from depression, it uplifts mood, drives away disappointment, helps to ease anxiety and relax tension.
No water in our Solid Love Body Massage Butter ever! Why it is important? That's simple - water based creams and butters evaporate quickly and you need to reapply them every few hours. Our rich butter provides almost all day moisturization. The other thing that water based butters and creams must contain some kind of preservative and thickeners (which usually are not natural). Our Body Butter is free from bad stuff.
Oh... And did we mention that it's also vegan?
You will receive your butter in a 1.7 oz (shown on the picture) or 4 oz frosted glass jar (you choose), gift wrapped in a biodegradable cellulose bag.
Note, that this butter is temperature sensitive - harder at colder times and softer at warmer. So, if you got it on winter time, place it in warmer spot and will soften again. If you got it almost melted at hot summer time, place it in a fridge and will harder again :)
Feedbacks from customers:
"This butter is gorgeous, it is so moisturizing,(as with all Herbolution's butters), it feels so good on the skin, and you know your doing right by your skin. Just look at the ingredients certified organic shea butter, certified organic jojoba oil, and the scent..no artificial fragrances here, just pure delicious certified organic vanilla beans and vanilla absolute..nothing but the best in scent. This scent to me is unlike other vanilla fragrances, I personally feel it is a full bodied vanilla, not too sweet at all...raw vanilla, perfect for anyone to use. The chocolate vanilla body butter is my absolute favorite (just love chocolate and vanilla together), but this one is beautiful! Everyone should have a jar of this vanilla bliss!!!
Thanks so much! Joanne."
"This arrived in 101F temps yesterday afternoon (Gulf Coast), it was liquid. I couldn't bear to even open the jar. Placed it in the frig and this morning it is lovely. Lush vanilla scent, silky texture. Try to keep it cool (hee hee, at least under 80F). ML."
"wonderful body butter! I will be back for more VERY SOON! Fast shipping too...:) Thank you... Beth."
"Got it today! Will be purchasing a bigger bottle as soon as we can. It is never really, really cold in Georgia but today is a different story...low of 9 and high of 29 so the butter was rock hard when I got it. But it sat in front of the heater and its creamy and wonderful now! Thank you so much for the fast shipping as well! Love it! Oh and it kind of smells like White chocolate...which I love. :) Kristin."
"Very special jar with organic, natural, concentrated ingredients and way better than just shea butter. Goes on SO smoothly and you can feel wonderful about what is being absorbed into your body thru your skin! I apply every night at bedtime for a necessary pampering and very soothing treatment. I LOVE IT. Karen."
""You smell like cookies", I get that a lot - haha. I've been wearing this nearly everyday since its arrival. It's a very soft vanilla, which is enjoyable. It evens out quite lovely with my natural scent and doesn't overpower other fragrances. The subtle sheen is perfect for my runway legs. Josephine."
"Love love love the body butter! And this smells very good, like genuine vanilla. Amanda."
"Fast shipping and warm, friendly seller. The body butter smells delicious and feels wonderful. Thanks for the sample too! What a treat!"
"This is VERY moisturizing! The scent is very natural and only slightly sweet. I have sensitive skin and didn't have any problems with the butter. The sellers are very sweet and certainly provide a quality product. Michelle."
"I don't know how they get shea butter to not be greasy, but they do! I love this stuff. This is a more natural vanilla fragrance and mixes with the natural scent of shea to give it almost a nutty fragrance (hubby thought I smelled like cookies!). This sinks into your skin and stays even after washing. Oh, and the shipping was really fast and they were kind enough to add in an extra sample or two! Wonderful shop! Jessica."
"Thick, rich, super hydrating. I live in a high mountain desert area and this body butter is superb. I like the natural vanilla smell, not sickly artificial. Smells just like a vanilla bean. A little goes a long way. <3 Susan."
"Another repeat purchase. Love the subtle scent, it's not a fake vanilla scent, it's a real vanilla scent. One of a kind, can't find it anywhere else. The body butter goes a long the way! Mona."
Also, we can offer you other scent and slightly different but the same fabulous frosting and butters:
Chocolate Vanilla:
https://www.etsy.com/listing/61963467
Rose
https://www.etsy.com/listing/61466237
Forest Mint
https://www.etsy.com/listing/62845406
Lavender
https://www.etsy.com/listing/56674688
Orange Dipped in Chocolate
https://www.etsy.com/listing/77066778
Raspberry Chocolate
https://www.etsy.com/listing/78940746
Vanilla
https://www.etsy.com/listing/62736413
Peace - unisex aroma (sandalwood, patchouli, vetiver)
https://www.etsy.com/listing/82345177
Coconut
https://www.etsy.com/listing/115400026
Grapefruit Ylang-Ylang
https://www.etsy.com/listing/113330477
Strawberry
https://www.etsy.com/listing/115049202
Choco-Mint
https://www.etsy.com/listing/114538028
Calendula Chamomile
https://www.etsy.com/listing/115050685
Cherry Banana
https://www.etsy.com/listing/127133077
Coffee
https://www.etsy.com/listing/126455636
Apricot Mint
https://www.etsy.com/listing/126459947
Banana Grapefruit
https://www.etsy.com/listing/127132135
Orange Vanilla
https://www.etsy.com/listing/126454673
Citrus Evergreens
https://www.etsy.com/listing/126458699
Cherry Syrup
https://www.etsy.com/listing/127130563
Sangria Grapes
https://www.etsy.com/listing/127136196
If you like vanilla, there are other wonderful products in our shop that you might like:
http://www.etsy.com/shop/herbolution/search?search_query=vanilla&search_submit=&search_type=user_shop_ttt_id_5591424&shopname=herbolution
Pay attention:
_________________
- This butter is not recommended for people with nut or latex allergies.
- Important: please, scoop butter only with clean and dry hands!
- This butter is temperature sensitive - can soften at warmer conditions and harden at colder. Remember: in order to maintain longer shelf life, try to avoid direct sun and keep in cool area. The butter may melt when kept in warm or hot areas
- Please read list of ingredients before you buy in order to see whether you are allergic to some contents of this product
- Keep lid tightly closed, to keep contents away from moist and water, as it shortens product life
_______________________________________________________
THANK YOU SO MUCH FOR SUPPORTING SUSTAINABLE AND NATURAL PRACTICES!!
~~~~~~~~~~~~~~~~~~~~SHIPPING~~~~~~~~~~~~~~~~~
We ship within 1-7 business days. Some items are ready to ship while other may need to be made to order, so we kindly ask you to understand this and allow extra time, if that happens to be the case with your order. We are a husband and wife business so there are only 2 of us working at Herbolution and we always try to be as fast as we can in processing orders. If you want/need to know when your order can be shipped - contact us and we will give you the estimate. So, please, take this into consideration BEFORE placing an order. We ALWAYS refund the shipping overcharge after the package is shipped. It happens very often if you grab more than 1 item. So, if you worry about enormously high shipping - there is a chance that there IS the overcharge (especially if you are not on west coast) which will be refunded after order is shipped. Note, that we charge a small packaging fee for packing materials as well (like peanuts, tissues, boxes). If you need to know shipping cost before your place an order - just give us a list of products and your zip code and we will gladly quote you the price. Please ask all your questions before ordering so that you are happy with the service and we are happy to be able to serve you well.
Happy shopping!
~Sasha & Veronika.
Facebook : www.facebook.com/Herbolution
Twitter: www.twitter.com/Herbolution
Etsy shop:
www.etsy.com/shop/herbolution
__________________________________________________
Remember:
buying 100% Natural - you support your health;
buying Organic - you support our soil;
buying Eco-friendly - you support our environment;
buying from Herbolution - you support all of the above at once.
Buy consciously. Live happy.
_______________________________________________________
_______________________________________________________
(c)Copyright 2009-2017. All rights for pictures, graphics and description on
Herbolution.etsy.com
and www.Herbolution.com are reserved.
Learn more about the shop and process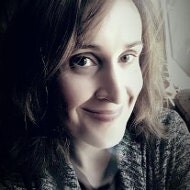 Veronika
Organic Vanilla Body Butter Solid Love Massage Vegan Natural with Shea butter 1.7 oz
---
Overview
Handmade item
Materials:

certified organic unrefined shea butter, certified organic jojoba oil, certified organic bourbon vanilla beans, vitamin e, vanilla absolute, organic natural flavor, organic sunflower oil

Ships worldwide from

United States

Feedback: 9691 reviews
Favorited by: 351 people
Listed on Mar 22, 2017
5575 views