I produce these pieces here in New York. The original was carved by hand here using a real crow skull as reference. Re carving the skull takes so much effort and time but you can't beat the results.
This sharply detailed and beautifully finished, flat Black metal raven skull measures 1 1/2 inches long (4cm) and 1/2 inch wide (2cm).
The ring bail in the back is cast as part of the piece so it will never pull out.
You can now easily adjust the cord length yourself to match what you are wearing. It can be a choker or a long pendant. It's very versatile.
This is about a 1/4 scale of a life size raven skull. We fussed around with various scales and this one feels right.
All my pieces come wrapped in gift tissue paper in a gold gift box.
All my pieces come wrapped in gift tissue paper in a gift box.
**************************
Customer review of this piece :
Super happy about this purchase! Item was flawless, exactly as shown on the page. Shipping was smooth and timely.
Sophia Zhang (oblaat) Jan 8, 2013
Make sure to checkout the rest of my shop! I have hundreds of original pieces, and regularly post new designs!
http://www.etsy.com/shop/billyblue22
ALL of my pieces are designed and made here in NYC and are shipped in a complimentary gift-box. Let me know if you are sending your order directly to someone as a gift and if you want a personal note included in the package.
It will take between 3 and 5 business-days for your order to process. I will message you a shipment confirmation number when your order is on it's way.
- Crow Corvid Corvidae
If you read my listings you know I am an avid wood wanderer. I have been on the lookout for a dead crow my whole life. Once, while hiking into Woodstock after visiting a French crone I knew. There I came upon a dead crow. As I bent down to touch it the trees resounded with the caws of his fellows. I took one feather and held it up to them and I backed off. They fell silent and I moved off. That crow skull might have cost more than I wanted to pay.
More about the raven and crow family:
The Celts believed that Crow was an omen of death and conflict. She was associated with death transitions. Another belief was that the birds were faeries who shape-shifted to cause troubles. Magickal qualities included bringing knowledge, shape-shifting, eloquence, prophecy, boldness, skill, knowledge, cunning, trickery and thievery.
In the Middle Ages, people believed that sorcerers and witches used the symbol of Crow's foot to cast death spells.
In most of England, seeing a solitary crow meant anger, but in Northamptonshire, it meant ill fortune. Crow, cawing in a hoarse voice, meant bad weather. A death omen was a crow cawing thrice as it flew over a house. The Irish believed that Crow flocking in trees, but not nesting were souls from Purgatory. Finding a dead crow was a sign of good fortune. Russians believed that witches took the shape of Crow.
Learn more about the shop and process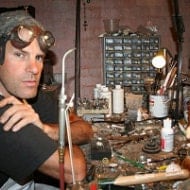 Blue Bayer
Raven skull pendant flat black Metal on easy to adjust cord made here in NYC Blue Bayer Design
---
Listed on Apr 7, 2017
7831 views