Mother Great Grandmother - Children Grandchildren birthstones - Personalized gift - in law - Christmas Hannukah Anniversary Mothers Day
The perfect gift to honor a Mother, Grandmother, Mother in law, or Great grandmother, a representation of her unique family tree
This brooch pin / pendant would be made to your specifications. It is a Mother's or Grandmother's piece that would contain the birthstones of her family.
The tree is sculpted of Sterling Silver. Gold is available for an additional charge. The pendant can either be rectangular or circular, your choice.
If you do not let me know otherwise, the default choice is circular.
The typical size for a piece is about 1 1/2 inches in diameter. However, it can be smaller to suit individual preference. larger is possible but it will require an additional charge.
~*~*~*~*~*~*~*~*~*~*~*~*~*~*~*~*~*~~*~*~*~
~*~*~*~*~*~*~*~*~*~*~*~*~*~*~*~*~*~~*~*~*~
Holiday shipping and deadlines:
POsted 12/10/2015
At this time, I am still accepting orders in time for Christmas if you live in the United States. I will update this announcement as necessary. You may choose from the "Date of Delivery" menu to receive your piece with rush handling in time for christmas, or with a reduced price for after Christmas delivery.
If you live in a country other than the United States, please contact me about rush handling options if you need to receive the piece by a certain date.
~*~*~*~*~*~*~*~*~*~*~*~*~*~*~*~*~*~~*~*~*~-
~*~*~*~*~*~*~*~*~*~*~*~*~*~*~*~*~*~~*~*~*~
I can accommodate just about any number of birthstones to be incorporated.
This piece is both a Brooch pin AND a pendant. It is a brooch pin that also has loops for a pendant to go through.
The picture is just an example. Each piece is unique!
Let's work together on creating something uniquely personal! If you are concerned before ordering, you can email me with any questions to --
mandalarain [!at] gmail.com or through Etsy Conversations
You can place an order and let me know the details later
-----------------------------------------------------------------------------------------
Or, if you are ready, , here is the information I would need to be included. (There is a space to enter this when you are checking out, called "Notes to seller", or you can contact me through Etsy Conversations)
1.) --What birthstones you would like to have included, or just the birth months if you do not have a preference for which stones you want for each month (chart with stones follows here)
2.) Would you like to have the stones
A .) Separated out in individual vertical branches like the second photo
B.) All the stones mixed together like the first photo --randomly scattered roughly proportionately to the number of individuals born in each month
C.) Horizontal curved rows of color (this option will cost $10 extra)
or D.) Single stones for each person on a light green Peridot background as in the last photo -- if you select option D, I will send you a link to pay the additional $5 and it is only possible with 20 birthstones or less. More than 20 birthstones and this will be an additional $15 and will require that i use smaller stones for the birthstones
I can also use raw stones instead of the round stones for the birthstones in this style and then it is not $5 extra for the stones, but more than 20 is still an additional $15
3.) If you chose A or C, do you care what order the stones are in, or whatever looks best?
If you have a size preference or need a rectangle instead of a circle, please let me know. If you want it round and whatever size looks best, no need to say anything.
----------------------------------------------------------------------------
The stones used would obviously depend on the birth months for the individuals involved. I am using the birthstone chart here to determine :
http://en.wikipedia.org/wiki/Birthstone
--January, Garnet ..................................(Dark Red)
--February, Amethyst ...................................(Purple)
--March: Aquamarine .................... (Light Blue)
--April: Quartz Crystal ....................................(clear)
--May: Emerald Aventurine........,,,,,,,,,,,,,,,,,,,,,,,,,,,,,,,,,,,,.(Green)
---June: Moonstone ......................(white )
-July: Ruby Spinel (or raw Ruby may be used at my discretion for example when Garnet may look too much like Ruby Spinel.. .please allow me to choose on this one) .............. (Deep pinkish Red for Ruby, raw Ruby is light Maroon )
---August : Peridot (or Carnelian). .................. (Bright Green : Peridot, Carnelian : Orange)
---September : Sapphire ................................ (Blue) ... (I use African Sapphire -- if you want faceted Corundum Sapphire, this can be negotiated for an additional charge)
---October: Pink Tourmaline, (or Opal) (Pink Tourmaline is pink, Opal is White)
---November: Citrine (Yellow)
---December : Blue Topaz (or Turquoise,) ..... (Light Blue)
The stones listed first with each month are the stones I would recommend and alternatives follow. Although depending on your individual tree, one stone may work better than another. You can let me know if you have a preference, or I will choose which one works best.
These are all genuine stones - they are not glass or crystal. This piece is intended as a priceless keepsake representing the birthstones of your family tree all in one piece.
I use highest quality Argentium tarnish-resistant Sterling Silver from a refinery that reclaims scrap silver, reducing the threat to our environment from mining.
Please allow at least 2 to 3 weeks for the piece to be made. Please contact me about current turnaround times if you need this sooner. In a big rush? Rush handling options are available using this listing.
https://www.etsy.com/listing/186448847/rush-handling-priority-shipping
For my full line of Birthstone Family Tree jewelry, sculpture, and ornaments in a variety of styles, precious metals etc:, please use the following link:
https://www.etsy.com/shop/mandalarain?section_id=5240794
Combined Shipping is available with multiple purchases from my shop and occurs automatically. By purchasing from me, you agree to honor my store policies :
http://www.etsy.com/shop/mandalarain/policy
. Thank you for supporting handmade artistry
The Birthstone Family Tree wire jewelry design is Copyrighted 2009 to present and this copyright has been registered . All rights reserved.
Learn more about the shop and process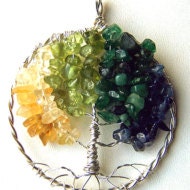 mandala rain
Family Tree brooch pin AND pendant - Mother Great Grandmother - Children Grandchildren birthstones - Personalized gift - in law
---
Listed on Apr 2, 2017
3936 views