Tish Northrup and I decided to attend the National Quilting Association Quilt Show in Columbus Ohio 2005. One of my quilts Bathing in Long Shadows won two awards that year. So Tish and I decided to celebrate for lunch and go to the local market. While we were having our lunch outside in the sun across from us was a booth that sold bee products, called Gypsy Bee's. Of course Tish and I both being of a curious nature, had to go to the booth. Mr. Roberts introduced myself and started to show me his product from his own bees. Meanwhile, Tish was looking through his photo album that he had on display in the front of the booth. I love photos so one eye was on the fantastic lip balm and the other... when I saw the photo that I knew I had to paint it and then create a quilt. Mr. Roberts was halfway through this sentence when I asked him if I may borrow his photo. I told him I knew he did not know me from Eve and that I would give him one of my photos of my work to keep until I could send his back. He agreed. I returned his photo with the progress report back a month later. He then returned mine. Beeing With Devra and Starbuck emerged from that photo.
I began by drawing with a pastel pencil on black cotton. Then I started painting adding some raw edge fused applique leaves and adding a bit of paint to them as well. Quilting the layers. I placed a binding on Devra and Starbuck as though it was a separate quilt. I then joined the needlework and frame around the images by hand.
With the needlework I applied silk, wool, cotton, mohair, and polyester yarn which was done separately.
I worked on the painting and quilting in the afternoon. The needlework and the basketry frame I worked on at night sitting under a blanket watching TV. It can get cold...here in Canada.
I was in Button and Needlework Boutique Victoria Canada and purchased several local handcrafted small ceramic bees. I placed those close to their yarn hole/entrance in the Oak Tree as though they are coming out of the tree. There is a Ponderosa Pine to the left.
Where the bees have their nest I have created a honeycomb effect with quite a few french knots out of honey coloured silk yarn.
Devra is watching the bees and Starbuck is looking right at you to see your reaction.
The following year at the NQA 2006 Quilt Show in Columbus Ohio "Beeing With Devra and Starbuck" won two awards.
Beeing With Devra and Starbuck is 27 1/2" 69.85cm. X 34" 86.36cm

Shipping:
All items in GailThomasArt are in excellent condition. When Beeing With Devra and Starbuck is purchased, Gail & Company will carefully wrap the quilt and safely place it in a shipping box. Once that is complete, the quilt is then shipped to the purchaser using Priority Mail or Ups with a tracking number.

If you like this listing and would enjoy seeing more of Gail's Art www.gailthomasart.com

Copyright 2017 GailThomasArt. No copyrights are transferred with purchase. Gail Thomas retains all copyrights.

Copyright information will not appear on original art quilt.

The shipping cost, if you are not concerned how long it actually takes to arrive by standard mail and you would prefer, if possible, a lower postage, please convo Gail & Company for custom listing.
Learn more about the shop and process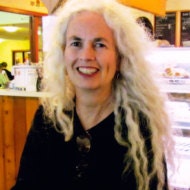 Gail E. Thomas
Beeing With Devra and Starbuck
---
Overview
Shop similar items from sellers around the world