Sample time! You ladies wanted samples, you got 'em. These buddies are enough for at least 4 or 5 uses so you can try out some new colors before committing to the full size, or you know...just start a collection. <3

Neither of us can ever manage to choose just one, so we figured we'd cut you hookers a good deal. Choose any 5 from our regular line - just put your selections in the "note to seller" section during check-out!

***BBC Cosmtic Pigment Colors***
- Hotaru
- Nana
- Lil Kim
- Fleiss
- Hachiko
- Barracuda
- Trina
- Pocahontas
- Dime Piece
- Mimi
- Toya
- Ms. Steal Your Man
- Tiny
- Miss P.
- Nut Cutter
- Lafayette
- Ms. Grier
- Mikako
- Vianne
- Missy E.
- Boss's Girl
- Poppin' Bottles
- Maya
- Eve
- Medusa
- Yuki-onna
- Jo March
- Miranda
- B. Kiddo
- Starbuck
- Miss P
- Five Star Chick
- S.O.V.
- Black Swan
- Peaches
- Tifa
- Holly
- Jackie
- Ultra Violet
- Candy Darling
- Edie
- Viva


- Onika
- Miwako
- Blush No. 1
- Blush No. 2
- Blush No. 3

This listing includes 5 sample shells each filled with a level 1/8 teaspoon of mineral makeup powder in your choice of colors! This is a great size because even though it's tiny and cute, it goes such a long way and it's easy to store. There is eyeshadow primer, foiling medium, and starter brushes available here in the BBC shop to make help you get the look you want from your BBC mineral makeup!

Mineral Makeup is a really versatile cosmetic medium! In case you're new to all of this, here are some ideas for you:

- A wet technique, called foiling, can be used to create a really bold color and very strong line. This is popularly done as eyeliner, and looks fantastic.

- They can be applied over nail polish, clear or otherwise, to create a really complex look that isn't easily duplicated. This is especially great with pigments heavy with glitter.

- Mix with your clear lip gloss or apply over (press on top of) lip balm to get a lip look that's intense and cool as hell.

- Use your eyeliner as a base and apply mineral pigment over it to get a deep dual color and undertone/overtone look.
Learn more about the shop and process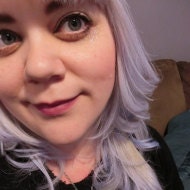 Regina
SAMPLE Choose 5 - BBC Mineral Eyeshadows
---
Listed on Apr 8, 2017
629 views