ONE perfume oil in glass roller-ball container - in a perfect size for a bag or desk (0.33 fl oz/10ml). Formulated to be non-greasy and almost immediately absorbed & used sparingly - vegan and NON-ALCOHOLIC product. Contains essential oils and/or high quality skin-safe fragrance, depending on the scent selected. Plushie is a model only and not included as part of this listing (her sibs can be found at
curster.etsy.com
).
► Additional perfume oil listings may be seen here
http://www.etsy.com/shop/soap?section_id=5007993
CUSTOM SCENTS AVAILABLE - PLEASE specify scent(s) from the selection below when you purchase OR it will delay your order:
► High grade skin-safe fragrances (or FO/EO blends) ◄
• The Violet Lem (NEW and LTD)
Lemons and a hint of herb notes drag violets away from being too heavily floral. Still, it's a floral blend, albeit an updated version. I suspect this will go the way of my Modern Lilac for the same reasons :) I'd guess people who liked my now retired Fresh Laundry (the last time I blended violet) probably would like this too. Currently also available as a VERY LTD production soap.
• Black Velvet
This warm, comforting scent reminds me of yummy elegant velvet with its top notes of citrus on a bed of cedar, sandalwood, vetiver and warmed by notes of musk and a breath of amber. Unisex to masculine (yet warm).
• Dragon
Smoky incense, musk, black pepper and spices meld with notes of cedar, patchouli, sandalwood and vetiver to create a warm, sensual scent. It reminds me of a temple, with warm woods and the waft of incense in the background. Warmer than Temple. Unisex.
• Temple
Exotic, fragrant woods intermingled with notes of green citrus, spices & vanilla. Ground with a touch of patchouli & oakmoss which add notes add depth & richness. Unisex to masculine. Reminiscent of incense-y temples. Darker than Dragon.
• Old Skool Haight (NEW and LTD)
Reminds me more of my buddhist grandmother's incense with a plate of yummy basmati. Hm, I'll have to articulate this better but for now, that's the best description I can think of . . . When people who actually remember old school Haight smell this, they smile and nod. Unisex but, like incense, this scent has a perfume-y/strong leaning.
• Velvet (NEW)
This warm swoonable blend plays notes of cedar, sandalwood and vetiver, balanced by sweet notes of cotton candy, vanilla and caramel amidst a light breeze with a hint of fruit. Supporting notes of musk and amber balance provide a rich base. This scent loosely is the more feminine version of my Black Velvet soap scent which is more unisex/masculine in my opinion (although many women buy that as well).
• Stroke Me
OK, so I'm being slightly tongue-in-cheek. But this scent is soft, warm and strokable. Warm scents of musk, amber, sandalwood and a touch of vanilla. I don't particularly like any of those scents alone but this blend ROCKS. Unisex, suitable for man or woman.
• Grassy Knoll
Pure nostalgia for me. Scent of freshly cut grass which is sure to bring back memories of frolicking in the sun or just laying on the grass, watching the clouds go by. Unisex.
• Bay Rum
A sexy masculine scent. No need to be more articulate than that. The men who use it love it, others love the scent on their men. I don't know if this is pheromone in a soap but it sure smells like it. Masculine but not an overly strong scent.
• Exotic Spicy Fig™ [popular]
This complex blend evokes sensuous exotic scents with fleeting top notes of orange touching middle notes of ginger, cinnamon, cloves, figs & caraway. Rounding the blend are hints of sandalwood, myrrh and a breath of vanilla. A perfect blend of woods, sweet and spice. A little edgier than the original but still soft and alluring, unisex (seriously, universally-loved).
• Pumpkin Pie
Yummy. Like Pumpkin pie, without the calories. Darn near edible.
• White Tea & Ginger [popular]
Light, crisp and fresh. Tea with a breath of green floral and fruit. Enough said. Feminine but not "girly."
• Fresh (NEW) - this is turning out to be popular!
Fresh, crisp spring scent. Citrus notes (yuzu, bergamot, lemon, bitter orange) float over subtle floral notes (violet, jasmine, neroili, lillies), touch of musk and a hint of white tea. You'd prob like this if you also like my White Tea & Ginger.
• Buckland
Sexy. Masculine. Green. Romp through the English countryside with its moss and brooks. Fresh green top notes of wood, ambergris, leaves and verbena overlay a base of oakmoss and the fresh scent shortly after it rains. Masculine.
• Pink Sugar [popular]
Notes of cotton candy, vanilla, and caramel predominating, supported by notes of musk and topped with a HINT of fruit (you'd probably not realize except I just stated it).
• Surfer Dude
The fresh, cool scent of the Pacific ocean breeze on the cool (cold) Northern California beach. For those days when you'd rather be surfing or just imagine yourself dropping down from a crest at Mavericks. Unisex to masculine.
• Surfer Chick
A faint whisper of floral notes place this scent a tad warmer than Dude. Mostly notes of air, salt mixed with ocean.
• Daydream [popular]
Quickly becoming a favorite. This is a soft feminine blend with notes of citrus and a whiff of tempting figs which overlay the warmth and softness of vanilla, anchored with the seductive potential of musk
• Blue [popular]
I gladly would roll around in this all day long. It's a wonderful unisex blend of green citrus, ginger, licorice, patchouli, lavender, coriander, cedar, tonka bean with a whiff of caramel and vanilla. Unisex to masculine.
• Cupcake
Not surprisingly, like cupcake :)
• Wild Gardenia
-------------------------------------------------------------------------
------------------------- SHOW ME MORE -------------------------
--------------------------------------------------------------------------
► DRY SKIN CARE:
http://www.etsy.com/shop/soap?section_id=5007977
►Aluminum-free vegan DEODORANTS:
http://www.etsy.com/shop/soap?section_id=5007974
►LIP CARE:
http://www.etsy.com/shop/soap?section_id=5007990
►PERFUME OILS:
http://www.etsy.com/shop/soap?section_id=5007993
►SOAPS MADE FROM SCRATCH:
http://www.etsy.com/shop/soap?section_id=5007945
►DUDES:
http://www.etsy.com/shop/soap?section_id=5008005
► BACK TO STORE
http://soap.etsy.com
---------------------------------------------------------------------------------------------
------------------------- SHIPPING, PAYMENT, etc -------------------------
---------------------------------------------------------------------------------------------
**PLEASE READ my full policies at
http://www.etsy.com/shop_policy.php?user_id=8541
.
*** I ship to your PayPal address, so please check the address you submit with your payment - if you are shipping to a CA address, this is important as sales tax is calculated on the PAYPAL shipping address - any discrepancy between the 2 addresses will cause a delay *******
► FORMS OF PAYMENT ACCEPTED -
(1) for anyone -- PayPal (credit card, instant transfer or echeck) is due at check-out
OR
(2) via OTHER for US cardholders only --- for this option, PLEASE READ FULL DETAILS before proceeding to check out. Transaction will be canceled if incomplete info is provided at check out or US shipping/billing addresses do not match.
► All text and images copyright Bathing In Luxury™ 2005-2012
Meet
the

owner

of

soap Learn more about the shop and process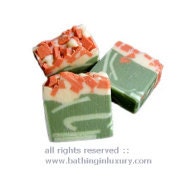 www.bathinginluxury.com
For Men or Women - Perfume Oil - Bay Rum - Dragon - Blue - Pink Sugar - Rustic Vanilla - Cupcake - Exotic Spicy Fig - Velvet ETC
---
Overview
Handmade item
Materials:

fractionated coconut oil, vitamin e, essential oil, oils, scent, fragrance, fragrance oil, oil, roll on container, glass container, rollerball applicator, contains no alcohol

Ships from

United States

to select countries.
Feedback: 7960 reviews
Favorited by: 2630 people
Listed on Mar 25, 2017
9751 views