With summer vacation right around the corner, it is time to think about a gift for your favorite teacher. We have a selection for you that will make any teacher's day. It very well may be the BEST gift the teacher receives this year!
This listing is for one 10-oz soy jar candle, in one of the following scents:
*Bubble Gum - Smells like a big chunk of Bazooka
*Apple for the Teacher - Has a lovely aroma of a fresh apple right off the tree
*Leather Bound Book - A rather unusual fragrance! Smells EXACTLY like leather
*Summer Vacation - Smells like a warm, salty ocean breeze
*Pencil Shavings - Smells EXACTLY like that aroma when you go to empty the pencil sharpener
Also, not shown: Peanut Butter, Milk & Cookies, Wonder Bread
___________________
Each candle comes in a decorative, reusable "Emma"-style jar with a tight fitting lid and is made in the USA. These 100% natural soy wax candles are hand poured and triple scented for an aroma that will fill even a large room. The candle is double wicked to create a larger wax pool, for a stronger and longer lasting fragrance. Burn time is 40+ hours.
Don't see the fragrance you want? Go to
www.etsy.com/listing/65171986
and get your 10 oz candle in any fragrance we carry. To order a 20-oz jar in any of these fragrances, go to
www.etsy.com/listing/55807675
All candles are packaged in a gift box and are shipped by priority mail.
_____________________
SHIPPING REFUND:
We make every effort to keep shipping rates as low as possible. The cost of shipping of the 10-oz jar varies depending on how far you live from us in Massachusetts. The shipping cost listed here is the coast-to-coast rate. If you live closer, you will likely get a refund of some shipping. Since trying to set up variable shipping on Etsy is complicated, we've found it is easier to refund shipping after you place your order. If you would like to know the shipping cost before ordering, click on "Ask a Question" near the upper right of this page and we would be happy to give you an estimate.
SHIPPING SAVINGS:
If you are thinking about ordering more later, you can save a HUGE amount on shipping now by ordering multiple jars at the same time. Order 4 jars and your shipping is FREE (refunded after you place your order)!
PICK UP
Let us know if you would like to pick up your order at one of our craft shows or markets and we will refund all your shipping to you.
INTERNATIONAL SHIPPING
If you would like your order mailed to a location outside of the United States, click on "Ask a Question" and let us know what country to ship to. We will set up your order with the correct international shipping.
Learn more about the shop and process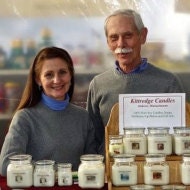 Jennifer & Paul
TEACHER COLLECTION - 10 oz Soy Jar Candle
---
Listed on Nov 27, 2016
1348 views