Hawks are the protectors and visionaries of the Air, inspiring our respect and stirring the imagination. Soaring at the top of the sky in circles or diving for prey, this power animal holds the key to higher levels of consciousness.

AIR links the Earth and the heavens. The Element of Higher Vision and Prophecy, Air/SKY represents powers of the mind, new wisdom, higher intuition, insight, awareness. Birds of prey are special teachers about the lessons of relationships and the repercussion of our life upon other lives.

Hawk people seek the overall view. A Hawk is special. If this majestic animal chooses to work with you, it will ALWAYS be with you, for life. With HAWK as your power animal, you can be aware of and work toward fulfilling your soul's destiny. Hawk's energy indicates far greater intensity within your life: physically, emotionally and mentally. Spiritual forces will be felt strong within you. This power animal enables one to awaken vision and inspires a creative life purpose.

Among Native American traditions, HAWK served the role of Mercury, bringer of messages and portents of change. In Egyptian lore, Hawk was associated with Magic and shape shifting. Often harassed by smaller birds, Hawk shows that attacks on your ability to soar by those who don't understand your approach and/or creative energy are to be expected, and helps you escape with agility. Hawk teaches how to fly to great heights while keeping firmly grounded. If showing up as a totem later in life, Hawk shows you are moving more dynamically towards your soul purpose.

POPPY JASPER – [Earth] Like all jaspers, this is a stone for Power Protection. Stone. Stabilizes the aura and eliminates negativity. Once considered a Warriors Stone, Jasper carries energies of loyalty, inner strength, and standing up for what you believe in. This is a stone for those who work for justice and fair play, especially beneficial in helping rectify unjust situations. Poppy (aka Red or Brecciated) Jasper carries chi – the life force, enhances stamina over time; assists with improving physical vitality, emotional balance, enjoyment of life. Enhances focus and organizational abilities, relaxation, contentment, and a sense of wholeness. Aligns chakras, balances Yin Yang energies – mental, physical and emotional. Excellent during meditation for attunement, for protection during shamanic journeys or astral travel, and grounding upon return. Enhances memory, particularly of dreams, inner experiences during meditation. Very grounding. Healing lore indicates Poppy Jasper can be useful with bronchial problems, conditions of the lower chakras (especially Root or Base), particularly around sexual energy and fertility. Helps activate sexual and creative energies. Supports recovery of physical strength after illness. Promotes communication with animals, also said to help with animal and other allergies. Aids increasing physical endurance, wards off dehydration. Brings what one needs - note that it doesn't necessarily bring in what you WANT. Powerful healing stone that helps with gentle endings during transitions. Jaspers are potent stones for general tissue regeneration; mineral assimilation. Scarlet is color of vitality.

HAWK'S EYE – (aka BLUE TIGER'S EYE, Falcon's Eye - although neither name is particularly apt - raptor eyes are usually yellow!) [Air, Earth] A shimmering, velvety midnight blue Chalcedony Quartz with beautiful chatoyancy. Subtle, silky iridescent bands of luminous blue rise from a black background, like a night under the stars. Tiger's Eye contains Iron - different combinations of iron with other minerals make Blue Tiger's Eye, Gold or Red Tiger's Eye. Iron is found in the sun and stars, and is a necessary trace element used by almost all living organisms. Iron is flexible, strong, and used for support. Iron contains oxides - oxides become more stable when they come in contact with oxygen. This accounts for Tiger's Eye use in assisting with transition, strength, balance, flexibility, and stability. Also a legendary stone of protection and grounding. Said to relieve stress, bring inner peace, and promote integration of experience into wisdom. Helps one separate thought from feelings, becoming more centered, less emotional. Because of its resemblance to the eyes, deep Blue Tiger Eye is noted for promoting clear-eyed vision, and helps the user gain perspective, to see clearly and unflinchingly, as from a Hawk's eyes. Said to assist one develop the ability to see complete truth with equanimity and to extend forgiveness – thus reaching the pinnacle of Spirituality and Consciousness. This gemstone gently attunes the Third Eye (6th Chakra) and enhances psychic abilities. It can provide insight when facing a dilemma.

ANTIQUE PONY BEAD - from the mid-late 1800s fur trade era, used in trade with Native Americans; named after the ponies used to carry the bags of beads
COPPER - metal of Mercury; transmits energy including thoughts; healing, luck, love, protection, money
STERLING SILVER – a metal in tune with the body's energies; especially beneficial to the brain, because it improves the transmission of nerve impulses and improves memory; balances functions of both sides of the brain; enhances ones ability to approach intellectual problems.
SWAROVSKI CRYSTAL - considered to be among the finest in the world; full lead crystal carries many of the same qualities as Quartz Crystal, amplifies qualities of other stones it is worn with, and attunes them even more to your particular energy. Quartz acts as a purifier, creating harmony and helping to balance all stimuli, positive and negative.

The photos show representatives of the actual item you will receive - actual item will be similar (given natural differences in beads). No Smudge Stick included with this item. Length approximately 2 inches (50mm). Copyright sagehealercreations2010, all rights reserved.
Learn more about the shop and process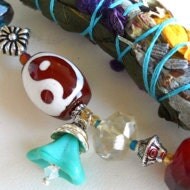 Sagehealer
Hawk Totem - Chi (Life Force), Grounding, Vision, Shamanic Journeys - Mini Talisman Handmade by Sagehealer on Etsy
---
Overview
Handmade item
Materials:

hawks eye, poppy jasper, copper, sterling silver hawk charm, antique pony bead, swarovski crystal, toho glass

Ships worldwide from

United States

Feedback: 436 reviews
Favorited by: 15 people
Listed on Apr 21, 2012
369 views