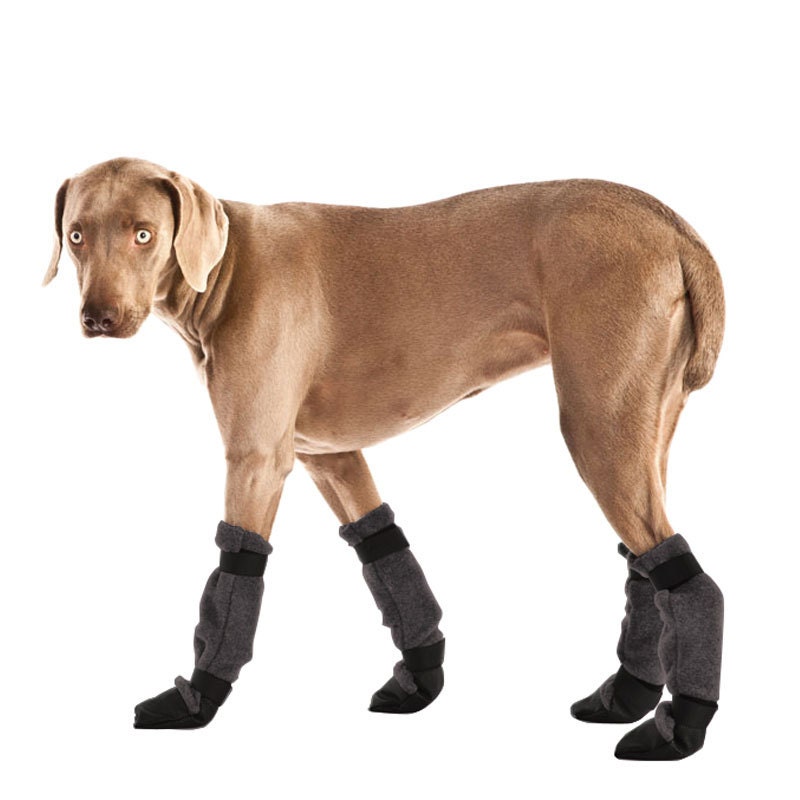 Protect your dog's paws with a set of K9 Apparel Booties. Outdoors, our Booties protect paws from road salt, snow, ice, and harsh lawn chemicals. Indoors, our booties provide stability for your dog when standing on wood or tile surfaces—also protecting wood floors from scratches. Warmth and comfort are built in the design of our slipper-style dog booties. Featuring a protective non-slip embossed Mega Grip bottom that is completely lined with soft, warm Polartec® polar fleece, our booties are uniquely designed with an extra-long upper portion and two sturdy bands of velcro to help hold the booties in place on your Weimaraner. Available as a set of four black booties.
- Polartec polar fleece is soft, comfortable, and warm. This quick-drying fabric is colorfast, does not pill, and is machine washable. Polartec® 200 Classic double velour fabric. Made in the USA.
- Embossed Mega Grip is a durable rubberized fabric that works well on ice and in snow but wears out on concrete, asphalt, and abrasive surfaces.
Choose the bootie size according to your dog's weight.
Tip: Before you order dog booties, see if your dog is likely to accept them.
Get two pairs of baby socks or kid's socks that fit your dog's paws. Put two of the socks on either the front or back paws and have your dog stand on a non-slippery surface. If your dog is okay wearing two socks, put socks on the remaining paws and allow some time for your dog to get used to the socks. If your dog will move around wearing all four socks, this is a good indication your dog will accept wearing booties. However, if your dog does not accept wearing socks, it is unlikely your dog will accept wearing booties and we suggest not purchasing booties for your dog.
*Booties currently only available in black.
*NOTE: BOOTIES ARE NON-RETURNABLE, NON-REFUNDABLE & NON-EXCHANGEABLE.
To see our other Weimaraner Clothing, see the links below:
Hood:
https://www.etsy.com/listing/119419589
Tummy Warmer:
https://www.etsy.com/listing/64308338
Rain Coat:
https://www.etsy.com/listing/68555177
Winter Coat:
https://www.etsy.com/listing/64308105
Save money with our Weimaraner Apparel Specials:
Moderate Climate Special:
https://www.etsy.com/listing/228139607
Cold Climate Special:
https://www.etsy.com/listing/85108804
Warm Climate Special:
https://www.etsy.com/listing/507985033
WEIMARANER Dog Booties, Dog Shoes, Dog Boots, Dog Clothing, Booties
---
Shop similar items from sellers around the world