Fabric Hanging Cradle Tutorial in a style of TutorialGirl, computerized pattern pieces with easy to read photo instructions.

TOTALY NEW: on my blog you could see the VIDEO of making this; ) yey......
http://youtu.be/xDpzXSwulso

For Hanging Cradle eeverything is simple with a little wood work, and all you need to have from tools (for woodworking) is a handsaw; so simple this is. Everything else is made with a sewing machine, easy peasy and fun project, as always in a TutorialGirl Shop.

The benefits of this Cradle, or way on earth people should do this by themselves?

It is fun project; should I say one more time: it is easy for the beginner sewer?

It is more personal then if you are going to the store and just buy the crib that they offer there; I see this like a personally gift for your baby or your grandchild…what is more personally then a crib?

On my opinion the experience of nesting this way is stronger (if you do at least one of the project preparations for your coming baby). Do you know what I mean? People don't have a lot of chances to being freshly backed parents, because usually we have just one or maybe two kids, so this time in our life is magical, and they grow so fast anyway.

DIY is fun, and you could spend less for more (less money for more design); … and this project is the one you will remember it for your whole life, I know I will, because it is not just a project, it is something that I made for my baby

Way I want to have a hanging cradle at the first place?

Because I already have one kid and I didn't have it then, and I wasn't sleep more then 3 hours in one piece; jep, I was breastfeeding and I need to stand up end go the baby cot every time she cry or…you know the drill

Because this time, I want to have baby closer to me (I plan to hang a cradle from the ceiling above our bed)

I hope the theory of little swinging will work as an gap, that maybe every time I won't need to take the baby out from the cradle, and that maybe he or she will sleep better, if I will just swing the crib a little

Small babies love to be on smaller places, and we don't have a lot of place in our apartment anyway

I will also try the method of infant snuggler and for that I really don't need to have a bigger crib than this one is

This type of cradle I could put in my most unused part of our apartment, (at least at day time it is unused)

When baby will be bigger and stronger and he or she will start to lift the body up, I will place the baby in bigger bed, and this will be the end of using our super cute cradle.

And last I like the shape of the egg at the bottom. I did try to make the shape as close wicker basket as possible, because when I was a baby I sleep a few months in a basket in an egg shape. At the same time, I try to have simple design, because I like to share with lovely sewing community and because everybody doesn't have possibility to use more wooden tools then a handsaw is, so the construction of the cradle is simple too. But that don't mean that design is boring or that it is not modern and fresh.

I play with a machine freehand stitching and I write the lullaby… like some kind of modern version of lace

You will get the pattern for A4 and Letter printer setting.
Learn more about the shop and process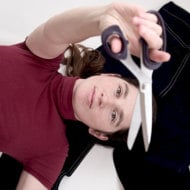 Lidija Miklavcic
Hanging Cradle DIY Fabric Sewing Pattern with VIDEO
---
Overview
Handmade Supply
Instant Digital Download: 4 PDF included
Materials:

computerized pattern pieces, easy to read step by step photo instructions, perfect newborn gift, personal choice of fabric print or color, easy to sew instructions, sewing DIY, make yourself and be proud, for baby bonding, video instructions

Feedback: 363 reviews
Favorited by: 2875 people