Sale

This little wooly cat is quiet a remarkable fellow. It is a member of a rare breed of cats that some say look like a gnome. Its whiskers are wooly, its coat is wool-like and yes they all wear a wool hat.

It has been hand knit with 100% wool, then machine felted and gently stuffed. It measures 8 1/2 inches from the top of its hat to its bottom. There is a magical quality to this breed of cats and they make great companions for children and adults.

For some reason it seems that these little gnome cats love to spend time around the computer. They just may be more intelligent than they seem. Place them near your monitor and together you will inspire and enjoy each others company.

Their story....


These cats were once regular farm cats who enjoyed a normal cat's life until the day that their farm was sold. Mr. Vince Manford bought the old place and decided to renovate it to suit his lifestyle. When he found 26 cats on the property he decided to get rid of them. He caught each and every one of them and shoved them in a big wooden crate that he had used to ship his furniture. The cats were terrified and when the last kitten was pushed inside, he stapled the sides together and called his handy man to drive them up north where he was to drop them off in the wilderness.

Now this handy man was not the most honest employee and he decided that he would take a longer trip to go and visit his cousin who lived much further up north in a remote little town that no one had ever heard about. Very few people lived there because it was so cold. The ones that stayed and endured the freezing temperatures did so because of the isolation pay they made to maintain the lighthouse for the ships that had to make their way through the frozen iceburg territory.

When he drove into the town, it seemed desserted. The buildings were boarded up and there were no lights anywhere. Fear overtook him and he realised that he should have called his cousin before driving all this way for nothing. He heard the cats meowing and got out and pushed the big box out of the back of the truck. It fell to the ground with a crash and broke open. The cats ran in all directions.....

To know the rest of the story, you must adopt one of these little fellows. Each wooly cat will be sent with a short story.


For international orders please contact me for a shipping rate.

Thank you for visiting the Inn and please come back to visit again soon.
Learn more about the shop and process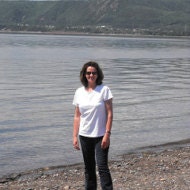 Mary
Wool Cat Kitten Gnome Felted Wool
---
Listed on Oct 30, 2016
232 views