Era: 1960s

Material: Silk Shantung
Lining: Crepe
Type of zipper or fastener: Original knotted plastic buttons

Size (bust, waist): 38", 40" (approx. size Small)
Length (entire back): 41.5"
Length (underside of sleeve): 15.5"

Condition (see GlamAmor.com for definitions): Very Good
Flaws: a couple stains near hem on front, which may not come out but aren't too visible

Vintage coats are really the best. Exhibit A--this pink silk shantung number. The texture! The color! If you open any magazine lately, it's all about color. Using accessories to add a punch of color is so key. You can wear this coat year round. It will resuscitate outfits you have long grown tired of, I assure you. Throw it with any of your all black combinations just for starters.

Then there's that perfect shape to the coat. On seam pockets, which just might be my favorite type of pocket. Why? They disappear and all the lines of the coat lengthen you. And you can see that even the lining is lovely. I mean, these coats look nearly as good turned inside out as they do the right way. This is a wonderful coat. You're polished the second you put it on, whether it's over jeans and a t-shirt or a glamorous dress. Makes an outfit.

Free shipping and handling on all items in the store!

For inspiration, styling suggestions, and support for your vintage clothing, be sure to GlamAmor.com. You can also follow GlamAmor on Facebook and Twitter!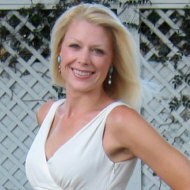 Kimberly Truhler
Listed on Jul 6, 2012
662 views