Details
***** FREE SHIPPING FOR SECOND ITEM *****

(**)(**)(**)(**)(**)(**)(**)(**)(**)(**)(**)(**)(**)(**)(**)(**)(**)(**)(**)(**)(**)(**)(**)(**)(**)(**)(**)

Here is my most popular item. Inspired by 80's fashion style. Made of combination of 3 differently colored fabrics. It's elegant and casual, may be used both for everyday wearing and as a party dress as well

Available in 2 combination (see picture):
(1) blue - white - azure
(2) black - red - blue

Please indicate the desired combination when ordering.

One size, suits S - L
The measurements of one size are: (when the dress is flatten)
bust 39.4
waist 34.7
hips 39.4
LENGTH (from shoulder to hem) - 35

WASH and CARE:
•Machine wash (40°C / 104°F max)
•No Machine dry
•Ironing after washing is recommended

Fabric: 95% rayon (viscose), 5% lycra

CHECK YOUR SIZE ACCORDING THIS TABLE:
0:Bust 32.5" Waist 25. Hip 35" (XS)
2:Bust 33.5" Waist 26.5" Hip 36" (XS)
4:Bust 34.5" Waist 27.5" Hip 37" (S)
6:Bust 35.5" Waist 28.5 Hip 38" (S)
8:Bust 36.5" Waist 29.5" Hip 39" (M)
10:Bust 37.5" Waist 30.5" Hip 40" (M)
12:Bust 39" Waist 32" Hip 41.5" (L)
14:Bust 40.5" Waist 33.5" Hip 43" (L-XL)
16:Bust 43" Waist 36" Hip 45.5" (XL)

In any question don't hesitate to contact me ))
***** FREE SHIPPING FOR SECOND ITEM *****

(**)(**)(**)(**)(**)(**)(**)(**)(**)(**)(**)(**)(**)(**)(**)(**)(**)(**)(**)(**)(**)(**)(**)(**)(**)(**)(**)

Here is my most popular item. Inspired by 80's fashion style. Made of combination of 3 differently colored fabrics. It's elegant and casual, may be used both for everyday wearing and as a party dress as well

Available in 2 combination (see picture):
(1) blue - white - azure
(2) black - red - blue

Please indicate the desired combination when ordering.

One size, suits S - L
The measurements of one size are: (when the dress is flatten)
bust 39.4
waist 34.7
hips 39.4
LENGTH (from shoulder to hem) - 35

WASH and CARE:
•Machine wash (40°C / 104°F max)
•No Machine dry
•Ironing after washing is recommended

Fabric: 95% rayon (viscose), 5% lycra

CHECK YOUR SIZE ACCORDING THIS TABLE:
0:Bust 32.5" Waist 25. Hip 35" (XS)
2:Bust 33.5" Waist 26.5" Hip 36" (XS)
4:Bust 34.5" Waist 27.5" Hip 37" (S)
6:Bust 35.5" Waist 28.5 Hip 38" (S)
8:Bust 36.5" Waist 29.5" Hip 39" (M)
10:Bust 37.5" Waist 30.5" Hip 40" (M)
12:Bust 39" Waist 32" Hip 41.5" (L)
14:Bust 40.5" Waist 33.5" Hip 43" (L-XL)
16:Bust 43" Waist 36" Hip 45.5" (XL)

In any question don't hesitate to contact me ))
Shipping
Ready to ship in
3 - 5 business days
The orders will be shipped off within 5 working days by Standard International Registered Mail.
The postal TRACKING NUMBER will be provided (which makes it possible for the buyer to monitor the delivery status of the item)
Payments
Secure options
Etsy keeps your payment information secure. Etsy shops never receive your credit card information.
PayPal, Credit card

The prices are not including possible customs tax
Returns & exchanges
A refund/exchange is offered if you are not satisfied with your purchase, on condition that the returned item is UNUSED, UNWASHED and sent IN THE ORIGINAL PACK.
The refund/exchange will be issued immediately after the item has arrived back to the seller.

PLEASE PROVIDE THE POSTAL TRACKING NUMBER AS SOON AS POSSIBLE IN ORDER TO LET THE SELLER TO TRACK THE PACKAGE TO AVOID POSSIBLE DELIVERY PROBLEMS

* The refund includes 100% of item's price.
* The refund doesn't include postal expenses.
* Items should be sent by REGISTERED mail. The tracking number is required.
* CUSTOMIZED ITEMS CAN'T BE RETURNED.
* Items should be sent back to the seller within 14 days of receiving.
* Items should be returned in their original packaging to ensure they are adequately protected in transit.
Additional policies
MEASUREMENTS

SHOULDER: from shoulder tip to shoulder tip
BUST: the fuller part of your bust
SLEEVE: from the under harm to the cuff
WAIST: the slimmest part off your natural waistline
HIP: the fuller part of your hip, approx 9 inches below your waistline
LENGTH:from shoulder to hem


GENERAL SIZES vs. BODY MEASUREMENTS:

0:Bust 32.5" Waist 25. Hip 35" (XS)
2:Bust 33.5" Waist 26.5" Hip 36" (XS)
4:Bust 34.5" Waist 27.5" Hip 37" (S)
6:Bust 35.5" Waist 28.5 Hip 38" (S)
8:Bust 36.5" Waist 29.5" Hip 39" (M)
10:Bust 37.5" Waist 30.5" Hip 40" (M)
12:Bust 39" Waist 32" Hip 41.5" (L)
14:Bust 40.5" Waist 33.5" Hip 43" (L-XL)
16:Bust 43" Waist 36" Hip 45.5" (XL)


MEASUREMENTS

SHOULDER: from shoulder tip to shoulder tip
BUST: the fuller part of your bust
SLEEVE: from the under harm to the cuff
WAIST: the slimmest part off your natural waistline
HIP: the fuller part of your hip, approx 9 inches below your waistline
LENGTH:from shoulder to hem


GENERAL SIZES vs. BODY MEASUREMENTS:

0:Bust 32.5" Waist 25. Hip 35" (XS)
2:Bust 33.5" Waist 26.5" Hip 36" (XS)
4:Bust 34.5" Waist 27.5" Hip 37" (S)
6:Bust 35.5" Waist 28.5 Hip 38" (S)
8:Bust 36.5" Waist 29.5" Hip 39" (M)
10:Bust 37.5" Waist 30.5" Hip 40" (M)
12:Bust 39" Waist 32" Hip 41.5" (L)
14:Bust 40.5" Waist 33.5" Hip 43" (L-XL)
16:Bust 43" Waist 36" Hip 45.5" (XL)


Learn more about the shop and process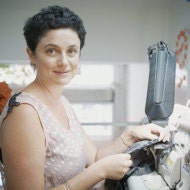 Jenia Krol
Color Splash in black - best seller jersey dress in black
---