Sweeter than sugar crystals is this 'Extreme Antique' called 'Sugar Bowl'. This teal blue-green, incredible hand blown antique Japanese float is more stunning that the photos show. Warning: You gotta like old. *** Sugar Bowl is very old and full of the irregularities of surface wear - yet it might just knock yer sox off. You may find yourself running around thinking you're in heaven with this unique amulet, having forgotten all your worldly cares! *** Now if I were an archaeologist....

.....the first thing I'd study would be the seal button. This one is truly unique! It has been grazed over and over through the eons, bashing about in the winds, slamming up against the sands, navigating fierce waves, riding the storms - all of which have rendered it a piece of 'sea glass' - awesomely still attached, still perfectly placed by a master craftsman - as it had been as many as 8 decades ago! While the seal resembles 'sea glass', having been smoothed by oceanic processes, it is also gently grazed and filled in (amazing) with what appear to be "sugar' crystals! There is one tiny area of gorgeous still clear glass in the center that acts as a mirror - showing us what it must have looked like in its youth. And just above that - miraculously - the signed mark 'D. G.' in quite a nice prominent scripted type of lettering - can still be made out. The very lowest portion or part of the 'bowl' in the 'G' is covered over by the 'glazed crystals', the rest of the mark still quite decipherable. 'D.G.' stands for Daiichi Glass Company, said by W. Pich to be one of the most "innovative" of the Japanese glass manufacturers.

The body of this magnificent ancient float is literally clustered like the 'Milky Way' - with intensely crowded bubbling, champagne bubbling, foamy bubbles, perhaps thousands, appearing to be millions. When held directly to the light, the float's interior lights up in an other worldly manner which is thrilling. (The float measures 3-1/4" diameter or 10" in circumference.)

These thousands of bubbles have taken on the appearance of sugar crystals because the exterior of the float is mostly frosted over. Amos Woods is credited as having said that only about 1 in 300 floats is all over frosted. This one has a few 'worm' lines and a tiny 'window' in one area, inviting one to peer inside, otherwise the bubbling + frosting render the float as if drenched, dripping in SUGAR crystals.

Add to this, the immense number of swirls rippling....and the 'sugar' crystals appear to be an etched record or message along meridians or lines of latitude. I think the message has something to do with the Intense Sweetness of Life! What a fascinating, precious gem.

THANK YOU FOR HELPING TO CARE FOR AND PRESERVE THESE VINTAGE FLOATS AS THEY ARE BEING REPLACED RAPIDLY WITH PLASTIC AND SYNTHETIC FLOATS.

I VALUE YOUR TIME AND ENERGY. THANK YOU FOR YOUR INTEREST IN lightinawormhole. WHETHER YOU PURCHASE OR NOT, BEST WISHES!
**********************************************************************************
SHIPPING: I AM HAPPY TO OFFER PRIORITY SHIPPING FOR THIS FLOAT. THE COST IS $8.00. THIS INCLUDES YOUR TRACKING NUMBER AND INSURANCE. OF COURSE I WILL WRAP WITH ABSOLUTE CARE. *** PLEASE ALLOW UP TO 3 DAYS ON MY SIDE TO GET IT OUT AND 2 TO 3 DAYS FOR THE CARRIER. MY GUESS IS YOU WILL HAVE IT IN A WEEK OR LIKELY LESS. IF YOU REQUIRE THE ITEM QUICKER, PLEASE LET ME KNOW & I WILL GET IT OUT AS FAST AS POSSIBLE! ***

PLEASE NOTE: FLOATS OF GENERALLY SIMILAR SIZE AND WEIGHT CAN OFTEN BE COMBINED TO SAVE ON SHIPPING. THESE ARE DECISIONS MADE AT THE ACTUAL TIME OF PACKING, USING MY BEST JUDGMENT TO KEEP ITEMS SAFE FROM DAMAGE IN TRANSIT AND PROTECT THEM MAXIMALLY. BEST OPTION IS TO PAY THE SHIPPING ON EACH ITEM OF YOUR CHOICE UP FRONT. I WILL ISSUE A SHIPPING REFUND PROMPTLY THROUGH PAYPAL ONCE YOUR PARCEL OR PARCELS ARE COMPLETE. MY CUSTOMERS WILL CONFIRM I AM HAPPY TO DO THIS.

CANADA: PRIORITY SHIPPING IS NOT COST EFFECTIVE, BUT CAN SHIP 'FIRST CLASS MAIL INTERNATIONAL' FOR A VERY REASONABLE COST, HOWEVER DELIVERY TIME "VARIES" AND THE SERVICE INCLUDES A LIMITED BUILT-IN INSURANCE. MORE DETAILS ON THE COST BREAK DOWN AT YOUR REQUEST. ITS' NOT FAST SHIPPING LIKE PRIORITY, BUT IT IS VERY AFFORDABLE AND IT WORKS!

THANKS AGAIN FOR YOUR TIME AND INTEREST. HOPE YOU RE-VISIT lightinawormhole.




Learn more about the shop and process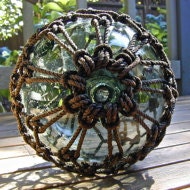 lightinawormhole by Robi
Sugar Bowl, Vintage Glass Fishing Float Signed/Marked, An Extreme Antique with Unique Character
---
Listed on Feb 10, 2011
135 views