Real Amethyst Crystal Rock and LIVE Air Plant.
Plant currently has several baby pups (this is how air plant reproduce. Once babies mature to 1/3 of size of mama plant, they can be removed and you will have 2-3 new plants!
A FREE 4oz bottle of ESW Air Plant Fertilizer is included with purchase (helps pups to grow faster and healthier :)
http://www.etsy.com/listing/78156569/air-munchiez-fertilizer-for-air-plants
The ancient Greeks attributed various powers to the Amethyst, notably that of protecting against drunkenness, but also controlling and enemies evil thoughts, psychic attacks and enhancing awareness and intuition.
Air Plants, also known as Tillandsia, are very low maintenance. They don't require soil to grow, only moderate light and a good soak every week. Air Plants stay in bloom for 2-5 wks depending on species and how much TLC they receive.
Together the Amethyst and Air Plant form a BEAUTIFUL GARDEN of energy thats waiting to transform any space into a healthy and happy habitat.
To water, just mist or soak plant with the crystal attached. Please keep in mind, over time the plant will grow and roots may need to be pruned. If for any reason the plant needs to be removed from the crystal, a tube of glue and reapplying instructions will be sent with your purchase.
Detailed care instructions will also be sent with purchase.
Amethyst and garden measure 3x3"
Learn more about the shop and process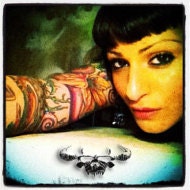 ursula - SeaWitchWarrior
Frequently asked questions about EarthSeaWarrior
Air Plant Garden on Amethyst Specimen
---